Team USA is putting the final touches on their preparations for the Pan Ams, which officially begin with the first horse inspection on Thursday, July 16. The horses are finishing up their final gallops (complete with some pretty awesome red, white and blue FLAIR Nasal Strips), and the riders are looking excited and ready for the big competition.
The U.S. riders are still stationed at Morningside Training Farm and will be embarking on their trip north of the border in the next few days.
I mean, check out these FLAIR strips! We want to know if they're going to be made available for sale. Either way, what a great way to represent the U.S.!
Meanwhile, competition has already begun for the dressage teams. The individual and team dressage began this morning with the Grand Prix, and the Grand Prix Special will be contested tomorrow.
Sabine Schut-Kery and Sanceo score 71.790% in PSG @TO2015 #TO2015 pic.twitter.com/PBar2Slltc

— USEF (@USEquestrian) July 11, 2015
The official Opening Ceremony was held last night, and Team Canada was present to represent their home country and take in the celebrations. Canada boasts a 719 athlete team this year, which is the largest field its ever had at a multi-sport event.
Apparently the Opening Ceremony was quite a spectacle, featuring the likes of Cirque du Soleil and daredevils, along with a state of the art LED show put on by PixMob. You can check out the list of the top seven moments of the ceremony on the Toronto Star here.
If you're feeling bummed for missing out on the party, never fear! Here is the full replay of the ceremony:
NBA superstar Steve Nash had the honor of lighting the cauldron to top off the ceremony, which was attended by a crowd of 50,000.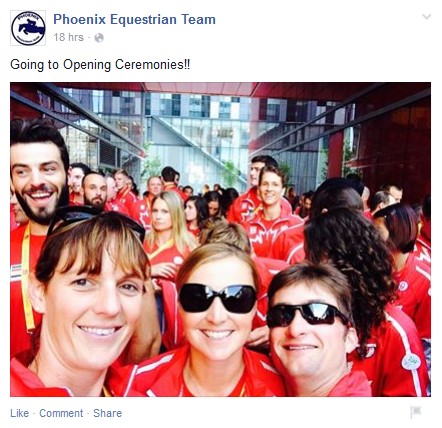 It looks like they had a fantastic time — Chinch is sad he missed a good party.
EN will be on the ground for the eventing portion of the Pan Ams beginning Wednesday, July 15. Unfortunately at this time, we cannot find any indication of any televised coverage of the equestrian events on either ESPN or CBC, the two main broadcasting channels. If we do find some tv schedules, we will pass that information along.
In the meantime, stay tuned for the latest and greatest coverage from Toronto!
#PanAms: [Equestrian Schedule]
Comments