Despite a severe thunderstorm yesterday afternoon and evening (more on that below), it was a beautiful day today to conclude another weekend at the Millbrook Horse Trials.
Our leaders after cross country, Will Faudree and Jennifer Mosing and Sterling Silver Stables' Pfun jumped inside the time and kept all the poles up over Marc Donovan's Advanced show jumping course this afternoon to win the division on their dressage score of 29.10.
That score is a personal best for Will and the 12-year-old Irish Sport Horse gelding, plus it marks their first time cracking the 20s at the Advanced level. They'll be headed to Ireland later this month to contest the Millstreet International CCI4*-L.
"It was a good final run for him before Millstreet in a couple weeks," Will said after his cross country course yesterday. "I've never competed in Ireland so I'm excited to go. He's an experienced horse and with horses you're always trying to get better and be better. You change little things and you talk to everybody, because anybody could offer advice that might help." 
Here's wishing Will and Pfun the best of luck in their journey overseas!
Our second and third place finishers traded places on the leaderboard as a result of the final phase.
Allison Springer told EN that she has been working on putting the pieces together in show jumping for the Business Ben Partnership's Business Ben, and it looked like those pieces came together today as they finished on their dressage score of 30.70. Their double clear round saw them slot in to second place after Colleen Rutledge and her own Covert Rights pulled a single rail.
Allison is aiming Ben for the Fair Hill International CCI4*-L, an event that the nine-year-old Thoroughbred gelding has yet to contest — he was entered last year, but turned up with an abscess two days before the jog. Ultimately, she's hoping to qualify the horse for Kentucky.
"He's the horse I've always been dreaming about doing that level on and he just loves this cross country stuff," Allison said. "I always say that's what he was dreaming about in the womb and you can tell when he's out there for sure."
Despite the unfortunate rail, Colleen's 13-year-old Thoroughbred/Clydesdale gelding looked in top form over fences this afternoon and they finished their weekend on a score of 33.50. Colleen is also aiming her homebred for Fair Hill this fall in a continuation of the Covert Rights comeback tour de force. "Hopefully everything goes according to plan and we can tick all the boxes," she told EN. 
Also finishing on a score of 33.50 were Kimmy Cecere and Jaqueline Mars' Landmark's Monaco. They jumped a double clear show jumping round today, but finished a just a few seconds further away from the optimum time  than Colleen and Covert Rights across the country yesterday so they keep their fourth place position.
Buck Davidson finished the weekend with three of his horses in the top ten. Double clear rounds aboard Natalie Sander, Lisa Darden, and Carl and Cassie Segal's Erroll Gobey along with Kat Cuca's Jak My Style saw both horses move up two places to fifth and sixth respectively, less than a tenth of a point apart on 35.80 and 36.20. A third double clear for Buck saw Carlevo LLC's Carlevo move up to 10th.
Will Coleman and Team Rebecca, LLC's Dondante jumped a double clear round as well to clinch seventh place. Will had originally hoped to bring the nine-year-old Irish Sport Horse out to the Event at Rebecca Farm last weekend, but when other horses dropped off the flight it became too expensive.
"The Broussards own half of this horse, so they've been tremendous supporters of mine and I wanted to support their event, but next year!" Will said. "Fair Hill will be a good event for this horse too."
Big congratulations are in order for Brooke Maisse who piloted her own ten-year-old Thoroughbred mare Serendipity, who is a diminutive 15.1-hands, to a top ten finish in their both of their first Advanced. Brooke hails from Quebec and was particularly nervous this weekend as her regular coach, Colleen Loach, was away representing Canada in the Pan American Games, but that didn't stop her from smiling throughout each and every phase. With some pinch-hit coaching thanks to Caroline Martin they finish the weekend in 8th place on their dressage score, having moved up from 32nd after dressage.
The end of the Millbrook Horse Trials means the unofficial beginning of the fall eventing season. Many of the horses in this division are making their first start after their post-Kentucky CCI5* summer vacation and their riders are looking towards big events later this year. We were delighted to see Jak My Style, LCC Barnaby, Tight Lines, and Leamore Master Plan all looking super and stretching their legs this weekend. They are all a cohort of the strong U.S Bughley-bound contingent.
And would it be the Millbrook Horse Trials without a little weather drama? It was a foggy morning on show jumping day in Amenia, New York after a severe thunderstorm rolled in yesterday afternoon. While the Intermediate and Advanced cross country ran smoothly yesterday morning – unlike last year, when weather forced upper-level cross country to be moved to Sunday – the late afternoon Preliminary divisions fell victim to torrential rain, thunder and lightning, and even a bit of hail for good measure.
Mike Pendelton was the last rider to complete cross country on Saturday, riding Wabanaki in the Open Preliminary B division during an incredibly heavy downpour while the remaining five riders in the division were held. Ultimately, cross country did not resume on Saturday and the remaining five riders in the division rode across country early Sunday morning. Unfortunately, stadium jumping for Open Beginner Novice, the last Beginner Novice division of the weekend, which was being held at that same time, had to be canceled. The storm knocked out power throughout Amenia for some time and we're grateful to the organizers for making the very best out of a tricky situation.
Thank you all for following along with our coverage of Millbrook 2019! Stay tuned for some extras, including a Who Jumped It Best, coming up sometime this week. 'Til next time, Go Eventing.
Millbrook: Website, Schedule, Live Scoring, EN's Coverage, EN's Twitter, EN's Instagram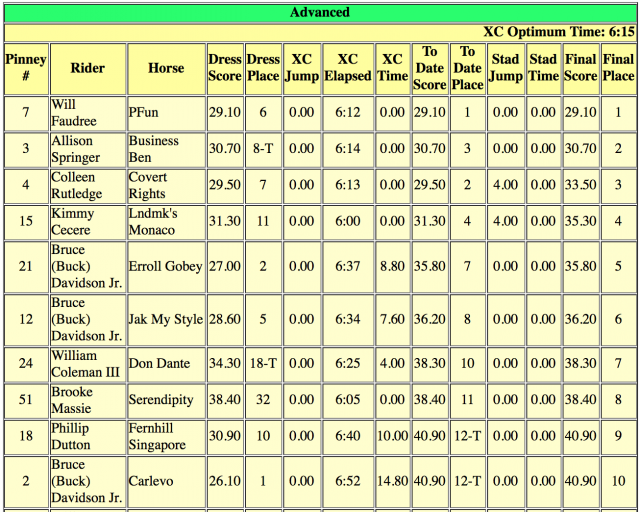 Comments