The Cosequin Stuart Horse Trials ran their 25th anniversary edition of the annual event this year, and Phillip Dutton celebrated in style. With three rides in the CIC2* and four in the Open Intermediate, Phillip brought six horses home in the ribbons — definitely not an easy accomplishment!
Local news source, the Democrat & Chronicle, was on hand to cover the event, and they posted a few great photos and a quick write-up on the action. You can read the full post here.
Cosequin Stuart H.T. [Website] [Scores]
Phillip rode Fernhill Cubalawn to the win in the CIC2*, finishing on his initial fourth-place dressage score with two double clear jumping rounds. He also picked up second and fourth aboard Atlas and Fernhill Fugitive, respectively.
Fernhill Cubalawn is a new ride for Phillip, having recently been purchased from Alex Green by Tom Tierney and Simon Roosevelt. Both Cuba and Atlas are aiming to compete at Blenheim later this year, according to a blog posted today on his website.
Jennie Brannigan, who led after dressage with Nina Gardner's Henry, finished the weekend in third place. This is an exciting horse for Jennie; the pair have not finished worse than sixth since beginning their partnership at the beginning of this year.
Phillip picked up catch rides on two of Kristen Bond's mounts, Seams Ready and Get Ready, in the Open Intermediate, ending the weekend in second and third respectively. He also picked up the win in the division aboard Mansfield Park. Well done, Phillip!
Nilson da Silva and The Phoenix Syndicate LLC's Cash were the winners in the CIC* after laying down one of just two double clear cross country rounds to move from second to first. Drew Keller and Detailed Just Right moved up from ninth after dressage to take home second, and Barbara Allen and My Main Man moved up from fifth to third on the weekend.
At Champagne Run at Kentucky Horse Park, Cathryn Green and Coin Toss III picked up the win in the Intermediate/Preliminary division. Cathryn was the only rider to go double clear on cross country, and she picked up the win handily with plenty of breathing room.
Anna Kjellstrom and Garfunkel ended their weekend in second place and William Hoos with Celtic Rhythm picked up third place after adding just time penalties on cross country to their original dressage score.
Champagne Run at the Park H.T. [Website] [Scores]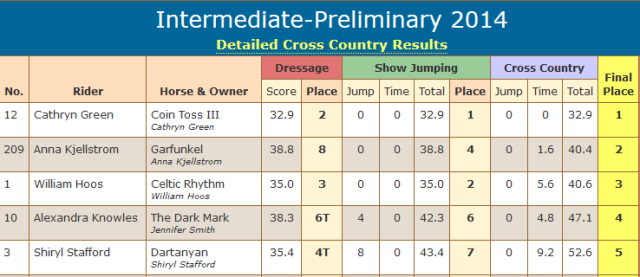 Roebke's Run in Minnesota also ran CIC divisions this weekend. Cynthia Wiseman and Vote Yes were the sole finishers in the CIC2* and will take home a blue ribbon for the weekend. In the CIC*, Laura Markham and Storm Warning had the quickest cross country run of the day, allowing a move up from second to finish first. Ann Bower and Prospero ended their weekend in second after accumulating a few too many time penalties on cross country to retain their lead.
Roebke's Run HT [Website] [Ride Times][Scores]
On the West Coast, in Washington, Jordan Linstedt and Revitavet Capato led from start to finish to win the Advanced/Intermediate division at Whidbey Island HT. Jeanine Allread and Snap Decision II picked up second place, and the third entry in the division, Brooke Phillips, elected to retire on cross country.
37th Annual Whidbey Island H.T. [Website] [Scores]