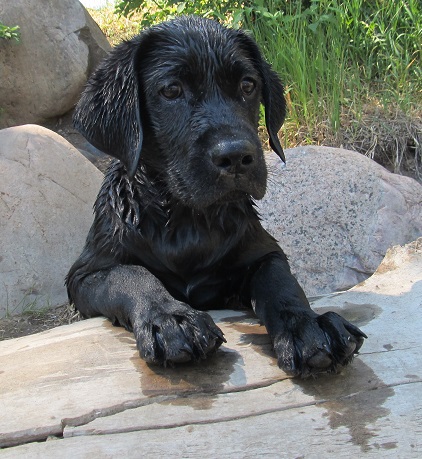 Take a deep breath, as this may be the most difficult vote you'll cast in our slew of Rolex contests this year. All of these pups are precious. It's so very hard to choose. The chinchillas winnowed away a few out-of-focus entries, but are leaving the bulk of the decision to you. (They were happy to pass off the task, actually. They get VERY nervous around dogs. Even just pics of dogs. There have been incidents.) Cast your vote in the Third Annual World Equestrian Brands Rolex Top Dog Contest and help determine who will receive a fabulous set of Equilibrium Airlite XC Boots (for your horse, as they're probably too large for your dog).
This most wonderful and well behaved (would YOU kiss everyone who asked for a buck?) dog was still available at the end of Rolex. He, and other loving dogs are waiting for you at the Lexington Humane Society. Please check them out if you've got room in your heart and home.
"They say you can't keep a good dog down," wrote Summer Rhone with her entry. "As it turns out, you can't keep a good rider down either! Here is my trainer, Ellen Doughty, sharing a dance with her soulmate, Jesse, in the Kentucky Club Tent on the Rolex XC course following nuptials at the Head of the Lake. Despite the heartbreak of not being able to compete, and in typical Ellen fashion, she kept her chin up, made the best of the situation, and was all smiles this weekend with her 'best man' Jesse at her side — or in this case, in her arms. Go Ellen! Go Jesse! Go eventing!"
And go vote!
Voting ends Saturday, noon EST.
(Some entries are listed by person, some by pooch, based on the info sent to us.)
Comments