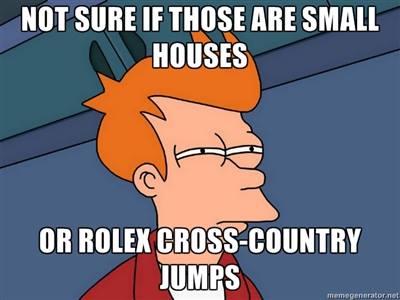 A very dramatic cross country day at Rolex Kentucky Three Day Event has come to a close, with many smiles and victories, and equally as many tears and disappointments. If you weren't there in person, I can almost guarantee that you were on your computer or phone watching the live feed as you pretended to continue with your day. There were thrills, there were spills, and there was overwhelming joy and also heartbreak. We wish the best to everybody tonight as they all work hard to keep their super athletes comfortable and recovering, as the all important jogs are tomorrow morning, followed by a tough show jumping test in the afternoon. In the meantime, let's catch up with some of our favorite horses and riders.
Your Rolex Kentucky leader, "Moonie", gets to ice and relax outside in a small turnout after his great cross country round.
*
Rick Wallace and the EN chinchilla got a little crazy with mimosas at the EN tailgate!
*
Sharon White had a little heartbreak early in the day with Reggie, but rebounded to have a superb clear round with her young horse, Wundermaske. "Patch poses with his moms after a brilliant XC round! Reggie is feeling awesome – today just wasn't his day, but he'll be back soon!"
*
Rachel McDonough had a great double clear on her young rider horse Oli for their very first CCI4* together!
*
Kim Severson had one of the most legitimately smooth and amazing rounds I saw all day, and her groom, Lisbeth, just can't get over how awesome they both are! "That. Was. Awesome. Sparks is officially a **** horse!!"
*
The Rolex husband has some things to say about choosing an alternate route at a combination….
*
Thanks in some part to Julie Norman's superfans, she made it around her first Rolex with just one unlucky stop and some time!
*
Jan Byyny also had a cracking good round with JR, to finish with just a few time penalties. "Byyny Nation" had a tailgate that almost rivaled the Eventing Nation group!
*
Rachel Jurgens poses with her best friend Ziggy (and a well deserved beer!) after a clean cross country trip!
*
Jennie Brannigan had one of the worst heartbreaks today, after jumping a corner in a questionable way, she was waved on by the jump judge, and continued to jump clean the rest of the course, only to find out afterwards that she had been eliminated for jumping outside of the flags. The good news is that Ping is feeling fit and healthy.
*
Sinead and Tate had a great round, and probably win the award for most fan photos on course.
*
Unfortunately, Erin Sylvester was on her way to her third Rolex completion until the Normandy Bank combination, when she took a tumble. Thankfully both she and Bucky are feeling fine.
*
Rolex Rookies Jennifer McFall and her beautiful horse Billy just completed their first CCI4* after only a year at the Advanced level!
*
It really just wouldn't be Kentucky without some William Fox Pitt fan-dom…
*
And sometimes even if you run around cross country clear, you still have to muck out the stalls! Maybe it's part of his cross fit workout??