Welcome to EN's Product Review series! Who doesn't love shopping, especially when the object of your search is new gear for yourself or your horse? As an enthusiast of all products equine, I LOVE trying out new gear. Please join me as I narrate my personal journey of trying out all of the products featured. While I will make no recommendations, I hope you have fun reading about my many adventures of trying new products, and that hearing about my personal experiences helps you on your own quest for new gear. Go Shopping.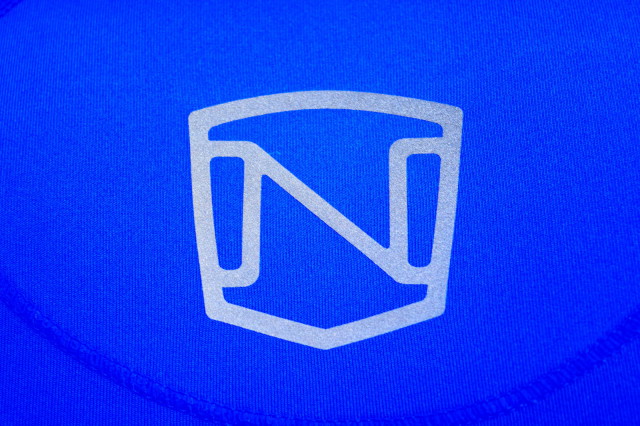 This has been a little bit of an odd summer season here in the state of Pennsylvania. As a whole, we've had a pretty mild season so far—which is totally fine with me, by the way. Not that my personal preferences have any impact on the weather patterns or anything ridiculous like that.
We have certainly had some warm snaps though, when the temperatures rise up into the 90s. While this may not sound hot to folks living in different areas around the country, I can assure you that around here, it's not the heat that gets you…it's the humidity.
Even on those days when the humidity just feels a wee bit oppressive, I wipe the sweat shimmer off of my brow and smile about it. After experiencing last winter's "polar vortex" (I still want to know where that term came from), I refuse to complain about the heat. Because I can ride in the heat. Once temps dip below the 20 degree mark, and I start to lose feeling in my extremities, I'm less inclined to spend time in the saddle.
So I welcome the warmth. And of course each season comes with it's own theme – and my mantra for summer riding involves using lots of fly banishing products for the horses, and pulling out all of my 'stay cool' riding apparel.
There are many different styles of tops that I find myself wearing during the warm season. But for me, the summer riding apparel watch word is wicking. Sweating can be a little gross Glistening is not the most lady-like or comfortable state to be in after a ride. Which means that I'm usually on the prowl for cute tops that pull moisture away from the skin.
One of the tops that has found it's way into my summer riding wardrobe is the Riley Polo from Noble Outfitters. When I first pulled this particular top out of it's packaging, I noticed that the fabric felt both lightweight and quite smooth to the touch.
Upon trying the Riley Polo on, I liked the feel of the fabric against my skin, because it felt smooth and comfortable. The length of the shirt was long enough for me, which was really nice – since I'm on the taller side, this can be something that I have an issue with (because I don't like to feel like I'm wearing a crop top!).
When I went to check out how the Riley Polo looked in the mirror, I found that I was pleased. The side princess seams of the top help to provide a fitted appearance, without being too tight – and I'll also note that my typical shirt size fits me quite well.
At first glance, I found myself liking the top. But the more I looked at the Riley Polo in the mirror, I started to notice more cool details. Let's start with the fact that I (really) like that the back hem has a slightly longer drop to it than the front. Since I sometimes often find myself schooling with my shirt un-tucked (again, let's please make sure not to rat me out to George Morris here, folks), I find that the slightly longer back hem works for me.
Now, I definitely noticed that small reflective 'Noble Outfitters' text logo near the bottom hem on the front of the shirt – and I found it to be pretty sharp looking (if I do say so myself). But when I turned around, I liked the larger Noble Outfitters reflective logo that sits at the top of the back and between the shoulder blades. And while I find the reflective logos to add style points to the polo, I also like the reflective properties for when I ride at dawn or dusk.
Riding in the Riley Polo this summer season has also been an enjoyable experience for me. In terms of my own style preferences, I usually unbutton the top 1 or 2 of the 3 buttons on the front for a more casual appearance. Though for a slightly more serious and polished look, you can always button the polo all the way up.
I find myself riding in the Riley Polo either as a standalone, or while wearing a protective vest over it. In both cases, it remains comfortable during my ride…and then I notice something when I dismount and am un-tacking my horse. On warm days, the polo gets drenched pretty decently—especially if I am just coming off of a ride for which I wore a protective vest for.
On those warm days when the Riley Polo becomes completely soggy looking, I find that I'm personally a little grossed out that I just sweated glistened that profusely. But if I place my hand on the skin underneath said soggy polo, my skin feels a little clammy, but mostly dry to the touch. And I'm pretty happy that the fabric of the Riley Polo pulls away moisture so that I can stay more comfortable. Wiki wiki!
The Riley Polo from Noble Outfitters is available in three different colors, including White, Aqua Sky, and Blue Ribbon. This particular polo has a retail price of $39.99.
Go Riding Polos that Wick Away Moisture (Wiki Wiki).  Go Noble Outfitters.  Go Eventing.