Welcome to EN's Product Review series! Who doesn't love shopping… especially when the object of your search is new gear for yourself or your horse? As an enthusiast of all products equine, I LOVE trying out new gear. Which is why I'm thrilled to have the opportunity to try out products, so that I may share my many adventures with all of you! Please join me as I narrate my personal journey of trying out all of the products featured. While I will make no recommendations, I hope that you simply have fun and find entertainment while reading about my many adventures of trying new products, and that hearing about my personal experiences might help give you factors to consider when you are on your own quest for new gear!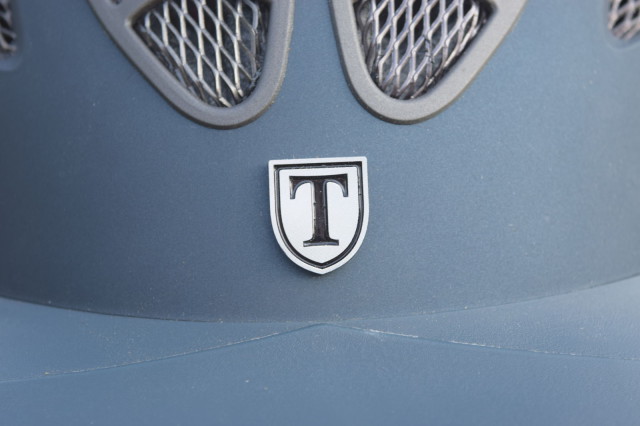 When I reminisce back to when I was a high energy kid, I realize that I did a lot of things without actually stopping to think about them first. Like the time when I tried to race headlong down the hill at the end of my street while riding my Bugs Bunny Huffy bike. At the time, the rush of speeding down the decline overcame me, and I'm pretty sure that I wore a stupid grin on my face all the while. It really was great fun. Too bad I didn't notice the pothole ahead.
I wasn't wearing a helmet when I totally wiped on my bike that day. Thankfully, other than being scraped and banged up (and losing major cool points), I was totally fine. Well, after I got cleaned up and was handed an ice cream.
At the time, none of "us kids" in the neighborhood wore bike helmets. Yet. I soon came to be the proud owner of a totally awesome purple bike helmet. Which was only made even more awesome when I added stickers to it. Pretty soon, wearing decked out bike helmets became 'cool'.
Fast forward to when I started out with my riding addiction taking riding lessons. With the number of activities that I was involved in as a pre-teen, I only took one riding lesson every two weeks. Once I started, there was no stopping. I felt like I lived those two whole weeks for that single hour in the saddle.
I may not have owned a fancy pair of breeches or boots at the time. Knit stretchy pants and boots with a heel did the job just find. But one part of my attire was non-negotiable – an ASTM-SEI approved riding helmet. 
Every new experience that I had while learning to ride was an adventure. Learning to trot for the first time. Hitting the trails for hours on end. Being proud to compete in my first hunter show. Tackling my first crossrail. Going through my first run on a XC course. But for every single ride that I took along the way, my helmet was securely strapped on my head.
My number one goal is to always to make every ride fun and SAFE. There are any number of reasons that folks can give to explain why they choose not to wear a helmet– and it is every individual's right to decide whether or not they choose to wear one. My choice is that I always wear my helmet.
A couple of months ago, Evention released an episode of their show titled #mindyourmelon, which took aim to dispell many of those 'why I don't wear a helmet' myths. In the spirit of #mindyourmelon, well known faces of the professional eventing community spotted in cameos to share why they mind their melons.
In the wake of the #mindyourmelon campaign, riders all over the world united to post fun, creative and downright ridiculously silly selfies of themselves wearing their helmets during everyday life.
However, you simply won't catch me riding without wearing my helmet. I was certainly very pleased to have the chance to try out a Tipperary T-Series T2 helmet recently. The T-Series helmet is available in two models: the T2 and the T4. The main difference between the two models is that the T2 helmet sports a matte paint finish, while the T4 helmet features a posh-looking suede finish.
When I first pulled the Tipperary T-Series T2 helmet out of the box (and then out of the bag) that it came in, I found myself pausing to admire it's sporty and low profile appearance. The T-Series helmets are available in a choice of three colors – Black, Slate Blue, or Chocolate Brown.
The T2 helmet felt sturdy when I picked it up, but was surprisingly lightweight. I immediately liked the way that the 11 large aluminum  air vents were integrated into the design of the helmet. One of my helmet woes over the years has been that my helmets have gotten sweaty. And a wee bit fragrant.
The T-Series helmets also feature Tipperary's own Flex-Flo Visor, which was designed to be both strong and flexible. And, the visor also has eight air vents integrated into the design. When I tried on the on the T2 helmet for the first time, I was very happy with the fit.
The helmet felt very secure on my head, thanks to it's ergonomic design. For a more customized fit, an additional rear padding system is included. It also stayed perfectly in place as I moved my head around–even though I did not fasten the chin strap yet.
I also like that the T-Series helmet features a sturdy leather harness, along with an adjustable chin strap with a unique multi-point "quick-clip" buckle. The interior of the helmet contains a honeycomb mesh lining, which helps promote air flow in the helmet – and then after a particular strenuous ride, it can be removed and washed.
And, each helmet comes with a second removable mesh lining. After a particularly sweaty ride, I can just pull out the first lining to wash, and then replace it with a fresh lining. That way, I can keep riding safely with a dry lining.
Riding while wearing the T2 helmet was a really great experience for me. I like that it stayed securely in place during my entire ride. I feel like the extended drop on the back of the helmet provides extra stability in the fit. And it also covers a greater are of my head, which I take as a positive.
Also, even though the temperatures here in Pennsylvania have been riding in the 80s for the most part, my head has been staying cool thanks to the ventilation system of the helmet. I quite literally started laughing as I was galloping a stretch when I could feel the air moving through my helmet. I seriously felt a breeze on my head. What a concept – my head is protected while I ride…but it can also breathe!
A familiar face that you may have seen donning a Tipperary helmet while competing at event is Peter Atkins. Most of us are familiar with Peter, and of course the famous Henny. Peter had the following to say about wearing Tipperary: "I love the Tipperary line of products. I wear their helmets for all three phases and their vest for cross country. Not only do I use the helmets but so do my wife, son and many of my clients!  They are comfortable, light weight and well ventilated."
I very much enjoy riding while wearing the Tipperary T-Series helmet. While I really am very pleased with the fit, I think the feature that I dote on the most is the ventilation that helps to keep my head cooler during riding.
The other little details seem very well thought out–the Flex-Flo Visor, the removable (and washable) liner, and the quick-clip buckle on the chin strap (which, by the way, I can un-do with one hand)–all details that really make the T-Series helmet stand out for me. Both the T-Series T2 and T4 helmet models retail for $199.00.
Wanna snag your very own T-Series T2 helmet of your very own? Do you have a great story about why you #mindyourmelon? And a super awesome photo to go along with it? If you answered yes to any of these questions, make sure to head on over to check out the contest that our awesome EN sponsor Tipperary Equestrian is supporting in honor of the upcoming Riders4Helmets International Helmet Awareness Day on July 12th, 2014!
You can also check out the T-Series helmet on Riders4Helmets International Helmet Awareness Day, as Tipperary is a participating retailer with the event!
Go Helmets that BREATHE.  Go Tipperary.  Go Eventing.