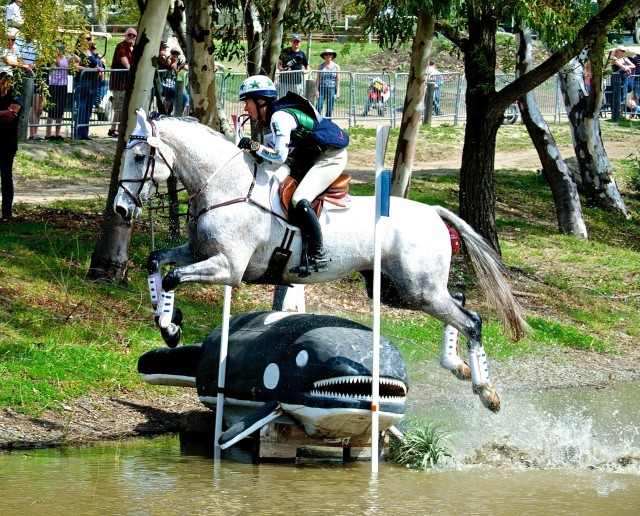 Kristi Nunnink made the heartwrenching decision to retire her veteran partner, R-Star, a mere week before Rolex this year due to an irregular heartbeat discovered during some fitness work. While Kristi was understandably disappointed, she strongly felt that it was in the best interest of the 13-year-old mare to not ask her to do anything more with her competitive career. Kristi quickly regrouped and set about putting her next plan to fruition: creating her next superstar by breeding Rosie to a top stallion.

"I was obviously so disappointed at first not to be able to run Rolex," Kristi said. "I think it just takes time to get home and let go of that and see things more realistically. I'm just so thankful she didn't get hurt, and she is in great shape and I am excited to breed her now."
Kristi spent a bit of time researching stallions that would be a suitable match for the Holsteiner mare. "There are so many choices; I didn't really realize how difficult it would be to choose," Kristi said. "Originally, I really wanted to get something that was approved by the Holsteiner Association both here and in Germany, but I also wanted something that was at least three quarters Thoroughbred. I wanted the baby to have an easier time competing at the upper levels."
"I tried to find Holsteiner approved stallions that were at least three quarters Thoroughbred, but everything I liked was already sold out for the season. After that, I just forgot about the breed registry and went for the type of horse I liked."
After some searching, Kristi finally landed on Royaldik, a 16.2 1999 Oldenburg stallion. Royaldik's dam, Herka xx, is a full sister to Heraldik xx, whose offspring include Olympic horses FRH Butts Abraxxas and Butts Leon. Known for producing foals with great brains and exceptional movement, Royaldik is also recommended for breeders looking to refine their mares.
"Rosie is large," Kristi said. "I didn't want to breed to anything over 16.1. I've been so lucky with her that she's been so sound, but I had to work so much harder to keep her fit. I remember going for gallops with Hawley (Bennett-Awad) and Gin & Juice, and Ginny would be on her third gallop of the season and ready to go and Rosie would be on her thirteenth! After (Royaldik) was recommended to me by several German breeders, I went with a gamble on him."
Kristi ordered two doses of semen, and Rosie has spent the last two weeks at Dr. Kris Purcell's practice to prepare for the breeding. "She's just now coming into heat, so the plan is to breed on Wednesday of this week," Kristi said on Monday.
As a fit event horse at the top of her competitive career, one had to wonder how Rosie took to a quick transition to retirement. "You know, before when she would have four or six weeks off after a three day, she would get really antsy after about a week. She would get really upset when she saw us loading the trailer to leave with other horses, and she was just very fussy," Kristi said. "This time, though, she's been very quiet. She didn't care if we left with the trailer, and when we took her over to the vet she was really happy to just be out in a pasture. She's just very content now."
Rosie got a few weeks off after her final gallop to allow her to come down and put on some weight, which Kristi said she did easily and quietly. Almost as if the mare was ready to move on to the next chapter of life, Rosie has taken to retired life much easier than Kristi anticipated.
While Rosie gets a chance to try out motherhood, Kristi has several other horses to focus on. "It's such an emotional process to bond with these horses," she said. "I've always gotten really attached to my horses, so I end up with a field full of geldings that I can't do anything with once they are done with their careers. Now, I've got a few mares to work with and I am excited to be able to get more into breeding later on. A few people told me to try out show jumping or dressage, but eventing is what I know and what I want to continue doing. Once I've done all I can do with that, I'll do more with the breeding, which has always been a goal of mine."