Leslie Law on his exciting, young Advanced prospect Zenith ISF
The rain that had been threatening all morning started to fall steadily at about 10:30 this morning  at Poplar, hence your timely update! However dressage began in earnest at 8am, with six rings running concurrently. The three main rings in front of the permanent barns and show office which started with Advanced, Open Intermediate and CIC** are quite close together, and all the horses seemed to be feeling the buzz from both the slightly cooler weather, and the electric atmosphere in the barns. The barns, as you'd expect with this many horses running, are a hive of activity, preparations for tests, horses whinnying, getting loose, people still unpacking, and I saw lots of skittish horses returning sideways from warm-ups in the early light. 
What a great a start to the day to see Buck in breeches – I actually had to do a double take! I'm sure it seems like a lifetime for him, and he did mention how rusty he felt, but it seems like very little time ago that he was standing gingerly in his sling, turning his head with care, and wincing when as he walked.  It absolutely made my morning to hear him tell me about riding the FEI test ride on Reggie – luckily Reggie was unaffected by the atmosphere and very well-behaved. Buck warmed up briefly just as it got light, and was in the ring at 7:45am, and was out helping his students shortly after. He hasn't been jumping at all, but has a check-up in Nashville the monday before the Fork, and still hopes to ride there. Buck said although he feels absolutely fine standing, coaching, and even riding gently he still can't lift his right arm very high, and the bone still hasn't healed fully, obviously, so he doesn't want to fall off or damage it further.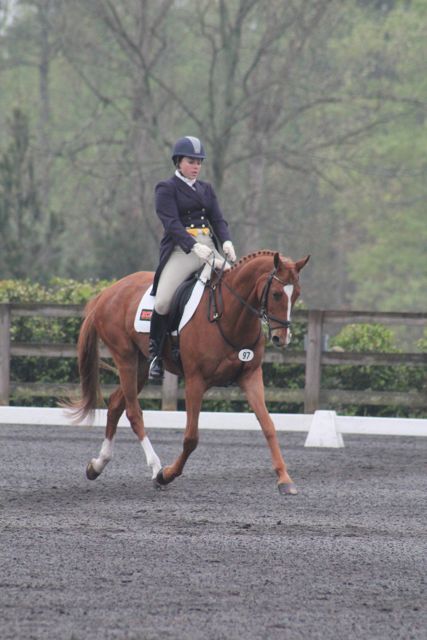 Rock on Rose and Whitney Weston did a very nice test this morning in the Advanced – so pretty and delicate it's funny to see this little chestnut mare daintily skipping around the dressage like a ballerina, and then watch her the next day devour the cross country courses like a monster! Let's hope she does the same tomorrow. I'm still wondering how I'm going to persuade my children to walk the course later this afternoon, fingers crossed the rain will ease off for everyone's sakes!
I know Team Tucker/Exponential will be disappointed with his test this morning in the Advanced, especially following such a fantastic one a couple of weeks ago at Red Hills, and after talking to his team knowing how hard Jess has been working on the dressage, and how spectacularly he's been going at home.  Tucker came in a little tense and didn't improve, made some mistakes, was unsettled by a bell for the next door arena, and it will be a test Jess will no doubt learn from and move on – I'm excited to see him jump again tho'.  I'm also looking forward to seeing her WEG team mates out – the welcome and long-awaited return of Steph Rhodes-Bosch's Port Authority, and Hawley Bennet-Awad's Gin'n'Juice is gracing the East Coast.
Why we do it!
Darren Chiacchia, here on Fantastik in the CIC** who had some bobbles, and looked overbent  at times but Darren must have been relieved he didn't behave as badly as his first horse in the arena, Zauberruf, who jogged through most of it, hate that! Some horses (and riders) were definitely affected by the close proximity of the arenas, the bells and whistles going in the middle of a test, another horse next door doing medium canter while you're trying you're hardest to keep your horse in walk, but such is life!  Darren also has two horses in the Advanced divisions.
Equestrian Styling – ready for the fashion mag photo shoot whenever you are!
Poor Lexi Scovil was putting in a very nice test on Sky Show in the CIC** until he too showed some nerves in the canter work – I think there will be a lot of people reassuring themselves tonight that they event because they love to jump, and for the thrill of the cross country, and they will be looking forward to putting dressage day behind them, and going out and attacking the course.
Penny Rowland, another Canadian, on Northwinds Breeze who was so impressive last autumn at the Kentucky Horse Park at the Midsouth Team Challenge, a lovely little mare adn I remember remarking how different she is to the equally nice but huge gelding Penny rode in the Advanced at Rocking Horse Winter II!
Dominic and Jimmie Schramm's dog – bet he's regretting that clip now, because of the chilly weather and the rain of course!
Much more to come, hope to drag the kids out of the car and into the rain to watch some more dressage – their weekend of hell, poor things! It looks like they are now allowing the dressage riders to rider their tests in raincoats – some small mercy. Thanks for visiting Eventing Nation, and hope to bring you more later, as I watch the horses splash through sloppy arenas. Props to the organisers for keeping everything running on time and so cheerfully. Go away rain, and Go Eventing!
Comments