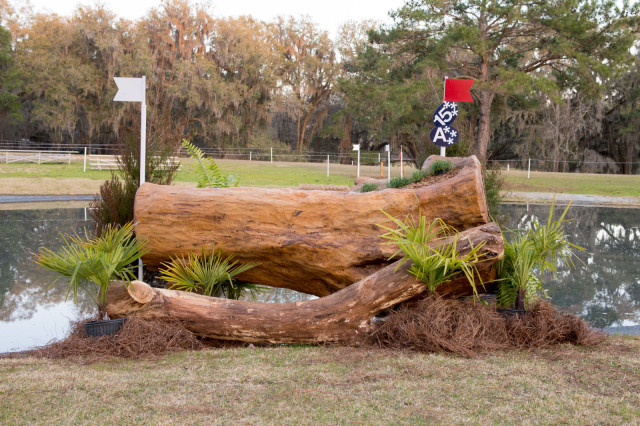 There is no live streaming or radio broadcast for cross country day at Red Hills International Horse Trials, but we've been tweeting results all morning @eventingnation and also will be posting live updates in this thread during CIC3* cross country, which starts at about 11:20 p.m. EST. Keep refreshing this page!
Click here for the full fence-by-fence preview of Mike Etherington-Smith's CIC3* cross country course, as well as his exclusive analysis. Phillip Dutton and Fernhill Fugitive lead the CIC3* after this morning's show jumping, with Jennie Brannigan and Catalina in second and Hannah Sue Burnett and Harbour Pilot in third.
Clayton Fredericks held the lead in the CIC2* with FE Bowman after jumping clear with 1.2 time penalties on cross country this morning, and Caroline Martin and Effervescent moved up to second place after delivering one of the three clear rounds inside the time over David O'Connor's course. Clayton and FE Money Made are in third.
With CIC2* cross country running during CIC3* show jumping and then CIC3* cross country starting almost immediately after, we won't be able to bring you reports on this morning's action until later this afternoon. In the meantime you can check out the live scores here. Keep it locked on EN for all your #RHHT news.
#RHHT: Website, Entry Status, Ride Times, Live Scores, EN's Coverage, Twitter, EN's Instagram
11:15: And we're off! Phillip Dutton and Mr Candyman are first on course.
11:24: The speakers stopped working for several minutes but we have sound now, though it's very hard to hear! Kate Chadderton and Collection Pass are our first pair home with 26 time penalties.
11:27: No jumping penalties and 16.4 time for Lauren Kieffer and Meadowbrook's Scarlett. Only a handful of horses have ever made the time in the 3* at Red Hills.
11:28: Joe Meyer and Clip Clop home clear with 8.4 time penalties.
11:29: Selena O'Hanlon and Foxwood High home clear with 4.8 time penalties. That's the fastest round so far.
11:32: Clear for Waylon Roberts and Bill Owen with what sounded like 15.6 time penalties but it is extremely difficult to hear.
11:34: Oh no! Daisy Trayford and Normandy Soldier get in too close to the angled brush at 4b and she can't quite save it. She is up and OK after falling.
11:35: Holy moly! Justine Dutton and Jollybo get one stride in the two-stride brush combination at fence 5ab. Tally ho!
11:36: No jumping and 26 time penalties for William Hoos and Celtic Rhythm.
11:42: Diana Burnett and Bonner's Chief also home clear though impossible to hear their time penalties over the boisterous crowd. Lots of people enjoying the beautiful day here!
11:44: Home clear with 22.8 time penalties for Justine Dutton and Jollybo.
11:45: Madeline Backus and P.S. Ariana come in too hot to the angled brush at 5a and glance off to the left at the b element.
11:46: No jumping and 12.4 time penalties for Ellie MacPhail and RF Eloquence.
11:48: Clear with 14.8 time penalties for Sportsfield Candy and Phillip Dutton.
11:51: Just 6.4 time penalties for Madeline and P.S. Ariana despite that glance off at 4b!
11:54: Elisa Wallace and Simply Priceless home clear with 3.2 penalties. Keep checking the live scores link above for confirmed time penalties as I'm wildly guessing on these due to muffled speakers.
11:58: Shawn Ferguson and Cruising Guy drive by the arrowhead brush coming out of the water at 15c.
12:01: Just 5.8 time penalties for Jennie Brannigan and Catalina to put the pressure on leaders Phillip Dutton and Fernhill Fugitive.
12:02: Home with 20 jumping and 21 time penalties for Shawn Ferguson and Cruising Guy.
12:06: Clear with what sounded like 19 time penalties.
12:08: Clear with 7.2 time penalties for Lisa Marie Fergusson and Honor Me.
12:10: A bummer of a runout for Courtney Cooper and Who's A Star at 12a, the first fence of the corner combination.
12:11: Daniela Moguel and Cecelia home clear with 22.8 time penalties.
12:13: Emily Hamel and Ramsey have a bummer of a runout at 15c, the arrowhead brush at the water complex. They took the option and are on their way.
12:15: Live scores are now starting to pop up and we will adjust any scores from the earlier rides. It's very windy and the spectators are making it tough to hear the speakers, though we're very happy to have a good crowd here at Red Hills!
12:19: Just as a heads up to everyone, the optimum time is 5 minutes and 58 seconds.
12:21: April Simmonds and Quebec are home clear with 28.4 time penalties.
12:23: Just two seconds over the time for Phillip Dutton and Fernhill Fugitive to win the Red Hills CIC3*!
12:26: No jumping and 8.8 time penalties for Leah Lang-Gluscic and AP Prime.
12:31: No jumping and 24.4 time for Kirsten Buffamoyer and Jim.
12:32: Just 3.6 time penalties for Katherine Coleman and Longwood. A super round for them!
12:33: Hannah Sue Burnett and Harbour Pilot are also home clear with 5.4 time penalties. Justine Dutton and Huck Finn are the last pair home.
12:35: That's a wrap! Phillip Dutton and Fernhill Fugitive win on 43.2, Jennie Brannigan and Catalina finish second on 50.0, and Hannah Sue Burnett and Harbour Pilot finish third on 51.4. Stay tuned for the full report, and keep checking this link for final scores.