Good morning, EN! To get our day started, we're checking in on the action at The Fork at Tryon, presented by Yammer America. The Fork features a CCI4*-S horses prepping for their respective fall destinations, a CCI2*-L, CCI1*-S, and National levels from Beginner Novice through Advanced.
Boyd Martin and Yankee Creek Ranch LLC's Commando 3 are currently in command-o of the 4*-S after dressage and show jumping. More than half of the field, which will send 19 forward to Capt. Phillips' cross country test tomorrow, lowered at least one rail in the show jumping, with two pairs incurring Compulsory Retirement.
The top three, however, remain untouched: Boyd and Commando, who's aiming at the CCI4*-L at Morven Park next month, took the early lead on a dressage score of 28.7 and missed out on the time allowed to add 1.2 time penalties. Jacob Fletcher and Fletcher Farms' Fabian — who should very much be on your radar this fall with several strong finishes at this level under their belt — are in second on a score of 33.9 with one rail. Phillip Dutton and Boekelo-bound Denim, owned by Ann Lapides, Caroline Moran, and Neill Sites, are in third with a 35.1. Fourth-placed Julie Wolfert, bouncing back after an injury this spring forced her to truncate the first part of her season, notched one of just two clear rounds inside the time with her own, Sheri Gurske, and Renee Senter's SSH Playboy to sit on a score of 35.4.
You can check in on all scores from The Fork here. There is no live stream of the cross country today, but we'll provide another update on the final results this weekend. Stay tuned!
Also on Our Radar:
The mornings have turned crisp, the grass is lush from a (very) wet summer, and pumpkins are a must-have for fence decorations: this is eventing in Area 1 in the fall! I'm betting that there are few venues more thankful to see the other side of this summer than the Green Mountain Horse Association (GMHA) in South Woodstock, Vermont.
With their cross country fields now fully recovered from two major flooding events in July — thanks to the generous help of donors and volunteers alongside the tireless work of the grounds crew — the venue is excited to see horses and riders galloping across their beautiful pumpkin-laden course this weekend!
U.S. Weekend Action
Aspen Farm H.T. (Yelm, WA) [Website] [Entries] [Ride Times] [Volunteer] [Scoring]
Flying Cross Farm H.T. (Goshen, KY) [Website] [Entries] [Ride Times] [Volunteer][Scoring]
GMHA September H.T. (South Woodstock, VT) [Website] [Entries] [Volunteer] [Scoring]
Marlborough H.T (Upper Marlboro, MD) [Website] [Entries] [Volunteer] [Scoring]
Otter Creek Fall H.T. (Wheeler, WI) [Website] [Entries] [Volunteer] [Scoring]
The Event at Skyline (Mt Pleasant, UT) [Website] [Entries] [Ride Times] [Volunteer] [Scoring]
The Fork at Tryon (Mill Spring, NC) [Website] [Entries] [Volunteer] [Scoring]
Major International Events:
Blenheim Palace International: [Website] [Entries] [Live Stream]
Links to Start Your Weekend:
'He's the gift that keeps on giving': meet the Blenheim first-timer and her 'pride and joy' campaigner on an incredible journey
Sixteen factors increase likelihood of a successful Eventing cross-country – study
EC Releases Socio-Economic Impact Report
It Takes A Villa: An Eventer Tackles A Carriage Classic
Hot on Horse Nation: 20 Top Gun Quotes That Apply to Riding Horses
Sponsor Corner: With Sergio Grasso boots by World Equestrian Brands, you can be as wild or as understated as you'd like. This pair that features silver glitter leather with crocodile texture and silver piping is for those equestrians who want to live life on the wild side 🐊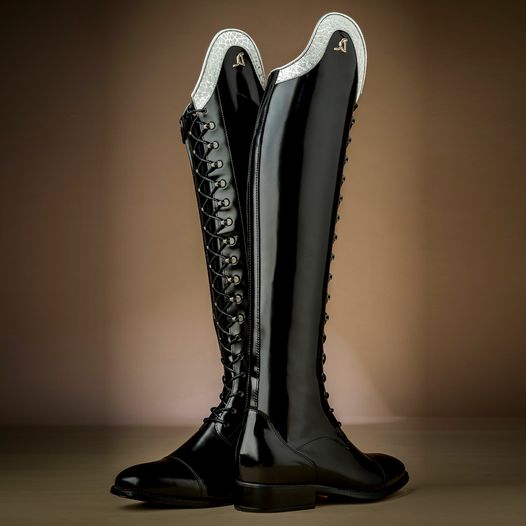 Morning Viewing: Walk the 4* course for The Fork at Tryon with Selena O' Hanlon: