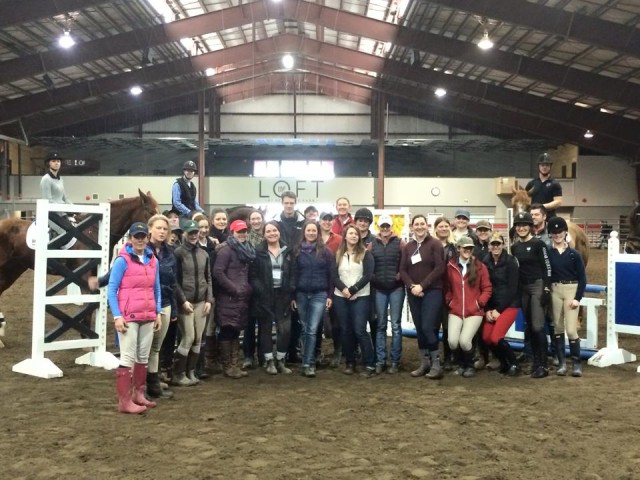 Aspire to inspire. It's a simple motto, and it's the theory behind Scott Hayes' business model for SH Productions Inc. By integrating his background with event planning and passion for equestrian sport, he's created a unique business centered around taking educational clinics to a whole new level.
When William Fox-Pitt landed in Vancouver to teach a clinic in Canada earlier this month, Scott had every detail covered. Fresh off of a 10-hour flight, William was whisked off to a 4-star hotel and treated like a VIP all weekend. Not to mention, he flew first class.
Hundreds of auditors and more than 30 horses and riders came to learn from William, and Scott accommodated all of them with ease. The result? A fantastic educational opportunity for all involved and a happy clinician who was able to do his job in a well organized environment.
Building the business
Scott cut his teeth early in his career by managing a top-notch equestrian facility housed in a private equestrian community. "I was the general manager, and the idea came to me to put on world class events there. We had the facility for it, so there would be a huge draw for people to come," Scott said.
"I'm a 'go big or go home' type person, and when the board of directors didn't want to take on the financial risk of the events I was envisioning, I asked their permission to go ahead and plan it on my own."
Scott set the bar high, eyeing Anky van Grunsven, the renowned dressage rider, as a potential clinician to introduce to the Canadian equestrian community. "I wanted to bring a world class clinician to an area that perhaps wasn't getting as much attention," Scott said. "I felt like there was a niche in the market."
After securing permission from the board to plan the clinic, Scott worked furiously to pull off the event. Having already secured dates with Anky, he had just three months to bring his vision to reality.
"That was a big risk," Scott said. "In three months, I created a company and went all out in planning. (Anky) had a very high price tag, and there were a lot of ends to be met. But in the end, everything went off without a hitch. Everyone who came learned something and found her training methods to be clear and concise. They all wanted her to come back the following year."
Joining the eventing ranks 
Having recently ventured into event horse ownership, Scott decided to make an eventing clinic his next marquee event. Keeping with his "go big or go home" theme, Scott targeted William Fox-Pitt, contacting his assistant in an effort to secure dates for 2015.
"I was very persistent with William's assistant. That's what I will always tell someone looking for advice — you've got to be persistent, while making sure you're not annoying. The saying 'patience is a virtue' really is true when dealing with top-level athletes. Due to their demanding schedules, securing dates is the hard part — the rest is easy," Scott said.
Scott set dates for William's clinic in Vancouver and also created sponsorship opportunities for the clinic to reduce costs. For the facility, Scott chose a large indoor arena where William could bring in cross country fences. "I wanted William to have access to everything he needed," Scott said. "I also want to support all the facilities I can, so it just depends on what the event requires."
Scott also had prospective riders apply for their spot in the clinic. Since he kept entry costs as low as possible, he created more of an invitational model, screening applicants and selecting qualified combinations to ride with William.
Auditors were welcomed, and VIP tables were made available for those who wanted to view the clinic as up close and personal as possible. "My philosophy for pricing is evolving. The costs for these events is extremely high, and it's not fair to rely on the riders to cover everything. I look at it as a presentation, a learning opportunity for everyone, especially the auditors," Scott said.
"I try to keep the cost for riding as low as I can — I rely more on the community surrounding the event to support. Whether it's corporate sponsorships or auditing tickets, it's a way to involve everyone and spread out the costs."
'Aspire to inspire'
Scott hopes to continue planning events that will provide unique opportunities for education and, subsequently, inspiration. "My motto is 'aspire to inspire,' and I want people to be inspired by what they've seen," he said. "These clinicians have worked hard to get where they are, and I want the events to be an inspiration to improve every facet of your life."
His next big clinic venture is the West Coast Dressage Symposia with Charlotte Dujardin on May 1-2 in Surrey, British Columbia. Once again, Scott has pulled out all the stops to make the event one that attendees will be talking about for months to come.
VIP tickets and auditing packages were made available, and accommodations were made for Charlotte and her best friend, Ian, to make a vacation out of their trip to Canada. "I want the clinicians to leave our events and remember it. I want it to be a memorable experience for them, because I think we have a lot to offer here," Scott said.
What advice would Scott give to event and clinic organizers based on his experiences? "Delegate," he said. "That's one thing I'm still working on, but that is what personal growth is about. You have to be willing to accept the help that people offer. At William's clinic, I almost felt as if I wasn't doing enough because I had delegated enough that I didn't have to run around like a chicken with its head cut off."
In the grand scheme of things, Scott has found his niche. Education is an integral part of any equestrian pursuit, and Scott's aim is to provide those opportunities in a unique way. "It's a lot of work, but it's so rewarding. After all, it's only two or three days you have to get through! It's all well worth it in the end."
To learn more about upcoming opportunities from SH Productions Inc., click here.