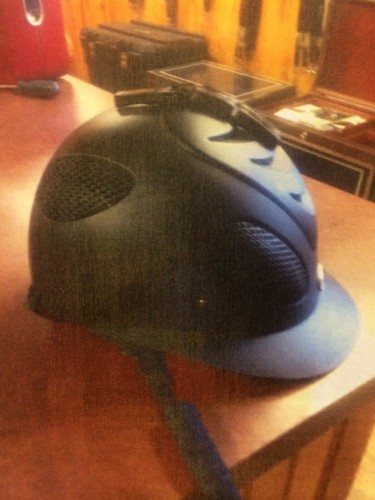 The USEF Eventing Safety Committee proposed last year using a Shockbox to monitor concussion probability following falls on cross, and the product manufacturer has since updated the software to allow the product to be used on riding helmets. Originally designed for football players, the Shockbox is a helmet sensor that provides real-time assessment of head impact levels. The Shockbox helmet sensor attaches to helmets using high-bonding 3M adhesive tape. In the case of a fall, the Shockbox sends an immediate impact notification to a smartphone from up to 328 feet away.
According to the manufacturer, in-house tests confirm that helmets fitted with the Shockbox still meet ASTM/SEI safety standards. The sensor is designed to be attached to the top of the riding helmet since the point of impact when falling off a horse can vary greatly, the company said in a press release: "So often, equestrians are expected to 'get back on the horse,' but this takes the guess work away and alerts you to stop riding and seek medical advice." Shockbox comes in five colors — for cross-country color coordination, clearly! — and is available online for $149.99.
What do you think of the Shockbox, EN? Would you consider wearing a Shockbox on your helmet while going cross country? Should a concussion sensor be required equipment for eventers when going cross country, just like helmets and safety vests? Weigh in!