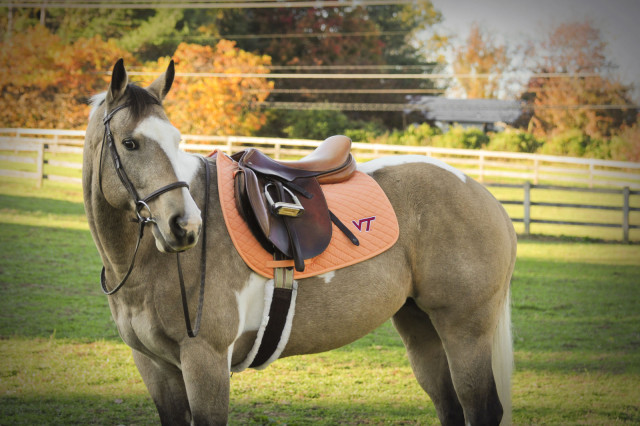 College equestrians and collegiate team fans, rejoice! Here's your chance to show your school spirit in the saddle, while supporting an awesome new small business. In addition to their line of fashionable collegiate clothing, Collegiate Glamour LLC also produces licensed collegiate horse items such as saddle pads, breeches, and horse-themed shirts.
"We know that there are numerous folks out there that love the concept of representing their respective university on their horse," said founder and CEO Tiffany R. Harvey. A native Marylander who began riding at age 11, Tiffany grew up riding hunter-jumpers, eventing, and dressage before becoming "an avid dressage queen." After graduating from Virginia Tech and obtaining Masters' degrees in Business and International Marketing and Business Administration, Tiffany combined her passions for horseback riding and college sports by creating Collegiate Glamour.
Knowing that the population of passionate college riders is ever-growing, Collegiate Glamour seeks to clothe riders and their horses in comfortable and fashionable gear. Students participating in organizations such as Intercollegiate Riding Show Association (IHSA), Intercollegiate Dressage Association (IDA), and the National Collegiate Equestrian Association (NCEA) can now order licensed gear from the University of Maryland and Virginia Tech, with other colleges and universities coming soon.
"We are looking to represent over 50 universities in the next year," Tiffany explained. Their product line will include:
Saddle pads (Collegiate Glamour was approved to produce the first ever retail collegiate saddle pad)
Breeches
Dress sheets
Crocheted ear bonnets
Polo wraps
Coat bags
Helmet bags
Boot bags
The Collegiate Glamour equestrian line already has a large following on Facebook, and is excited to be in contract negotiations with the following schools to start carrying their products:
University of Alabama
University of Arizona
Arizona State University
Auburn University
Clemson
University of Florida
Florida State University
University of Georgia
University of Kentucky
Kansas State Univerity
LSU
University of Michigan
Michigan State University
University of North Carolina
North Carolina State University
Ohio State
University of Oklahoma
Oklahoma State University
Penn State
Stanford University
UCLA
University of Virginia
University of South Carolina
University of Tennessee
University of Texas
Texas A&M
West Virginia University
Go collegiate teams. Go Eventing.