It's not often that a horse waltzes into the arena in its five-star debut and throws down what's not far off from the record for a debut in terms of score. But most horses aren't Mai Baum. To be fair, Mai Baum's seen the imposing Rolex Stadium before – he's been the test ride here before – but even so, there's a world of pressure that rides on a horse that's known for his competitive scores. And compete is exactly what he and Tamie Smith did today, laying down a 21.8 to sit just a whisker hair off from Marilyn Little and RF Scandalous, who will hold their lead on a 21.7 after the conclusion of dressage at the Land Rover Kentucky Three-Day Event, presented by MARS Equestrian.
Tamie says that it took some time for her to build a partnership with the 15-year-old Mai Baum (Loredano – Ramira, by Rike), who was originally piloted by Alex Ahearn (who with her family and Eric Markell still own the German Sporthorse gelding) through the old three-star level. When Alex was preparing to head off to college, she took Tamie to dinner and laid out her vision: Tamie needed a great horse, and Lexus was going to be it.
"I get chills every time I think about that night," she reflected. "It changed my career actually."
Indeed it did. Of course, Tamie's no stranger to special horses and five-star rides, but anyone who saw "Lexus" as a young horse – he was selected in Germany by the Ahearns assisted by the expertise of Michelle Pestl – knew he would, without a doubt, be special. Special enough, in fact, that Tamie and Mai Baum's owners have been cautious with him, carefully choosing his events. In hindsight, Tamie says she maybe would do things different given another chance.
"It was a choice that we had made (not to do a five-star until this year)," Tamie said. "We had high hopes for him going into Rio (in 2016). He's a very extravagant mover and we chose to not to a five-star until now. I don't know if I would do that again just because when you have a horse of a lifetime…we almost just saved him. Just looking back I don't know if I would do that again. We wanted to have a chance to do an Olympic Games and that just happened to be five years later."
Tamie kicked herself for not having a better square halt, which could perhaps have squeaked her ahead of Marilyn, but in truth she's already focused on tomorrow. Derek di Grazia's course, she says, suits Mai Baum's big, galloping style well. "It is very much a course that suits him," she explained. "He is a big galloping type horse. He's also quick and naturally fast, rideable, so I feel very prepared. When I first walked (the course) there were a couple combos that I was quite worried about, but they look really rideable now and I feel like I have a really good plan. I feel really ready. I'll get to walk again in the morning and I'll get to watch a few."
Mai Baum's score goes down as the fourth lowest five-star debut score on record; the lowest was a 19.9 earned by Germany's Julia Krajewski and Chipmunk FRH at WEG in 2018.
Watch the test:
An interesting note on Marilyn Little and RF Scandalous, who retain their lead after today: RF Scandalous has now led the field after dressage in twelve consecutive A/4/5* starts. Now, she typically has much more time in hand for the next phase than she will this weekend, so time will tell how the storyline plays out there.
Boyd Martin was second best of day two, slotting into fourth place overnight aboard the Turner family's Tsetserleg TSF on a score of 25.4. This is "Thomas'" best score at the level, his previous best score of 27.1 earned at WEG in 2018.
"He's a great little horse," Boyd said. "He's a veteran at this level now and he's just fun to ride and he's such a trier. He goes in there and gives it his all every time. I'm really pleased with him. Dressage is a tough sport where you can always think of a movement here or there that you could've done better, but on the whole he was good."
Boyd credited his wife, Grand Prix dressage rider Silva Martin, for having trained up his horses on the flat in the lead-up to this weekend, even doing some dressage tests as practice at Fair Hill a few weeks ago. "A few of them got a bit hot in the warm-up and she quickly went to some exercises which defused them and relaxed them, so I'm a pretty lucky person."
Tsetserleg TSF (Windfall – Thabana, Buddenbrock) is one of two horses competing this weekend sired by the champion Windfall – Doug Payne's ride, Vandiver, is the other.
"A little bit disappointed because he can do so much more," Oliver Townend said when asked how he felt about his test today aboard Ballaghmor Class, the very experienced 2017 Burghley winner who is making his Kentucky debut. The pair earned a 26.5 to sit fifth overnight, giving stablemate and former winner Cooley Master Class the slight edge in third on a 24.1. "I think the last time he did that particular test he was on 20.8. That's life and horses and it's a three day event, so we're still close enough."
Oliver and the 14-year-old Ballaghmor Class (Courage II – Kilderry Place) also had a lighter prep that most years with the shutdown of British Eventing for the better part of the spring season. But all the same, Oliver says it's time to crack on and get on with tomorrow's duties.
"(Our preparation was) fine from a physical point of view, it's just been a bit tricky in England with the cancelations," he said. "Obviously Kentucky being canceled and then Badminton being canceled, it does take a bit of wind out of your sails, but at the same time the horses know their jobs. They're very fit, there's no excuses."
Buck Davidson enjoyed a great ride aboard Katherine O'Brien's Carlevo (Eurocommerce Caresino – Ramatuelle, by Levernois) as the last horse of the dressage phase this afternoon, scoring a 26.7 for sixth place overnight. This is the 14-year-old Holsteiner gelding's second go at the five-star level, and he bests his 2018 Kentucky score by 5.5 penalty points to put Buck into competitive position ahead of tomorrow.
"He was great. I was really, really proud of him," Buck said, joining us with Katherine O'Brien for a quick chat. "He's really good in this phase and to do that, that's as good as he's gone. It's cool, the O'Briens live here in Lexington and they helped me keep the horse and I can't thank them enough."
Liz Halliday-Sharp and Ocala Horse Properties' Deniro Z (Zapatero – Zonne-Trend, by French Buffett xx) was another pair most of us had earmarked to watch for a competitive mark, and they earned a 27.4 to sit eighth overnight behind Boyd Martin and On Cue (27.0). This is a five-star personal best for the 13-year-old KWPN gelding, and Liz says she saw a lot of improvements today to be pleased with.
"Deniro always tries in the ring for me, but he was pretty steamed," Liz said after her ride. "In the first halt, he was definitely looking around and feeling it, and I was like, 'come here, boy, let's do this'. Historically flying changes have been the hardest thing for him, and they weren't great but they were all clean today and that is a huge step forward for that horse, so I'm really proud of him. When we can get those dialed in, I'm sure he's going to be on a 25 or lower. I could have had a little more relaxation in places, definitely I would have liked the half-passes to have a little more flow, but I had to ride that I had today, so with that in mind I'm really pleased with him."
How did the numbers from today break down? Maggie Deatrick checks in:
Of those who went today, Z and Ballaghmor Class suddenly find themselves in the uncomfortable position of having to make up more ground than they expected on the leaderboard. They join heavy favorites Classic Moet and Vandiver in hoping to see the cross-country run difficult, particularly in the matter of time penalties. Marilyn Little is probably sweating a bit too, despite RF Scandalous holding onto the lead. Although RF Scandalous has now led the field after dressage in twelve consecutive A/4/5* starts, she usually relies on having some cushion to allow for some cross-country time penalties. Tomorrow, she'll have none.
Mai Baum and Off the Record both have to be extremely pleased with their freshman debuts at the level; despite scoring a little over two penalty points each off their recent pace, their ability to lay down such a strong result at their first 5* bodes well for the future of both of these and puts them both in position to finish as the top American. Tsetserleg TSF performed close to expected as well, and remains on track to also contend for a repeat of 2019.
It's hard to come to a five-star and not want to write 8000 words about every horse and rider, and I'll try not to keep you too long but I must leave you with my two favorite stories of the day: the five-star debuts of Ema Klugman, Germany's Anna Siemer and Valerie Vizcarrondo Pride.
Ema Klugman and Bendigo, a 19-year-old Thoroughbred/Trakehner cross by Refuse to Lose, much-loved members of the Nation Media family (Ema moonlights as Jumper Nation's editor), were tickled to make their debut today and earned a 41.5 from the judges, fairly close to his typical average at the upper levels. This is a cross country-loving horse known for making a climb up the board based on his speed in the second phase.
"It felt kind of surreal I have to say," Ema said. "I have only watched it on TV, so it was pretty cool to go in the ring. My horse was, for him, really good and I was happy also just to get to the final salute. [Ben doesn't always like dressage, we don't blame you buddy] It means a lot (to be here). I've had him for eight years and he's not really the easiest horse to ride but he tries really hard for me and he loves eventing, so it's kind of cool that a horse like him can not only qualify but come to an event like this. He was 11 years old when we got him and he was sitting in a field, so he wasn't the horse that was supposed to come here and it's really fun to have him here and do it together."
Germany's Anna Siemer made for one of the best moments of the day when she earned a very competitive 28.1 to sit in 10th place overnight in her first five-star with the 14-year-old Hanoverian mare FRH Butt's Avondale (Nobre xx – Heraldik's Amelie, by Heraldik xx). Interestingly, Anna actually lives just a short distance away from another five-star: Luhmühlen. So why choose Kentucky as your first go at the level?
"I think people at home are like, we have a five-star like two kilometers from my stable and you go now to the other side of the world to do our first five-star? But five years ago I was here, watched the course and I was like, 'I really want to go here with this mare' because this is what she likes I think…I think she can do this tomorrow."
"It was super!" Anna exclaimed after her test. "There were still two things not working out, but the rest was fine and she was quite calm in there for her nerves. She could be more excited, today she was ok."
Watch and become a fan, friends:
Valerie Vizcarrondo Pride got a bit emotional as she reflected on her first time in Rolex Stadium, where she earned a 34.8 to sit equal 42nd overnight. Take a watch (and grab a tissue):
We've got plenty more content to send you off with this evening, so stay tuned for more photos (scroll down for a small selection), a round-up of our post-ride interviews with the riders over the last two days, and more from the #BestWeekendAll Year.
Cross country will be intense tomorrow, no doubt, and the action kicks off at 8:30 a.m. EST with Jonelle Price and Grappa Nera first out of the box. The CCI5* will wrap up with Buck Davidson and Carlevo at 12:38 and will be followed by the CCI4*-S, with Jessica Phoenix and Rabbit first out at 1:45 p.m. To catch up on today's CCI4*-S action, click here.
#LRK3DE21: Website, EN's Ultimate Form Guide, CCI4*-S Live Scores, CCI5* Live Scores, 5* Dressage Ride Times, 4* Dressage Ride Times, Schedule, North America Live Stream, Worldwide Live Stream, EN's Coverage, EN's Instagram, EN's Twitter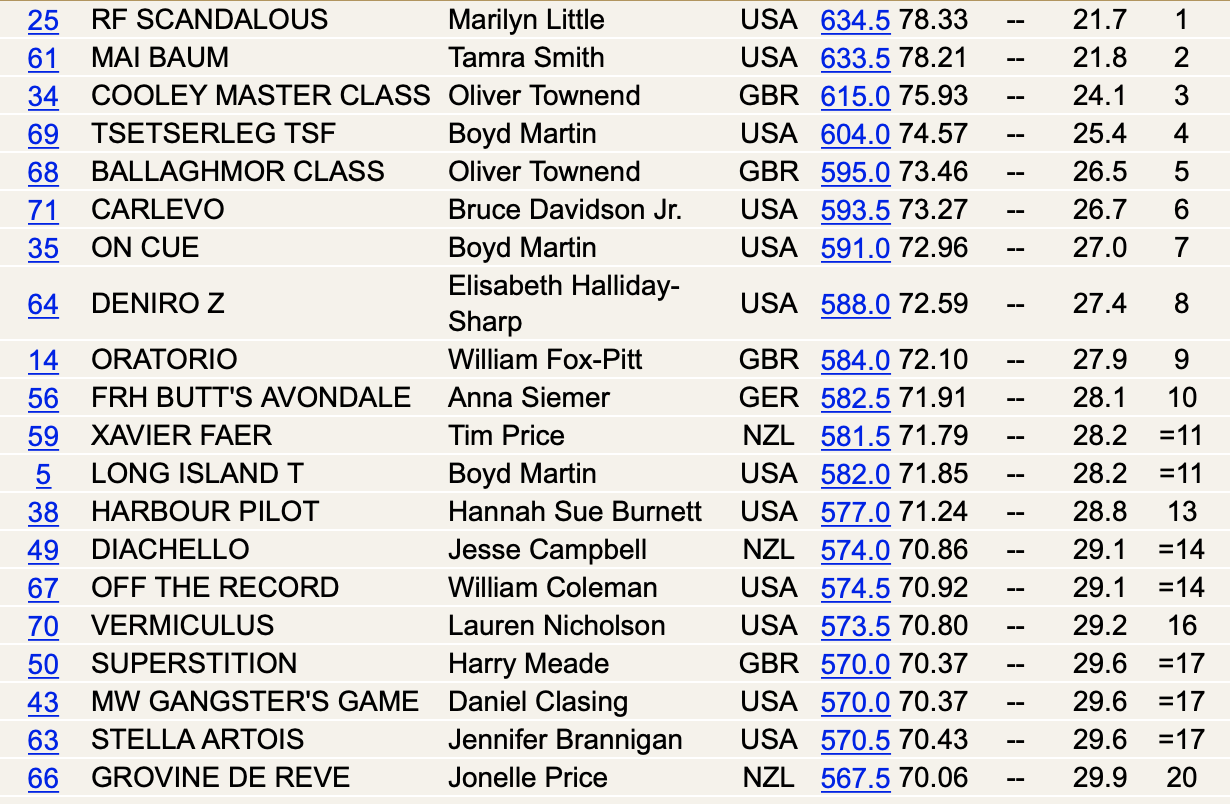 Comments