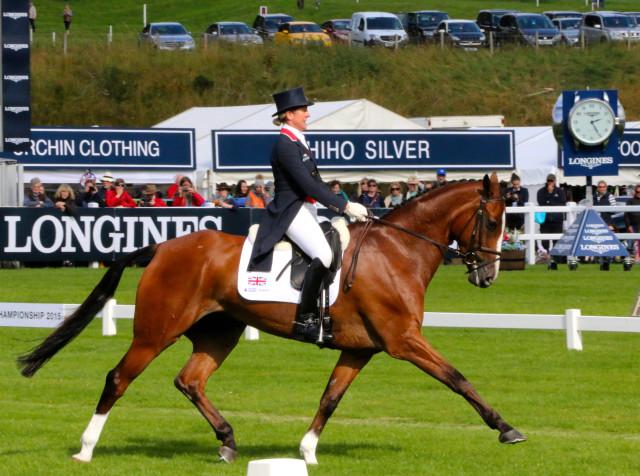 The sun, like the wi-fi, came in and out today and both were welcomed gladly. At the end of the first day of dressage at the Longines Blair Castle European Championships the youngest rider in the field Holly Woodhead has retained her lead from this morning, leading the Team GBR charge who lead the Team competition on 71.5 from France on 75.5, and Germany in third on 76.6.
Nicola Wilson came in second for Team GB shortly after lunch and solidified the British lead with a super, smooth test on One Two Many, showcasing his extravagant big paces, especially his level walk.
Nicola got two nines for her riding on former Blair CIC3* winner One Two Many, but typically was quick to give her horse the credit, "I'm just delighted with him; he is just such a talented horse but sometimes he can be just a little bit cheeky but just these last six weeks he's just got better and stronger and we've been working so well together and I'm delighted that it showed in the ring, and he was lovely to ride and I was so, so proud of him."
"He loves the atmosphere, he's an out and out showman, if there was nobody here he'd be really disappointed and probably trudge around like a carthorse but he was really elegant and I was really pleased with him. He did come here last year and he went very well [won the CIC3*!] so wouldn't it be lovely if he could do as well this year."
"As for cross country you start worrying at the first fence and don't stop until you're between those finish flags, there's a lot to jump there and I think Ian Stark's been incredibly clever with his layout of the course and his use of the hills and my word it's going to be a true test of cross country on Saturday. I know that One Two Many's fit enough, he hasn't missed any work and he's been bang on all summer so hopefully he will cope as well as any with the stamina test on Saturday."
"It's a fantastic atmosphere in the British camp with twelve riders here; the camaraderie is great and to have had some amazing dressage tests this morning is very exciting for Britain. Kitty did a super, super job getting us all started, it was so exciting for us all to be there to watch as she kicked the team performance off, she rode really well and it's just such an honour to be back part of the British team again – bring on the weekend!"
Nicola didn't stay in second place for long because Michael Jung came in a couple of horses later and rode a mistake free test on the elegant chestnut 8 year old (youngest horse in the field) fischerTakinou to score close behind Team GBR's Holly Woodhead.
Fourth at last year's Young Horse World Champs Michael described fischerTakinou as very relaxed and rideable, and he was one of the few horses who left the arena to huge applause from the cheering, shouting, whistling German flag-waving contingent in the grandstands on a loose rein, in fact on no reins at a super-relaxed walk, he does indeed look like nothing in the world bothers him at all!
As is becoming custom, Michael's wasn't the flashiest test, but it was without errors and he was understandably thrilled with his younger horse, "I'm very happy; fischerTakinou is a wonderful horse, he's very good in the dressage, very relaxed and I can start riding, he did a wonderful test. He had a few bigger competitions this year but he's normally never impressed by these things, he's very focused and concentrated on the rider and it makes it easier."
Michael has of course been 'walking' the cross country on his segway #mikesbike after his fall at Burghley last week on fischerRoccana left him slightly lame, "With the machine I had a lot of fun, and with the horse I hope so also! It's a tough course, it's a really tough course, big hills and I think the time is difficult, we have not many ways where we can gallop fast, it's tough enough I think for three star level."
fischerTakinou has a lot of TB in him which is why Michael picked him over Halunke for this track, and also he said he is aiming Halunke for Pau which would be a qualifier for 'next season' which presumably he means Rio. Michael is so far also happy with the team performance, "Dirk had also a very good test and we know that he's very strong in the cross country and the show-jumping."
Although the wind has picked up to be quite strong by the end of the day Alec Lochore, event director, is extremely grateful for the sunshine, "It is the most magnificently beautifully place here, our sport is rich because we can come to places like this to ply our trade. We've sold tickets in 26 countries, we've had great support locally, a lot of positives, we're in a good place".
We have some really heavy hitters to look forward to tomorrow, although if the forecast can be trusted not such great weather but we're in the Highlands, anything can happen.
We'll have more photos on our Facebook page later tonight, plus a short video with Sweden's Ludwig Svennerstal, but in the meantime a massive well done to Team GBR and Holly Woodhead. Thank you for joining us at Blair, and we look forward to three more days of action from the Scotland's premier event – Go the Longines FEI Blair European Championships!
#Blair2015: Website, Schedule, Live Scores, FEI TV, Course Preview, EN's Coverage, EN's Twitter, EN's Instagram, @samanthalclark
Comments