Phillip Dutton's vast experience showed this morning when he got the absolute best out of Team Rebecca's stunning mover Ben to score 48.3, good enough for third place at the morning coffee break, behind Kai Ruder on Gryffindor and Rodney Powell on Happy Go Lucky who are currently tied for the lead on 46.9.  (Catch up on live scores here) Ben has such a lovely way of going, very active but with a super, consistent rhythm and apart from slipping on one hind leg when he went to push off from the rein back there were really no mistakes. The changes were spot on, the canter work on the whole was great and his trot work was lovely to watch also. He looked soft and fairly relaxed throughout, and the exciting thing is there's probably still some improvement to come.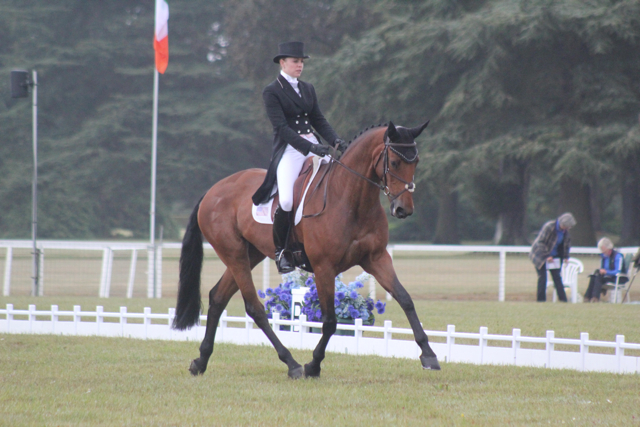 Jules Stiller has a lovely horse in Sintra BK, and rode her tactfully to score 64.2. There were moments of tension in the trot, and some anticipation of the changes in the canter which Jules handled well – this looks to be an exciting addition to her string.
William Fox-Pitt was the first to go in the CCI*** division this morning and Before Time never really looked settled; the trot work was better than the canter where he looked to struggle with the changes, and then switched  leads in the second counter canter. William will ride Running Order on Friday morning.  Lucy Wiegesma was the guinea pig for the CCI*** division on her Rolex Kentucky 2012 ride Grannvetka Prince, and it was lovely to see Laura Collett perform the CIC*** test ride on her gorgeous mare Allora. Much more from Blenheim to come, including of course Jessie Phoenix and Clark Montgomery's dressage this afternoon.  Go the USA and Canada at the Fidelity Blenheim International Horse Trials!