Jock Paget and Clifton Lush are your 2013 British Open Champions. Owned by Clifton Eventing founder Frances Stead and Lucy Allison, this NZ chestnut OTTB added just four  cross country time penalties to his winning dressage score to seal the deal. (All scores available here)  The top 20 going xc in reverse order of merit always makes for a nail-biting afternoon for the spectators, and definitely amps up the excitment to the very last second, but until Jock explained the way his ride played out I'd never really thought about how strategic the competitors have to be as well, "When I left the start box I knew that I had eight seconds to (second placed) Andrew (Nicholson) and about fifteen to (third placed) Oliver (Townend), and because I only had eight to Andrew I planned to go inside the time because I thought it was too close to try and be clever. I had my minutes and at that point I was going to try and go inside the time. I was on the time at the second and third minute and then by the time I got to the fourth minute still on time I heard that Andrew was walking home.  I knew now that I had fifteen seconds so I just stopped taking risks; I'd planned to take one less stride at the roll top to the skinny, and I'd planned to really knife those two fences before the water but once I knew I had fifteen seconds I just rode them safely and cruised home."
Frances saw Clifton Lush's potential as a very green five year old and bought him after seeing him on video, "He was doing some flatwork in a totally muddy paddock but I liked his paces and then they popped him over a few jumps and I thought he looked athletic, and I liked the type. I thought there was enough there naturally to work with and I thought he'd be really nice." Fast forward nine years to this weekend where he emphatically stepped out of his stablemate, Badminton winner Clifton Promise's shadow, an important win for both him and his rider, Jock, "To me it actually means a lot because I really wanted this horse to win something big. When I first came over here (my coach) Erik Duvander said that this is one you want to win, this is a big one.  When I saw the draw for Lush this weekend I got excited because I know he's capable, but between him and Promise I tend to put Promise first and of course he's exceptional but I think Lush has been right there next to him and deserves a bit more credit, he's been knocking on the door for a long time and he deserved a big win, he's got such a big heart and never stops trying." During those nine years Lush has also overcome a freak accident in the paddock which left him with broken withers, and a long and trying convalescence, as Frances explained, "He was out in the paddock and there was a storm that night, but normally he's very good in the paddock. The next morning they found him standing there with a very dirty rug and they didn't know what had happened to him; the vet said he must have spooked, fallen right over and probably hit it on something. It was easy to diagnose because he was two inches shorter! He's now 16hh, not 16.2! If you see him without tack or a rug on his shoulder blades are in the right place because they weren't hurt but there's nothing coming up in between; with a saddle on you don't notice it. He was such a good boy because he had to do three months in the cross ties – he was either being led to hand-graze or he was tied up to prevent him from lying down. After that he did three months of box rest and hand-walking, and then a further four months of gradually upgrading to a larger paddock."
Here's a picture Jenni Autry took of Clifton Lush with Jock at Badminton (he was 14th there this Spring), and you can see what Frances is talking about.
Clifton Lush and Clifton Promise (and Kevin McNab on Clifton Pinot) are headed to Burghley next, and then Jock plans to take Shady Grey to Pau. Also headed to Burghley is the new National Champion, second placed Oliver Townend (he may get used to reading that this week after filling the reserve spot in the Advanced, the Intermediate Championship, and now the Open) with the former Andrew Nicholson ride Armada.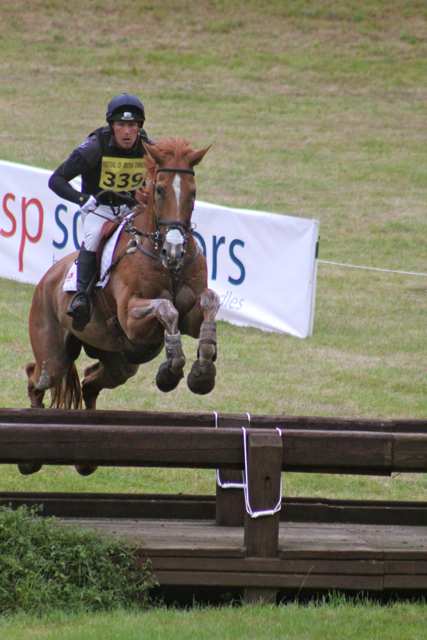 Oliver and Armada were one of only four combinations in the class to finish on their dressage score, and of those inside the time Oliver's round was the fastest, "He came out the water and my watch beeped so I looked at it and I was a minute faster there than I've ever been on any horse any year ever! Unbelievable, but as I said if Andrew Nicholson says he's never sat on anything with that kind of stride or power like it, it's doubtful that I ever will again. He's a very, very freak-like horse – for sure you could do four and three strides in a six stride distance at a full gallop, he's just a very, very different horse to ride. As long as you're brave enough when you can't see distances, because normally he runs you off the distance you think you're on anyway, and you somehow end up alright!" Suffering all weekend after a fall at home last Thursday, Oliver admitted he will finally see a doctor on Monday as he is pretty sure he's broken something.
Sam Griffiths and Happy Times moved up from 8th after the dressage to a final 3rd place, even with a rail down in the show-jumping. Sam had gone so early in the division, and although he knew he'd had a good round and was thrilled with how Happy went, he admitted he had no expectation of being placed at all, of even being in the top ten, so he was feeding baby Ollie and listening to the cricket in his lorry, completely oblivious to his rising up the ranks! This combination also now heads to Burghley, "This was part of the lead up to Burghley, as well as there being a major title to win, so I wanted to do well here, and because he ran well here now it's not like he needs any more runs."  Happy Times will work hard at home until then, and being close to William Fox-Pitt who kindly lets Sam use his"lovely uphill gallop"  can't hurt his fitness either.  A new father this year Sam shared that Ollie has had a great time at Gatcombe , "He came to the prize giving today and I think it's the first one he's been to and he actually thought everyone was clapping for him, he quite enjoyed himself!" Sam also finished 12th on the bay mare Paulank Brockagh.
Fellow Australians Andrew Hoy and Cheeky Calimbo added only time penalties to their dressage score to finish fourth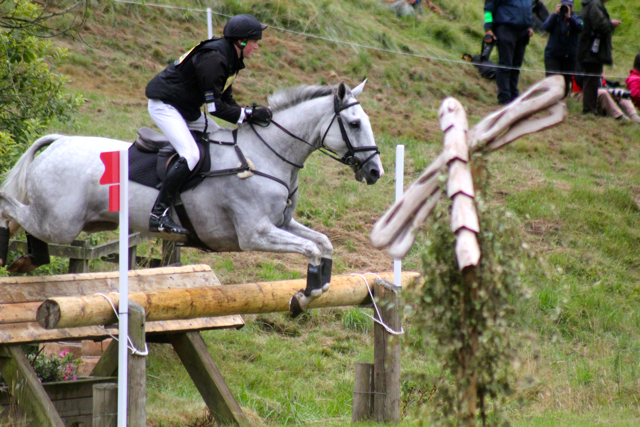 25 year old Royal Agriculture College student (3rd year, business management) Will Goodhew brought Trefilan Quicksilver home within the time to bag fifth place and a host of other prizes including a saddle from the Worshipful Company of Saddler (leading rider under 25) and a one thousand pound training bursary presented by the Horse Trials Support Group. Will told us he'll spend the latter on lessons with his regular trainer Angela Tucker. The twelve year old grey gelding Trefilan Quicksilver belongs to Will's mother Pella and they've had him since he  was a six year old, bringing him up through the grades after Matt Ryan did a few noices with him.  Although this was their first time in the British Open class at Gatcombe, they did contest the Advanced division here two years ago. With eight horses at home but only two in competing at the moment, Will is hoping to make a career out of eventing and receives help from his mother who has a showing background, "She does a lot of judging, so she's incredibly useful to take along to buy horses because she's so meticulous" and lately his father, a wind farmer, too, "Dad's getting into it, he's doing well and helping out but he's not originally horsey at all!"
Avebury may be the one bright spot in a bit of a gloomy weekend for Andrew Nicholson. Rosemary and Mark Barlow's horse finished sixth after adding some time cross country, but was the only one of Andrew's three rides in this division to complete. Viscount George ground to a halt at the very top of the hill in the Park Bowl, stopping twice at the Mushrooms (Fence 18) before Andrew retired, and Nereo, lying second and looking fantastic put in an uncharacteristic stop at the water and was then also retired.  If you look at Nereo's record you have to go back as far as an Elimination at Burghley in 2009, and before that a 20 at Boekelo the previous year to find the rare blots on his cross country jumping copybook.
Neither was Avebury's cross country today without incident. Taking the most economical lines, and with his trademark relentless rhythm he cut the turn from the log into the water to the offset boat very tight, and in angling it caught his left arm, or ankle, or both, it's hard to tell, on the white flag which very nearly pulled him off – they don't call him Mr Stickability for nothing.
Right before it happened….
Beanie Sturgis, a regular with the local Beaufort hunt went like a bat out of hell on Lebowski to complete on her dressage score, and moved up to seventh place, but her round was not without it's heart-stopping moments!
Aoife Clark has a lovely young horse in Fenyas Elegance, and as well as finishing 8th they took home the Worshipful Company of Loriners Trophy for the highest placed horse in the top 10 (she's nine) and Aoife's groom Hollie Bradshaw won the prize for the best turned out horse.
Francis Whittington and Catherine Witt's Easy Target move up to 9th place
Young Swedish rider Ludwig Svennerstal finished 11th on King Bob, and 14th on Shamwari, above, with two clear rounds cross country.
Sir Mark Todd, a complete masterclass, 13th on Ravenstar. To steal a phrase from Kate Samuels – Le Sigh!
Because it's Sir Mark Todd!
Two rails down show-jumping but a quick clear cross country move Giovanni Ugolotti up to 15th place
Merlots Magic and Vittoria Pannizon, 18th
After making the impossible look ridiculously easy in the show-jumping, standing off every fence by miles and then clearing them with feet to spare, Borough Penny Z  and Vittoria had an early fall on the cross country but thankfully I heard that they were both okay.
Young rider Millie Dumas was very impressive cross country, and just had an annoying stop at the mushrooms at Fence 18 marring an otherwise stylish round.
Nicola Wilson and the game little mare Beltane Queen
Nicola Wilson had one down show-jumping on Briarlands Matilda and then withdrew. They are now headed to the European Championships at Malmo
Chris Burton checking EN, again!
Clifton Promise had one rail and then withdrew as planned
Lucinda Fredericks and Flying Finish dropped two rails show-jumping and then withdrew
 Graf Liberty and Chris Burton looked much happier out on the xc than in the first two phases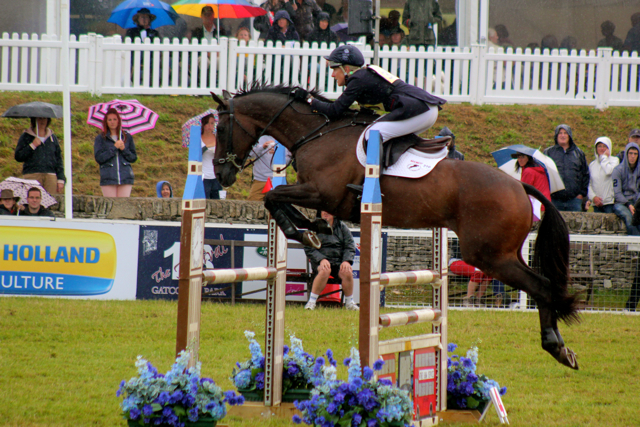 Tina Cook withdrew Miners Frolic after two rails in the show-jumping and they'll go on to represent Team GBR at the European Championships in Malmo (they won the Gold medal at the European Championships at Fontainebleu in 2009)
Mirage D'Elle is undoubtedly scopey but has a very unconventional jumping style and Pippa Funnel sits beautifully on her, and magically steered her round the demanding show-jumping course without penalties. They withdrew before the cross country, and Pippa had a couple of stops early at the combination at Fence 6 on her other horse Or Noir De La Loge before deciding to call it a day and retire.
Pippa stopping in the rain during her show-jumping course walk to sign autographs
Austin O'Connor and Ringwood Mississippi, also Malmo bound, jumped a nice clear and then withdrew
Belated congratulations to the entire Fox-Pitt Eventing Team for adding The British Intermediate Championships (with Fernhill Pimms) to their Advanced win this weekend. Neuf Des Coeurs had a rail and was then withdrawn from the Open.
Bill Levett and Shannondale Titan had three down and then withdrew
Sarah Stretton and Skip On – three down and then withdrew before the xc
Charlie Pickman and Wardento finish just outside the top 20 in 21st place
Harry Meade rode both jumping phases beautifully on Wild Lone. They looked so unhurried and relaxed cross country I was sure their time penalties would be up near the hundreds but with his steady rhythm and next to zero interference he actually came home easily with just fourteen extra to add, and finished 20th.
The weather was miserable Sunday morning, and only slightly better in the afternoon so an extra enormous thank you to all the pony club runners on such well-behaved ponies, the jump judges, the show-jumping crew, every single volunteer, and of course the amazing organisation. Well done to all the riders, their supporters and especially grooms, and looking forward now to the European Championships at Malmo, and of course Burghley in just a few weeks time already! Go Gatcombe, the Festival of British Eventing, and Go Clifton Eventers!