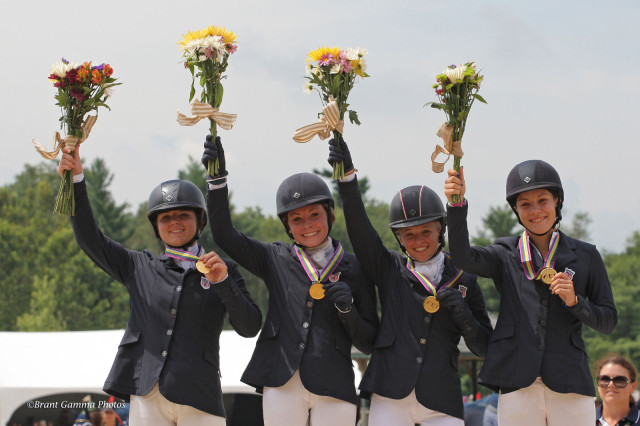 Since the FEI North American Junior and Young Rider Championships began as an eventing competition between the U.S. and Canada in 1974, competing at NAJYRC has continued to be a pinnacle goal for young eventers between the ages of 14 and 21. Numerous NAJYRC graduates go on to compete at the highest levels of the sport and ultimately represent their countries on the world stage.
While the 2015 NAJYRC showcased the top young riders in North America at the one-star level, the two-star championship ultimately had to be canceled at the last minute due to "insufficient international entries." Under FEI rules, this year's two-star could only run as a non-championship Under 21 division and ultimately saw just four horses and riders compete.
Why is a program that has seen so much success over the past four decades now struggling to fill entries? What other challenges is NAJYRC facing? What is the future of this important program? We've reached out to the riders, their trainers and their NAJYRC team coaches to take an in-depth look at NAJYRC, starting with how to create a winning formula for qualifying riders.
Molly Kinnamon and Camilla Grover-Dodge
This year's CH-J* individual gold medalist Camilla Grover-Dodge began training with Molly Kinnamon about two years ago, when she joined MK Equestrian's program with her Mustang pony, Tuesday. At that point in Camilla's riding career, she had competed up to Training level on her pony, but a bad fall at Loch Moy really rocked their confidence.
According to Camilla, she and Tuesday were scared over jumps and "awful at dressage," so Molly had her work cut out for her with this tricky partnership. As Molly helped Camilla regain her confidence with Tuesday, a new and exciting relationship also began to form with four-star favorite and toe-flicker extraordinaire Remington XXV, who had been retired from the upper levels after competing with Boyd Martin and Caitlin Silliman.
Owned by Camilla's grandparents, Ron and Densey Juvonen, "Remi" wasn't quite ready to spend the rest of his days turned out in a field in Unionville, so the next horse for Camilla was obvious. Camilla and Remington began to get to know each other in June 2014 with the goal of competing at Training and ultimately the Preliminary level.
Training and Preparing for NAJYRC
Once Camilla and Remi made the successful transition into Molly's program, they designed a plan to take it slow and stay at the Training level all year, which culminated in taking the top prize at the 2014 Area II Championships for Training level.
Molly, who rode at NAJYRC in 1998, believes the best-laid plan for getting to Young Riders is to make a road map once you're comfortable at the Preliminary level. They key is to have a short and longterm plan, she said, and not to rush the decision to aim for Young Riders.
The best case scenario in Molly's mind is to base your competition plans off of success at the Preliminary level, and when your trainer feels it's appropriate, then make a longterm plan to compete at NAJYRC. The recurring theme she emphasizes for both one-star and two-star level riders is to allow plenty of time to prepare and qualify.
From Camilla's point of view: "Molly helped me through being terrified at Sporting Days and helped me with my eye a lot. I learned how to see a distance through simple exercises. Equitation and the hunters had been my thing until I was 10, and then I quit riding for a couple years. I didn't started eventing until eighth grade. But Molly made it super fun and not scary. She helped me with my confidence."
Molly herself rode on the Area VI NAJYRC CH-Y2* team in 1998 while working for Jil Walton, who was Area VI's coach at the time, for three summers leading up to the event, learning about the preparation that goes into competing at a major three-day event. "NAJYRC gave me a real-life experience of being on a team and taught me that excellence comes from the whole group, not just an individual," she said.
Molly took her own past experiences and applied them to Camilla and Remi's training and fitness program. "The relationship between Camilla and Remi has been amazing," she said. "Camilla's past equitation experience gave her a lovely, well balanced and soft way of riding; Remi really appreciates that. Remi has in turn shown Camilla how to coordinate her aids for lateral work. It has been a win-win situation for both Remi and Camilla. He has flourished in his 3rd career."
Molly and Camilla worked together to create a successful formula for qualifying for Young Riders, but even though Camilla was coming into the game with a seasoned campaigner, it was not a forgone conclusion — getting there was going to take hard work. Molly, who trains with Phillip Dutton, practices his theory of training a horse up the levels: the fastest way to get somewhere is to go slowly.
Molly sticks to Phillip's philosophy for positive training, fitness and results. Every horse goes out on a long hack at least once a week walking hills as part of Phillip's long, slow distance program. Once winter hits, and as long as there's safe footing, they continue with a hack day and/or conditioning day, but build up their interval canter work as well.
As fitness progresses so does the training schedule, which typically includes two or three days of dressage work, a day of jumping/flat work over smaller fences or logs, and a day of proper jump schooling. Camilla and Remi also used this model in preparing for NAJYRC.
Molly also recognizes that beyond the trainer and student relationship, the key to successfully qualifying for Young Riders also requires hard work from a team of dedicated parents, flexible teachers, a great vet and a master farrier. "Camilla was very humble and worked very hard to reach her goals, but always made the right choices for Remi," she said.
Molly's Tips for Young Rider Success
Get in a good program and find a seasoned trainer that works well with you.
Spend a summer or a few days a week as a working student.
Set jumps, observe top riders training, engulf yourself in a program, work on conditioning, devote yourself as a student.
Keep your horse sound and happy. Don't be so caught up in getting qualified that you forget about your horses well-being.
Use common sense in your training program to keep your horse sound.
Find a role model and emulate that person!
NAJYRC exists to educate and produce riders to the top of the sport, providing a platform for young athletes to learn the ropes of preparing and competing at a major FEI championships. The goal remains for that experience to stick with them throughout their lives, both in and out of the tack.
The program clearly has been very influential on Molly's career progression as a rider, a person and an industry professional, and she has now been able to use those experiences to help produce an NAJYRC gold medalist in Camilla. So what is the key to keeping the NAJYRC program a flourishing one so people like Molly and Camilla can continue to reap the benefits?
Join us next week when we discuss NAJYRC's cancellation of the two-star championships this year as well as gain feedback from more NAJYRC graduates: David Ziegler, 2014 NAJYRC CH-Y2* individual gold medalist, and his coach Missy Ransehousen, who won a gold medal at the 1988 NAJYRC.