Trot-ups are a serious, stoic, and straight-laced affair, full of jolly good tweed and Very Important People making Very Important Decisions. They're also a time for prizes to be awarded – Best-Dressed Lady, Best-Dressed Gent, Best-Shod Horse…you know the drill. But here at EN, we can't help but feel that a few essential accolades are always left off the official roster, and so we've made it our job to make sure that everyone gets the recognition they're owed. Welcome to the Golden Chinch Awards – often (quite literally never) compared to the Oscars of eventing, they're the prizes that everyone (quite literally no one) truly wants.
The Golden Chinch for Yogic Neck Elongation goes to…
De Beers Dilletante, who is a #longboi and loving it. Get thee to a zoo, Giraffe Man.
Best Lateral Work in a Situation that calls for Absolutely No Lateral Work
Undalgo de Windsor hits them angles. A day early, mind you, but still a formidable effort.
The Golden Chinch for Sustainability Goes to…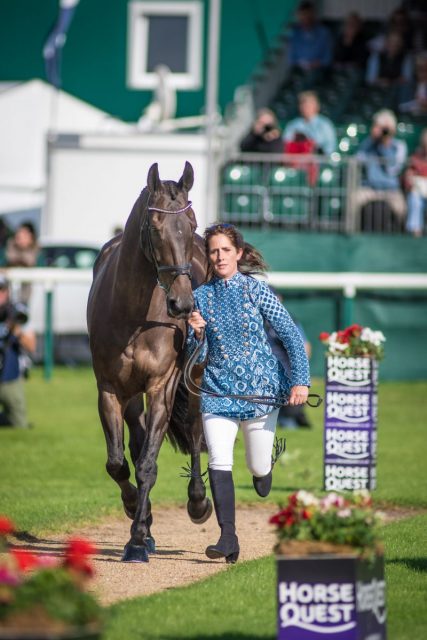 Caroline Powell, whose Moloh coat is made from a recycled bed-spread. No, we haven't made that up.
The Horse Most Likely to be Caught Smuggling Corgis
As Ludacris once (never) said: "what in the world is in those EARS? What you got in them EARS? A couple of gats, a couple of knives, a couple of rats, a couple of wives?" (Just kidding, Santiago Bay. We love your well-stocked ears.)
The Golden Chinch for the Best Reenactment of a Meme goes to…
Sarah Bullimore and Reve du Rouet, who did a passably good job of nailing the 'distracted boyfriend' meme.
The "Did I leave my straighteners on?" Award goes to…
Francis Whittington. And for what it's worth, Frannie, we're guessing not.
The Best Audition to be Willow Smith's Back-Up Dancer
Continuity whips his hurrr back and forth, he whips his hurrr back and forth…
The Rider Most Likely to Appear in a 90s Computer Game
Where in the World is Alicia Hawker? Stamford, actually.
The Rear of the Year Award
Firmness, roundness, and an almost impossible level of lift – MGH Bingo Boy's peachy cheeks have it all. *chef's kiss*
The Horse Most Likely to Have a Photo of Himself Next to a Sedated Tiger on his Tinder Profile
Arctic Soul, it's time to settle down, find a nice lady, and stop sending those naughty photos to girls on the internet.
The Best Mare Glare (as Executed by a Gelding)
Hey Billy Walk On – u ok, hun? xoxo
The Best Impression of a Questionable Politician
We're not sure if you're going for the Donald Trump combover or the Boris Johnson barnet, but whatever it is, Ludwig Svennerstal, you're werking it. Come see us tomorrow and we'll tenderly apply a hairnet to that mop.
Congratulations (apologies) to all our lucky (?) winners. Stay safe, have fun, and please do still talk to us in the mixed zone.
#LRBHT19: Website, Ride Times, Live Scoring, Live Stream, Form Guide, Course Preview, EN's Coverage, EN's Twitter, EN's Instagram
Comments