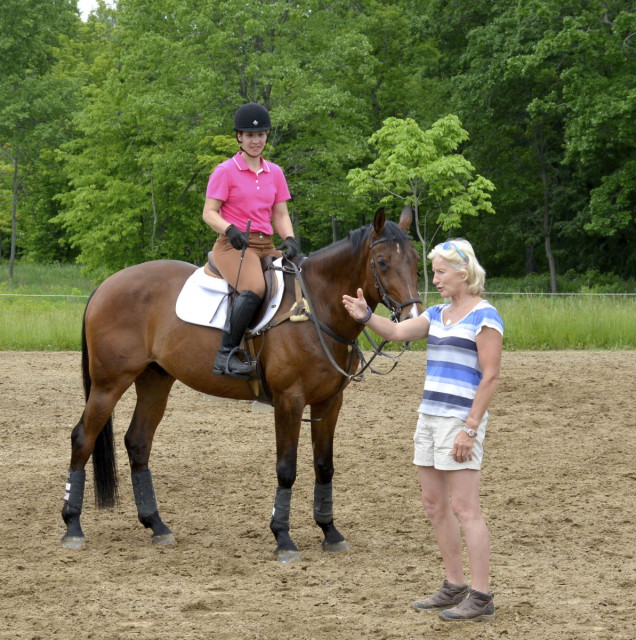 Summertime is rolling along quite nicely in Area VIII, and with the beautiful weather has come a bouquet of great riding clinics. The variety of opportunities almost makes up for the long and cold winter we endured.
One of the annual thrills in Area VIII is the yearly clinic at Jackie Smith's Stone Gate Farm in Ohio with Lucinda Green. This clinic fills up quickly, and many people "call in sick" or take vacation days to attend.
The stop in Winona, Ohio, was one of seven venues in the U.S. and Canada, where Lucinda taught two-day clinics; she started out in Maryland, then went on to Ohio, New York, Toronto, Minnesota and Massachusetts. She spent a little over two weeks in this part of the world and will return in the fall to various locales. FYI — the early bird catches the worm, so as soon as you receive the notice for the clinic, send in your registration because there may not be a spot if you diddle daddle!
While there are several wonderful clinicians coming to the area, listening to Lucinda is one of my favorite things on my summertime bucket list. I do love to hear an English accent complete with lots of British colloquialisms, but there is more to it than just that.
A foundation of her teaching is the message that riders need to understand what the horse is giving back to them — communication based on understanding horses — inside and out, understanding the physical and mental nuances of equines. I find that Lucinda has so much to give that it is nigh but impossible to sum it all up in less than 2,000 words, but it is possible to mention a few basic tenants of her teaching:
1. In order to practice the focus, the communication and the sharp reactions needed for jumping, use a random pattern of low, skinny fences, without measured striding. This gives horses the opportunity to practice their footwork so they become more adept at "dancing" in front of a fence if they get in trouble.
2. There are two sides of cross country: the technical side and the nimble side, which comes from practicing lines as described above and jumping fences out of a forward rhythm. Also, it is paramount that the horse sees the fence at the earliest possible moment. Lucinda also reminded riders of their need to understand how a horse sees and how the horse moves its head in order to best see an obstacle.
3. The rider has three jobs: maintain the engine, line and balance (aka the elbow!). The horse has the job of jumping the fence from wherever he feels is best. Lucinda reminded everyone that a horse has very strong survival instincts, so trying to think for your equine partner can be counter-productive. However, the rider still has the responsibility of maintaining the engine, line and balance.
Lucinda is a strong proponent of working horses outside of a ring for the benefit of both horse and rider. "Get out of the ring and the arena," Lucinda said. "Get out into the country and practice cantering up and down hills. Riders need to develop feel. Learn how the horse sees things. The way a horse sees an obstacle is very interesting, and if you understand that, you will understand what your horse is trying to tell you about the job at hand."
Another concept that Lucinda mentions quite frequently is discipline for the horse. "Small instances of disobedience chip away at the overall riding relationship between horse and rider," she said. Riders need to be soft in the hand but ready for anything.
When it comes to young horses, Lucinda said "never trust them." Having said that, Lucinda cautions that you can't expect a youngster to be an angel, but they are looking for their parameters. Lucinda admonishes that lower-level riders spend too much time "messing, fiddling, popping and putzing; they are not getting out with the job." And when a mistake is made, a rider must be able to just "sit it out," not overreact, decide if it is necessary to have a do-over or continue on.
While the underlying premise of the above ideas are not new, the delivery from Lucinda is so motivating. I sure can't put my finger on it exactly, but she did make me want to go home and ramp it up a bit in my lessons. Is it a different psyche because she is British; because she is legendary, having won Badminton six times among many other achievements; or does it just make so much sense?
Some other tidbits that came out during Lucinda's two days of teaching:
Equipment: Have plenty of options with bits; some horses are more suited to martingales with elastic arms, so ensure that your horse has the correct type of martingale.
Breeding: Her preferred breed of horse is something with seven-eighths Thoroughbred and one-eighth of "something sensible." Lucinda points out that Thoroughbreds are pretty tough animals, and they have the speed and stamina to deal with the current genre of courses being built: courses that require a horse to be ridden forward while being nimble enough to be technical. There's that delicate balance again. She noted that William Fox-Pitt mostly has horses that are at least 65 percent Thoroughbred crossed with warmbloods.
The big question: Will the Americans enjoy success on the world stage? Given Lucinda's lengthy involvement in our sport, she can look back to the 80s when, as she stated, "The Americans were enormously successful."
Lucinda doesn't feel that we as Americans need to go horse shopping in Europe, but that the Europeans have a definite advantage when it comes to competitions. "European riders can fairly easily ship from one country to the next and test out the competition. But the U.S. has to spend a boat load of money to send a select few abroad, and if that doesn't pan out, then the money pot has dwindled, and you are almost back to square one, which is competing against the same group of riders over and over in divisions that may have as few as 10 or 15 people, while over in the UK it is not uncommon to see 120 people entered in upper-level competitions each and every weekend."
However, Lucinda doesn't see our situation as bleak. "The U.S. was extremely successful before, and as all things evolve, they will be again. Lots of pieces are falling into place right now, and there have been some good changes — with more to come I am sure."
Let's hope Lucinda is right! She usually is, so get your stars and stripes ready for Normandy!