When will Phillip Dutton cease to amaze the eventing community? Not likely anytime soon, as he added yet another CCI3* win to his lengthy resume, this time with Mr. Candyman at the 15th annual Jersey Fresh International Three-Day Event.
"To win at this level is a great achievement," said the Olympic bronze medalist. "It cements my idea that he's ready for a four-star now. It was very difficult conditions yesterday. He was fortunate that I probably got to go in the best of the conditions because I was early on. I liked the way he handled things. He was very mature even though he was slipping. He didn't get rattled by it, and he came out and jumped well today."
Jump well he did. "Elmo," a 10-year-old Holsteiner gelding owned by Annie Jones, Bridget Colman, Caroline Moran and Tom Tierney produced one of four double clear show jumping rounds today over Sally Ike's course. Elmo has been like an understudy of Phillip's string, but he's spent the last year working to make his name known, and a CCI3* win seals the deal.
"He doesn't have a lot of confidence in himself, so it's taken awhile to get him to feel like he can get out there and own the cross country course. I set out a little too fast on him last year and ended up retiring him. I think it scared him a little too much. He's starting to put himself on the map – it looks like he's got a great future," Dutton said positively.
CCI3* first-timers Lizzy Jahnke and Princeton scooped up a second place finish. Just one pesky time penalty marred an otherwise foot perfect trip today for the Lightspeed Equestrian's 11-year-old Thoroughbred.
"He's awesome, a cross country machine, and he jumped fabulous. It was a really special weekend," she smiled. They certainly proved their cross country prowess this weekend moving eight places up the leaderboard after the second fastest ride in the division in less than favorable conditions.
Wisconsin native Lizzy credits her trainer, Joe Meyer, for today's outcome. She spent the winter with him in Florida, and it paid off big. She's officially on the radar of all U.S. eventing enthusiasts.
Third place went to another pair of CCI3* newbies, Dom Schramm and The Naked Horse Eventing Syndicate's Bolytair B. They had two rails today for a three-phase score of 87.4.
"I've been doing this for nearly 20 years and I finally got the three star out of the way!" The Australian rider joked. "He just moved up to Advanced four shows ago, so I was thrilled with him. He's a cross country machine actually. We still have to manage his brain a little bit. Some shows he goes in the show jumping and he's really soft and rideable, and sometimes he gets frazzled a bit like he did today, but there's no shortage of talent. It's just a matter of him getting more and more comfortable in the arena. He's kind of a work in progress, but I think a world class horse."
Dom has big plans for the 11-year-old Dutch Warmblood. He is looking at competing in the Blenheim CCI3* this fall, with the ultimate goal of putting himself up against the best in Europe and hopefully securing a spot on Australia's World Equestrian Games team next year.
In addition to Phillip, three other three-star pairs had double clear show jump rounds: Daniela Moguel with Cecelia, Justine Dutton with Jak My Style (she also had a clear show jump with two-star horse Huck Finn), and Jennie Jarnstrom with Penelope.
Cornelia Dorr Wins CCI2* Debut
Many riders spend their careers dreaming of a big international win, and at just 19 Cornelia Dorr has managed one at her very first CCI2* with Louis M.
"I knew he'd be a little bit tired, but he's done this before," Cornelia said of the experienced 12-year-old Rheinlander. "I had trust in him that he would take care of me if he needed to and I just sort of supported a little bit to the verticals and I clucked at a lot of him to keep him off the ground. I was just hoping it would go well. I didn't need to win, my goal was just to complete."
Cornelia and Louis had one rail in hand thanks to finishing fast and clear around yesterday's cross country, which was fortunate because they pulled one pole in today's show jumping to finish on a winning score of 49.8.
Cornelia originally had two entries in the division, but her Sir Patico MH was unfortunately spun at the final horse inspection. She said he had a heel grab and they will be back to fight another day!
Boyd Martin and Christine Turner's Kyra finished in second place. They were one of seven pairs in this CCI2* division to have a double clear jump today. They finish on 52.2 penalty points.
"She's a fantastic jumping horse. This would be the one phase I'm really confident with her. She's pretty sharp, and fresh, a real redhead, but as good a jumper as I've ever sat on," Boyd boasted.
Sitting pretty going into the 10-year-old Canadian Warmblood's strongest phase, Boyd credits his unique preparation over fences. "She's got so much quality – almost too much quality. She's one of the only horses I hardly ever show jump at home. I only cross country school," he explained.  
"I think it paid off yesterday because it was pretty treacherous conditions and a tough course and there was a couple of fences similar to where I've struggled with her before, but she soared over them and finished fresh."
Jennie Brannigan rounds out the top three with Nina Gardner's Twilightslastgleam. A homebred of Nina's the 10-year-old Thoroughbred "Comic" was originally destined for the track, but fortunately for Jennie, never quite got there.
"He got kicked off the track. He was bucking everyone off. He broke my knee a couple years ago. He was really tricky to start, but it was always worth it because I knew he was talented," Jennie shared. "It's fun for Nina to have one that I really do think will be a proper horse for the future. When they do their first two-star and finish on their dressage score in the conditions…He's seven so he's still young and I think it's just really exciting for Nina to have one that she's bred that maybe is something exciting for the future." 
The only two pairs of the entire competition to finish on their dressage score were in the CCI2* division: Jennie with Comic and Caroline Martin with Cristano Z, who earned sixth place. 
The big CCI3* win may have gone to one of the most experience U.S. riders, but the CCI2* division reminded us that the young guns can rise to the challenge too! Thanks for following the action with us this weekend, EN!
Jersey Fresh Links: Website, Schedule, Live Scores, Millie Humphreys' College Fund, EN's Coverage, EN's Twitter, EN's Instagram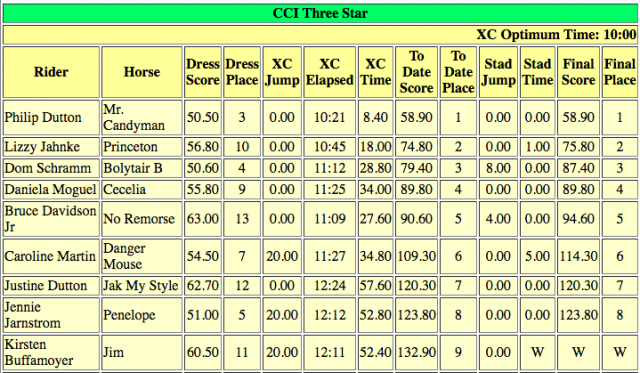 Comments