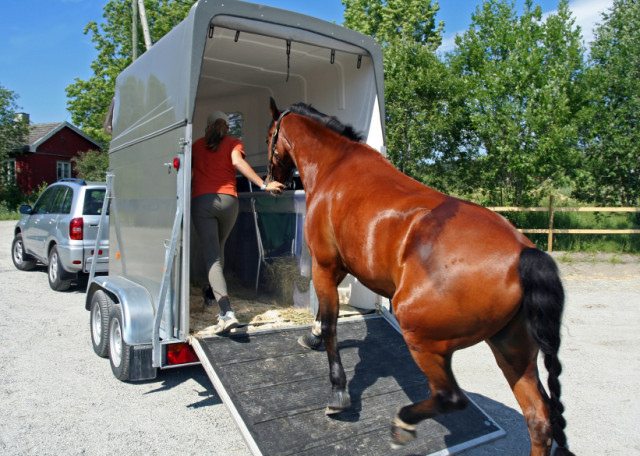 During the cold, snow filled months of winter, it seems that I inevitably find myself looking at equine classifieds. Whether you're crusing around the CANTER website, browsing around Sport Horse Nation or even looking at your local classified … let's face it. You're probably looking too. Even if you're not horse shopping. Why this always seems to happen, I have no idea. But I do know that "not horse shopping" has the potential to be a dangerous activity.
Before bringing any new horse home, you'll likely phone your vet to make arrangements for a pre-purchase exam. Such an exam doesn't necessarily have to take on a "pass or fail" context; rather, it can be an important tool to help you gain a better understanding of your potential new partner and any physical limitations that they may have as you are planning for the future.
Head over to visit The Horse to check out their own Buyer's Guide to Pre-Purchase Exams so that you can prepare yourself for your next horse buying experience!
And then take a look at some of the other headlines from this week in Horse Health News, presented by Absorbine:
Soaking Hay Causes Dramatic Rise in Bacteria: British researchers have recently conducted a study that shows that hay that has been soaked contains shockingly higher levels of bacteria compared to dry hay. [Horsetalk]
How to Measure a Horse: Have you even seen a 16.5-hand horse while browsing the classifieds? How about a 13.8-hand pony? "Mis-measurements" of the equine variety can be humorous. But the actual process of measuring your horse can be made simple. Visit The Horse to get some tips. [The Horse]
Six New Genetic Tests for Racehorses Likely within Two Years: Irish based company Equinome, which has developed the "speed gene" test for racehorses, has stated that they currently have six new DNA based tests in development for racehorses. The company plans to double their workforce and targets to launch the new tests within the next two years. [Horsetalk]
Sensible Sheath Cleaning: No one wants to think about it, but someone's got to do it. Well listen up, gelding owners, because we're talking sheath cleaning. Looking for more information on the cleaning process itself or how often you should undertake it? Check out this article. [The Horse]
Hydrogel Injection Shows Promise in Treating Equine Osteoarthritis: Findings of a research group at the University of Copenhagen in Denmark have shown that only a single injection of Hydrogel compound into the joints of horses (and goats) can offer relief from osteoarthritis. [Horsetalk]
Comments