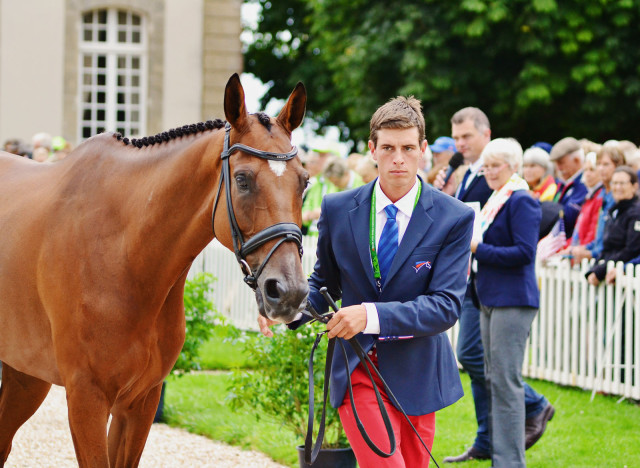 Maime Livio has remained silent since his WEG mount, Qalao de Mers, tested positive for acepromazine following competition. We're still awaiting word from the FEI on where France will stand in the final WEG eventing results when the dust settles, but Maxime has broken his silence in an interview with France Complet.

When asked for an update on the FEI case, Maxime said that Dr. De Iuliis, an Italian veterinarian, "submitted an expert report based on the concentration of acepromazine present in the urine sample B." Dr. De Iuliis' findings point to an administration time between 11 p.m. on August 27 and 5 a.m. on August 28, the first day of dressage competition.
Based upon the administration schedule and service life of acepromazine, Maxime believes that Dr. Du Iuliis has found sufficient proof that Qalao de Mers was administered the drug without his knowledge in an act of sabotage.
"The procedure was so made that we could possibly ask to enter [the stabling] in an emergency by calling the night steward, signing a record at the night entrance to the stables, and being accompanied by the night steward and signing the register," Maxime explained in the interview. "And, of course, neither Matilda nor I nor anyone around me has applied to join the stables that night or any other night for that matter.
"I do not know how the person who administered the product to Qalao did. There are only three ways to do: someone who returned to sign the register and deceived the vigilance of the night steward, bribing a guard, breaking the gates of the stable."
Maxime informed France Complet that he and his team had submitted their dossier to the FEI on November 3, and that a date had not been set for a response but that they could have their first communication with the FEI after January 1.
We'll provide more updates on this case as they become available. In the meantime, you can view the original article or a translated version.
[Qalao de Mers Tests Positive]
[Qalao de Mers' 'B' Sample Positive]
Comments