Here's how I feel about winter: mostly, the picture you should see in your mind is grumpy cat, but at the same time, there's something almost a little nice about those genuinely awful days, where there is just no way in hell you could reasonably ride a horse because it's 30 degrees and icing from the sky, so you just have to bundle up to do the barn chores, but then you can retreat inside for some hot tea and Netflix. I don't have access to an indoor, and mostly Virginia is pretty mild, but when the weather outside is frightful, I'm ok with an unscheduled day off to write things, bake things, and wear pajamas all day. Perks of winter?
US Weekend Preview:
🙁
News From Around the Globe:
Many congratulations are in order for Rob Burk, who has just been named as the CEO of the USEA in light of Jo Whitehouse's retirement. Rob has been the COO for the USEA and has been transitioning to the new position following Jo's retirement announcement earlier this year. [Rob Burk Named CEO of USEA]
A donkey in the back of a police cruiser, what could possibly go wrong? Tuesday morning, Officer Kyle Canaan responded to a call about a stray donkey wandering a highway. When he arrived to find the jenny in danger amongst the traffic, he also found a good samaritan who offered a paddock to keep her safe until her owner could be found. However, they had to drive her there. So Officer Canaan popped her into the back of his car and rolled the window down. Yes, she pooped in his police cruiser. [Oklahoma News of the Weird]
8 Things Your Trainer Will Never Tell You, But You Really Need To Know
If you didn't grow up watching and obsessing over the original National Velvet, then you need to stop everything and go watch it now. The classic film not only jump started Elizabeth Taylor's acting career, but burned a fierce hole of desire in thousands of little horse-obsessed girls hearts. Because why wouldn't you win a horse in a town raffle and then enter the Grand National pretending to be a boy? Even better, "The Pie" was in fact a chestnut thoroughbred grandson of Man O'War named King Charles. [National Velvet: Best Movie Ever?]
Ten Questions Non-Equestrians Should Stop Asking. General rules? Don't ask how much anything costs, because you don't want to know. Don't even think about asking me to rate my love of my horses and humans in order. It's best to just stick to listening to us talk about our horses. [Horse Nation]
Best of Blogs: Are You a Sportsman or a Gamesman?
Everybody's got that horsey friend. You know, the one that secretly loves everything lined in swarovski crystals, and actually enjoys wearing very preppy horse clothes. Or maybe you just have a DQ friend who really needs the worlds most sparkliest dressage whip, or a magnetic blinged out number holder for their show style. Horsenista has you covered. [Horsenista Christmas: The Posh List]
Still lost for what to get your horsey friends or significant other? SmartPak saves the day again with a whole new section on their site just for gifts! You can get stocking stuffers, big fancy gifts, and everything in between. They've made it easy for you by including a Best Selling Gifts list for your convenience. Hint: you can hardly go wrong with the classic padded leather bracelet with the best horse's name. [SmartPak Christmas Gift List]
KER ClockIt Session of the Week
Madison Dasti has had a winning fall! First she scored a KER ClockIt starter pack for winning Novice Best Conditioned at Waredaca Classic Three-Day Event in October (read more), then she put the heart-rate monitor to good use to win the drawing in November's Share Your Sessions sweepstakes! Here's Madison's winning session, a jump clinic with Shawn Mack over 3'3" courses:
For submitting the winning session, Madison received a $100 gift card to Shop.KERx.com. The card can be used on KERx Special Needs Nutrition supplements, ClockIt accessories, or other KER gear. Want a chance to win? KER is running another sweepstakes for sessions recorded in December and January. To enter, just record a session of at least 20 minutes with a heart rate, then send the link and a brief description of the ride to [email protected]. There's no limit on entries—the more sessions you record and submit, the more chances you have to win! More details: [KER Share Your Sessions]
This is what I leave you with: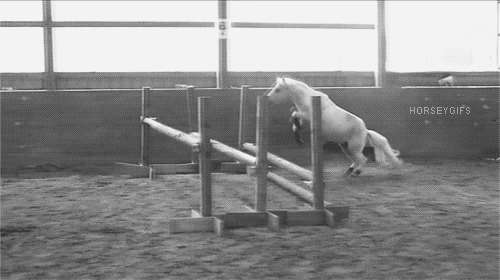 Comments