As the Carolina coastline braces for Hurricane Florence to make landfall beginning late Thursday, Tryon International Equestrian Center is preparing for fallout from the category 4 hurricane. Despite the FEI World Equestrian Games being held inland well over 200 miles from the nearest coast, we can expect inclement if not severe weather as the hurricane, one of the strongest strikes on record for this part of the East Coast, disperses over land. (View projected hurricane path via the Weather Channel here.)
The National Weather Service (NWS) is stationed on-site and is closely monitoring the movement and projected path of the hurricane, providing the FEI and WEG Organizing Committee with twice daily advisories. The most recent NWS update on Tuesday states that "the currently forecasted track of Florence keeps the WEG site well west of the circulation center," but warned of "numerous thunderstorms throughout the upcoming week."
These twice daily advisories, as well as updates on schedules and programming, will be posted to the WEG 2018 website here, as well as to the @Tryon2018 Facebook and Twitter. Text "WEG2018" to 888777 (US phones only) to receive immediate notifications.
Tryon reports: "We are proactively preparing for the possible severe weather the storm system may bring to this area and have both strategic and emergency plans in place for both the people and horses on-site. There are numerous multi-floored buildings at the venue and our permanent stabling is incredibly secure and safe. In the case of severe weather which requires immediate response, we have a robust evacuation protocol. We will be providing increasingly regular updates as the track of the storm is more actively defined."
Yesterday evening saw intense thunderstorms and dramatic lightning strikes visible from the venue, and we can expect more of the same as the week continues.
We have a little rain here in Tryon! @TeamGBR pic.twitter.com/6egYCAaQfO

— Marcelle Tattersall (@marcytatt) September 10, 2018
A press conference is being held at 5 p.m. today to discuss plans for inclement weather — we'll bring you a report from that later today.
Current five-day forecast and projected rainfall outlook via Weather.com: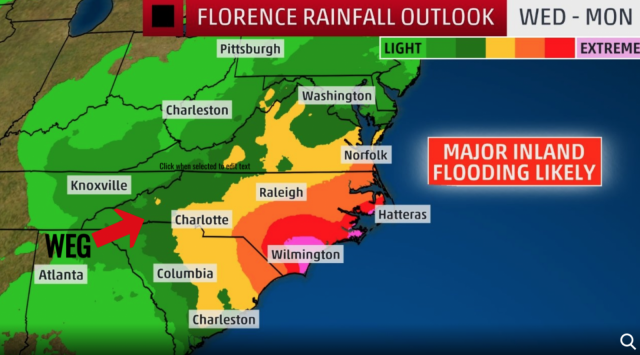 #Tryon2018: Website, Definite Entries, Schedule, Start Times & Scoring, Ultimate Guide, How to Watch Live, EN's Coverage, EN's Twitter, EN's Instagram
Comments