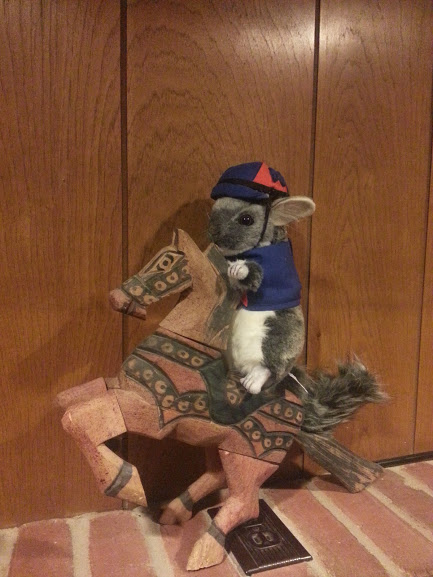 It has become very apparent that we have let our furry comrade go without for too long. Since all of us here at Eventing Nation are all about safety and always wearing a helmet (#mindyourmelon), we sent out for proper cross country attire for Chinch. As is such, his sizes are not normally stocked in most tack shops (which I know all about).
A custom helmet and vest fit for a chinchilla were designed, tested, and made with safety being a top priority. We believe that from now on, Chinch will be an upstanding spokes-chilla for the sport of eventing!
Events Opening Today:  Galway Downs International Event & H.T. (CA, A-6),  Fresno County Horse Park Horse Trials (CA, A-6), The Virginia CCI1*, CIC2* and H.T. (VA, A-2)
Events Closing This Week:  Stone Gate Farm H.T. (OH, A-8),  Otter Creek Fall Horse Trial (WI, A-4),  Stanton Farms H.T. (ID, A-7), Marlborough H.T (MD, A-2),  Stoneleigh-Burnham School Fall H.T. (MA, A-1),  Twin Rivers Fall H.T. (CA, A-6),  Fleur de Leap Horse Trials (LA, A-5),  Plantation Field International CIC and Horse Trials (PA, A-2), Tryon Riding & Hunt Club H.T. (SC, A-3),  Fleur de Leap Horse Trials (LA, A-3)
Tuesday News and Notes:
Michael Jung, Burghley Rookie. With Burghley on the horizon, Michael Jung gets ready for his Debut at the sixth leg of the FEI Classics. He has brought along two equine partners to test the bold cross country course, FisherRocana FST and La Biosthetique Sam. Jung will be in the company of 80 total horses from eight nations making us excited for the start of Burghley. [Olymic Champion Jung Makes Burghley Debut]
Double Hit = Double Price. Prices at the 2015 Oldenburg Elite Foal Auction in Vechta hit staggering numbers. The top selling foal, Double Hit (by Diamond Hit x Sandro Hit) a 2015 colt, sold to a buyer in Austria for 110,000 euro ($123,337.50 American). The second most expensive foal sold for 65,000 euro ($72881.25 American). Out of 80 foals presented for auction, 19 sold for more than 20,000 euro and the average foal price being 16,000 euro. [Double Hit, Price Highlight]
The Wedding A Horse Girl Dreams of. Every girl has dreams of the picture perfect horse wedding including both loves of your life. But it isn't as easy as it seems including a 1000 pound equine in the ceremony, I know from personal experience. There are hundreds of ways to include your passion in your special day without exposing your guests to the fire breathing eventing dragon you love more than your new spouse. Check out the hints from industry specialists on how to make your day the one you have been dreaming of. [How to have a horsey wedding]
Traffic Advisory Ahead of Burghely. Highways England is advising all travelers to plan well in advance over the four days of Burghely Horse Trials. Travelers are to be advised of possible closures of slip roads off of the A1 near Stamford . Highways England is striving to keep road users safe and well informed. [Traffic warning ahead of land Rover Burghley Horse Trials]
Tuesday Video Break:
Burghley Horse Trials begins in two days, take a aerial ride through the course including the alternate routes that a possible 80 horses will be facing.
Comments