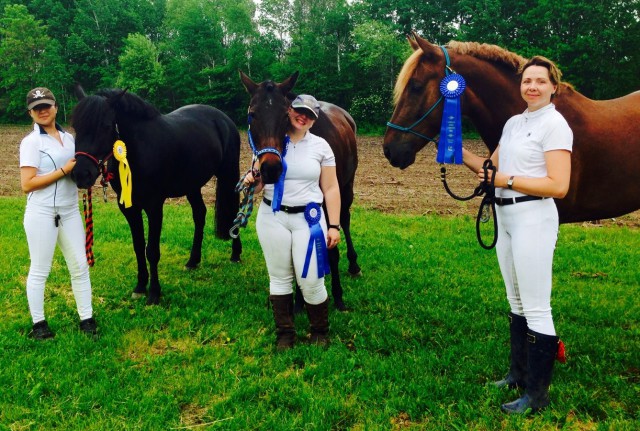 This past Sunday was Minnesota's Carriage House Combined Test, my first recognized show with Onyx. I'm proud to report that not only did we survive the heavy rains that threatened to wash away his stout little body, but we also took home a shiny yellow ribbon after our best stadium round yet! The rest of Team Woodloch Stable also rocked Carriage House Farm, with Ingvill Ramberg and Johnny's Private Collection taking home first place in Beginner Novice, and Lexie Baldwin and Cedar's Sonata claiming the blue in their Novice and Training classes. Great job to all participants on Sunday!
Events Opening Today: Fitch's Corner H.T. (New York, A-1), The Maryland H.T. at Loch Moy Farm II (Maryland, A-2), Hunter Oaks H.T. (Illinois, A-4), USPC National Championship (Kentucky, A-8), Aspen Ridge H.T. (Colorado, A-9), Coconino Classic H.T (Arizona, A-10)
Events Closing Today: Larkin Hill H.T. (New York, A-1), Great Vista Horse Trials (New York, A-1), Bucks County Horse Park H.T. (Pennsylvania, A-2), Surefire H.T. (Virginia, A-2), Full Gallop Farm June Horse Trials (South Carolina, A-3), Fox River Valley Pony Club Horse Trials (Illinois, A-4), Shepherd Ranch SYVPC H.T. I (California, A-6), Midsouth Pony Club H.T. (Kentucky, A-8), Lost Hounds H.T. (Pennsylvania, A-8), Encore H.T. (Michigan, A-8), Golden Spike H.T. (Utah, A-9)
News and Notes
Want to compete at Lost Hounds? Lost Hounds HT will be accepting Post Entries until midnight on Sunday June 15th.  There will be a $25 Late Fee and you may enter via Xentry and pay by CC.  You may also opt to send the secretary your entry with a Cashiers Check or Money order. [USEA]
Entries for Encore Horse Trials close today, but entries will be accepted after the closing date with a late fee. Email [email protected] with any questions. Also, follow @encorehorsetrls on Twitter for updates leading up to the show, including jump previews, ride times, schedule updates and important info.
Do you have or know of an awesome Thoroughbred that deserves to have his or her story told? If so, you should check out the EN series Thoroughbred Legends, presented by Cosequin. We love sharing the stories of the horses that have helped us along the way, so if you have one to share please email Sally at [email protected].
Thieves steal $40,000 worth of tack: A Calgary hunter-jumper barn recently fell victim to tack theft, as around $40,000 worth of saddles, girths, pads, and bridles were stolen from locked tack rooms. Katie Macleod, whose saddle was among those stolen, said, "Not something you ever expect to happen to you, and pretty devastating when it does." If you have any information that could help the Calgary Police Service recover the stolen tack, please call 1(403) 266-1234. [Chronicle of the Horse]
Go Alex Hua Tian. Be still, my tiny heart. Alex Hua Tian has qualified for WEG on Harbour Pilot C, and will represent China in Normandy later this year. [Horse & Country]
Quidditch on horseback? My fascination with all equestrian examples of "insanity in the middle" has led to a new obsession: horseball. This fast-paced sport has been described as a combination of polo, rugby, and basketball, and CNN recently compared horseball to quidditch. Could horseball become an Olympic sport someday? [Horse & Country]
Cavalor Feed for Thought: Cavalor has taken the principles of fueling different types of performances with different diets seen for decades in human athletes and applied those same ideas to feeding the equine athlete. Click to learn more about the three types of performance feeds Cavalor offers: Performix, Endurix and Superforce. [Fueling the Performance Horse]
Video of the day: Speaking of horseball, this video made me want to strap my stirrups together and start a league at my barn! Go horseball.