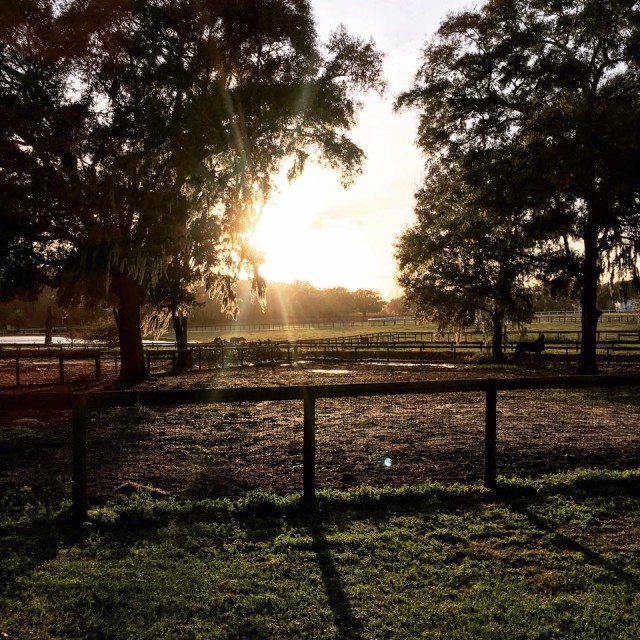 Being down here in Ocala for the winter is quite a surreal feeling if we're being honest. To be surrounded by great riders and beautiful horse farms no matter which direction you look — it truly is eventer's paradise. It's also more than a little intimidating to be here among all the greats with a green horse. But as several people have shrewdly said, it makes you step up your game and want to be even better for being immersed in this world. That's my daily tidbit of inspiration for you: surround yourself by others who are just as dedicated and hard working as you, and watch your own skill set blossom.
Events Opening This Week:
 Pine Top Spring H.T. (GA, A-3),  Feather Creek Farm H.T. (OK, A-5),  Copper Meadows Winter H.T. (CA, A-6)
Events Closing Today:
Fresno County Horse Park CIC & H.T. (CA, A-6), Rocking Horse Winter II H.T. (FL, A-3),  Paradise Farm H.T. (SC, A-3)
Tuesday News:
Looking to add a little color to your eventing wardrobe? Look no further than this week's Fab Freebie featuring a colorful cross country pinny holder just for you. It's high time someone thought of this idea! [Fab Freebie: Color Cross Country Pinny Holder]
Please join us in congratulating Bridget Parker, who has officially taken the reins at the Nunney International Horse Trials. Held in Somerset, Nunney is a staple event on the European calendar, and organizing is no small undertaking. Bridget is an Olympic gold medalist who brings a wealth of experience and knowledge to the table. [Nunney International Horse Trials]
FLAIR Nasal Strips will be offering free applications at Galway Downs this week! Beginning on Thursday, you can set up an appointment with a FLAIR representative for your free application. Appointments may be made by calling 612-913-1395.
We're loving the USEA's Grid Pro Quo series, and the latest one features tips and tricks from Tim Bourke. You can use this suggested exercise for any level to focus on quality of jumping and responsiveness to aids. [Grid Pro Quo: Tim Bourke]
Tuesday Video:
Speaking of grid work, here's another #GOTD from Laine Ashker:
Comments