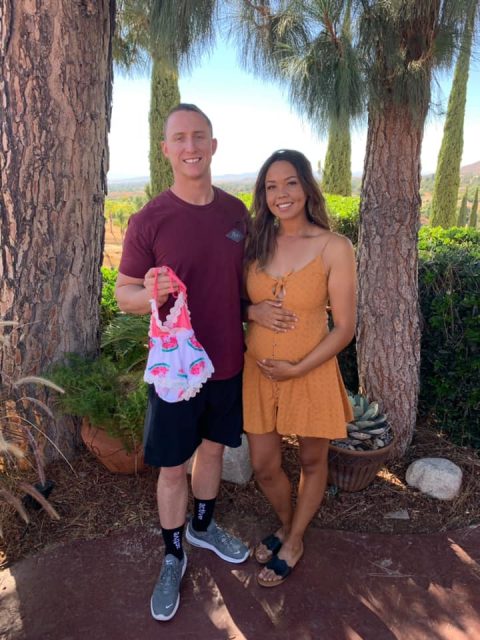 Congratulations are in order for Kaylawna Cook and her husband Tyler who are expecting their first child. Their daughter will make her grand entrance this November. I guess this means that Tamie Smith is a "grandma" now, though she certainly doesn't look it.  Congratulations Kaylawna and Tyler!
National Holiday: National Raspberry Bombe Day
Events Opening This Week: Larkin Hill H.T., FEH Qualifier at Loch Moy Farm, The Middleburg H.T., FEH Championships at Loch Moy Farm, ESDCTA New Jersey H.T. at the Horsepark, Stable View Oktoberfest 1/ 2/3/4* and H.T., Fleur de Leap H.T., The Event at Archer, The Event at Isaacks Ranch, Jump Start H.T.
Events Closing This Week: Chattahoochee Hills H.T., Silverwood Farm Fall H.T., Valinor Farm H.T.
Tuesday News: 
Our prayers are with Paul Tapner as he recovers from a fall sustained hacking last week. The fall caused him to have two brain bleeds, which led to a small stroke. He's expected to make a full recovery, but the process will likely take weeks or months. ['Slow recovery' expected for former Badminton winner after brain bleeds and a stroke]
Fair Hill's newest additions were on full display this weekend at the Maryland 5 Star at Fair Hill Test Event. Phillip Dutton ultimately won the CCI3*-S class aboard Fernhill Singapore. This was also a first look at the changes we can expect for the new cross country track, designed by Ian Stark. [Maryland 5 Star at Fair Hill off to a Great Start with Test Event]
Happy 9th anniversary, Athletux! Must be why 10-year-old EN is so tight with y'all, because we went to preschool together. In honor of the occasion, today, August 11th, enter to win a Huge Athletux Prize Package! This includes an iconic Athletux Backpack, Bucket Bag, Saddle Pad Bag, Inspiration Gear, and Athletux Hat signed by the 2019 Land Rover Kentucky Three Day Event Competitors valued at over $350. [Enter]
"If there is an art to riding, there is a science to falling." [LandSafe Is Changing The Way We Think About Falling]
Stay Up-to-Date with All Event Cancellations and Changes: Event Cancellations and Responses to Coronavirus (COVID-19)
Tuesday Video: Maryland 5 Star at Fair Hill Test Event winners Phillip Dutton and Fernhill Singapore
Phillip Dutton and Fernhill Singapore

What a great weekend at Fair Hill International and the debut of the Five Star Footing. Team coach Erik Duvander said the footing was absolutely perfect. The riders loved the color and even though we didn't actually ask the horses how they felt about it, they seemed to be jumping very well on it. Here's the winner Phillip Dutton Eventing – Training Center and Fernhill Singapore making easy work of the course.

Posted by Attwood Equestrian Surfaces on Monday, August 10, 2020
Comments