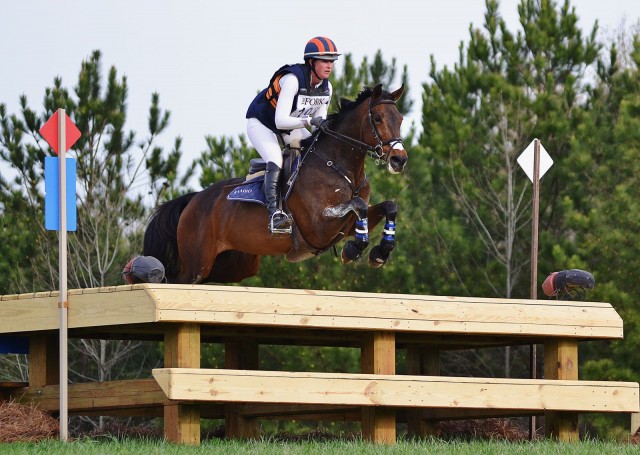 One of the most exciting things about Team USA's WEG squad is the depth of the alternate list: Hannah Sue Burnett and Harbour Pilot, Jan Byyny and Inmidair, Buck Davidson and Park Trader, Phillip Dutton and Mighty Nice, Lauren Kieffer and Veronica, Marilyn Little and RF Demeter, Boyd Martin and Trading Aces, and Meghan O'Donoghue and Pirate.
And even more exciting is the way all the alternates have congratulated and supported the main squad. While some of these riders have every right to be a bit disappointed at being named to the reserve list, it's been truly humbling to witness the sportsmanship that has been displayed since the announcement last night.
If anyone has the right to be bummed, it's Lauren Kieffer, who came oh so close to winning Rolex this year with Veronica only to be named to the reserve squad. But when I spoke to her this morning, she was upbeat: She knew the runout at Bromont and fall last year at Boekelo would be tough for the selectors to overlook.
"I'm honored to be on the alternate list, and I obviously would have been very excited to be named to the team, but I know why we were left off," Lauren said. "Last year, we weren't great, and this spring was the first time we've been impressive, so it would have been a risky choice to put me in.
"The team they named is perfect; it's such a good list of people, and they're really going to have a strong chance at Normandy. It's great that America has so much depth to not only name a team of proven four-star horses and riders, but to also have an alternate list of four-star horses and riders. America is finally getting back to being the powerhouse of eventing."
How's that for team spirit? Marilyn Little also found herself on the alternate list despite making a strong bid for the squad with RF Demeter by finishing sixth at Rolex this year and jumping clear around a Pierre Michelet course last fall. But she's keeping her chin up today.
"My wonderful horse and incredible team of supporters, owners and staff have given 110 percent in every way to support our effort to earn a berth on what I hope and believe will be an incredible team at this year's Games, and I am at a loss for words to express my endless gratitude," Marilyn said.
"The honor of representing our country in Normandy this year is an incredible one, and it goes without saying while it is truly disheartening that Demi and I were not included in the recipe for what I hope and believe will be a winning U.S. team performance, we will continue to wave the flag and support in every way from the sidelines and will remain ready to represent with our whole hearts should the need arise."
Every single member of the reserve squad I spoke to echoed that same attitude. Jan Byyny said, "We have a great team, and I'm so excited for the six on the squad. I just couldn't be happier for them. It's been a really nice process to be involved in, from working with David O'Connor to the selectors to the vets to Joanie Morris, we have a really superb group of people behind us."
Jan has had a huge support group rallying around her as she's made her comeback to the highest level of the sport, and she's been on an exciting hot streak with Inmidair since winning Fair Hill CCI3* last fall. She and JR continued their good form this spring with a seventh-place finish at Rolex.
"After Kentucky, I felt like I could actually win a medal for my country," Jan said. "I really feel like I have a horse that is good in all three phases. I just believe in him; he is a super athlete. I am thrilled for him to be on the reserve list, and we will take it one day at a time and do the best we can."
Jan and JR have been doing the jumpers at Upperville, and she's also competing him at Jersey next weekend to continue working on taking their dressage to the next level. Whether they're called up for the WEG squad or competing at Burghley or Blenheim this fall, it's going to be exciting to watch them go.
Meghan O'Donoghue is equally thrilled to be named to the reserve list with Pirate, her off-track Thoroughbred superstar that amassed a huge fan base at Rolex last year after dominating the cross-country course. A lot of people really wanted to see her name on the list, and making the reserve squad is a testament to how hard she's worked.
"I'm really blessed and lucky that these awesome opportunities keep coming my way at such a young age," Meghan said. "My horse has stayed healthy, and that doesn't always happen, especially when he gets a lot of pressure being my only upper-level horse. I feel really fortunate for all these cards to keep falling into place. I just take every day knowing that I'm really privileged and lucky and try to take advantage of the opportunities as they come.
"I think it will be an unbelievable learning process to be a part of as the summer rolls through, and we'll hopefully see something like Burghley for the fall if we're not needed for the team. I'm definitely looking forward to gaining all the knowledge and the experience with another team situation. It was really cool to go to Blenheim, and this will be on a whole different level."
Not every horse is a Burghley horse, but after Kentucky, Meghan thinks "it has his name written all over it." She hopes that Pirate being named to the reserve squad will help young eventers set big goals and go after them: "Hard work and dedication and a pretty cool horse can pay off at a young age," she said.
Hannah Sue Burnett is another of the younger members on the reserve squad, and she said she was pleasantly surprised to land a spot as an alternate: "I didn't have high expectations, so it was a really fun surprise. It's such a good team with strong alternates. Everyone is ready to pull the trigger, and if we have any issues with soundness, we're still going to be able to field a really strong team."
She and William are doing a combined test at Surefire tomorrow "to get all the bucks out" before heading to the Advanced horse trials at Jersey next week. From there, they'll participate in the final outing at Great Meadows with the rest of the listed horses, which Hannah said she's really excited about.
"It's going to be really fun for everyone who lives around here (in The Plains, Va.)," Hannah said. "The whole town will come out, and it will be good to build team camaraderie before we ship out for France. We'll get to cheer everyone on and get pumped up."
If Hannah doesn't end up getting called up for the WEG squad, she's not sure yet as to whether she'll tackle Blenheim or Burghley with William, but she's thrilled for the opportunity either way, she said. She also wanted to give a shout out to Ms. Jacqueline Mars, William's owner, as well as all her sponsors and supporters who helped make this possible.
The other alternates — Boyd Martin, Phillip Dutton and Buck Davidson — are also named to the main squad, and they made comments about their reserve horses last night in this post. Congrats to everyone named to the main squad and reserve list, and thank you for showing such incredible sportsmanship. Go Eventing.