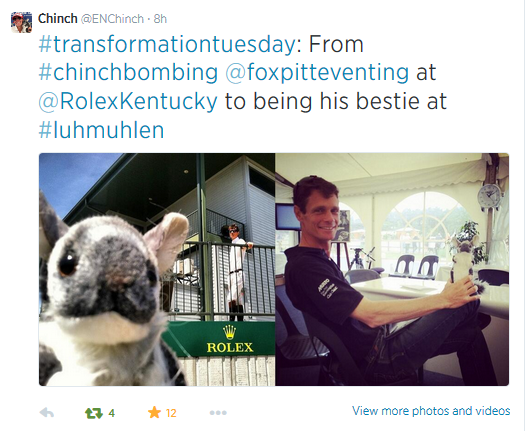 Good morning! I hope your hump day is going well – just a couple more days until a new weekend of competition and insanity in the middle commences. Speaking of insanity, did you hear that Chinch has his very own Twitter account now? That's right, he decided to go rogue on us and start his own social media account. I must put in a disclaimer here that states that all of the postings on this Twitter account are Chinch's opinions only! Don't blame us if he goes streaking a la Jon Holling at the next event he turns up at. If you're in the mood for some Chinch ramblings, hit the Follow button on his Twitter page.
Weekend Preview:
Inavale Farm HT [Website] [Entry Status]
Groton House Farm HT [Website] [Ride Times]
Abbe Ranch HT [Website]
Horse Park of New Jersey HT [Website] [Entry Status]
Genesee Valley HT [Website]
Wednesday News:
The Fourth Annual EN Blogger Contest has commenced! We received some really impressive entries this year, making it difficult to narrow it down. To that end, we have chosen 10 finalists this year instead of the usual eight, which means that the competition will be fierce! We will be posting the first round of finalists' entries on Bloggers Row in the next couple of days, so be sure to keep an eye out and take a gander at their articles. We promise you some great reading! John may be out of a job soon if this keeps up… [Bloggers Row]
Fourth of July is right around the corner. Have you thought about how this noisy (and hot!) holiday affects your horse? Loud noises (and plastic bags) are not horses' best friend, so be sure to take extra precautions for the holiday weekend to keep your horse safe. Barnmice blogger Buckley Fence has a great post on keeping your horse out of harm's way. [Keeping Your Horse Safe on the Fourth]
The O'Connor Event Camp is being held this week, and the annual event got a nice write-up on the local news site. It's always great to see our athletes getting some exposure on non-equestrian media outlets, and who better to represent us than the O'Connors? [WDBJ7 on O'Connor Event Camp]
Five horses passed away in a single day at Ireland's Turf Club. The horses were steeplechasers, and the track has launched an investigation into the circumstances surrounding the tragedies. So far, the track conditions have been cleared from being blamed for the deaths. Track conditions were listed as firm that day. [Five Horses Die at Irish Track]
The Endurance Director for the FEI, Ian Williams, has announced his retirement. A yet to be named replacement will work with Ian up until his departure in December and will then take over the reins for the sport going forward. It will be interesting to see if any major changes are brought about with this transition. [Williams Retiring]
Wednesday Video:
Would your horse fend off a bear?