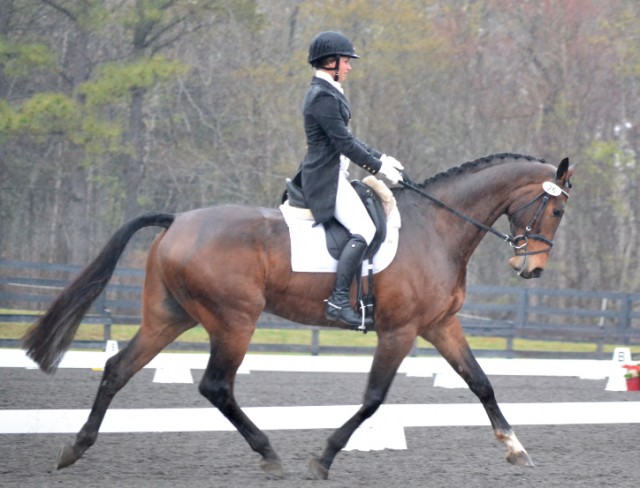 Elinor MacPhail hit Maggie's score prediction on the head in the CIC3* at Poplar Place this weekend, finishing first on a score of 64.5. Ellie didn't push too hard for time on cross country, incurring 14.8 time penalties for the second quickest run of the day. This is RF Eloquence's move up to the three-star level after picking up the win in the Advanced at Chatt Hills last month.
Picking up second are Kyle Carter and Madison Park out for their first three-star run since Rolex. Kyle and Parker are entered in the Advanced division at the AECs, so we hope to see them out for a good run in Texas.
Emily Rusinyak and Reatta HW moved up from fourth to third overall with the fastest cross country time of the day, picking up 11.6 penalties to finish on a score of 82.1. This is this pair's first start at this level, so Emily must be thrilled with the results.
Poplar Place Farm September CIC & H.T. [Website] [Times] [Live Scores]
Jonathan Holling and Zatopek B picked up the win in the Advanced division, adding 23.2 time penalties to finish ahead of Jennie Jarnstrom and Cape Town, who enjoyed a nice move from fifth to second after cross country. Sitting in second after show jumping, Becky Holder and Can't Fire Me withdrew before cross country.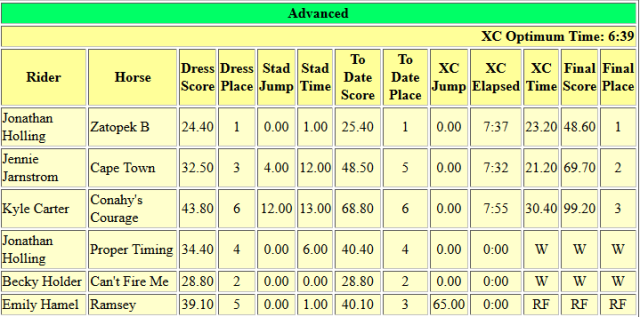 In Canada, the OHTA Championships were held at Will O'Wind Farm this weekend. Ian Roberts and Faolan are currently leading the Open Intermediate after cross country on a score of 42.4 ahead of Jessie Phoenix and Abbey GS, who are on a 47.2. Emilie Cleminson and Winnie Wonka (cute name!) round out the top three on a score of 49.6.
OHTA Championships at Will O'Wind Farm: [Website] [Live Scores]
At Dunnabeck in Illinois, Lacey Messick and Second Hand Rose took home the top honors in the Open Preliminary division, the only pair to finish on their dressage score. This was the pair's second effort at Prelim and their first win.
Jana Lyle and Tupelo picked up second place in their third event at this level with one unlucky rail down in show jumping today. Hayley Lofgren and American Rhythm finished their weekend in third place with a rail down for a total of 41.3.
Dunnabeck H.T. [Website] [Live Scores]
Comments