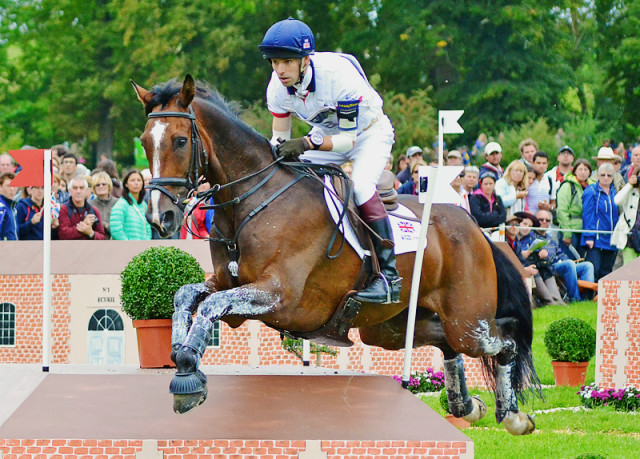 I have many stories to tell about the three-ring circus that was eventing at the World Equestrian Games, but one of the most egregious things I witnessed took place just after show jumping concluded on Sunday afternoon.
I watched show jumping from the photographer's zone along the side of the stadium by the chute. This was also the only way to access the grandstands in this part of the stadium, and the surly security guard at the entrance had that place on lockdown. It didn't matter who you were — if you didn't have a photographer's vest or the proper credential to get by, you were out of luck.
This became a problem when show jumping ended, and riders were trying to meet their friends and family in the grandstands. As I walked toward the exit of the photographer's zone to go back to the media center, I noticed the security guard was in a shoving match with one of the riders who was trying to get by. It was Harry Meade.
Harry's horse Wild Lone, one he had campaigned and loved for 10 years, had tragically collapsed and died after cross country not even 24 hours earlier. In an incredibly brave display, Harry stood watching each of his fellow British teammates in show jumping that day, cheering them on and supporting them.
Even though he himself would not be riding after his horse's death, he was still dressed in his riding clothes, presumably because there was a very good chance Great Britain would win a team medal and he would end up standing on the podium, as the team came into the day in silver medal position.
The team ultimately did win a silver medal, and as I walked up to the security guard and Harry, I could hear him say, "My wife is in the stands. I'm just trying to get to her," to which the security guard replied, "It doesn't matter."
So in some sort of hungry, sleep-deprived rage fueled by what a horrible cluster my entire experience at WEG had been up to that point, I shoved the security guard back from Harry and yelled, "The man just won a silver medal, for God's sake. Let him through!"
I'm not sure if the guard was so stunned that someone much shorter and less burly than him had dared to challenge his authority, or if the fact that I was wearing bright red tights to support Team USA caught him off guard. But regardless, that split second after I pushed him back distracted the security guard enough to let Harry slip by to find his wife, Rosie, in the grandstands.
Moments later, Harry walked into the stadium on foot to collect a medal he earned the day before after a clear cross-country trip with Wild Lone. I have heard countless stories from the riders, grooms, coaches, journalists and spectators about how poorly they were treated throughout the course of WEG, but watching that security guard shove Harry repeatedly less than 24 hours after he lost "Alf" will stay with me for a long time.
Stay tuned for much more as we bring you behind the scenes with all the insanity we witnessed at #ArmageddonWEG. And if you missed Leslie's post about "starving in a mud pit" — one of our most-read posts from the entire week — be sure to check it out here.
#WEG2014: Website, Final Team Scores, Final Individual Results, EN's Coverage, @eventingnation
Comments