Welcome to EN's West Coast Wonders! We'll be spotlighting horses and riders who are making a splash on the West Coast. We continue our series with Canadian up-and-comer Leah Breakey, who is currently competing at the Advanced level with Master King II. Do you have a horse and/or rider that you'd like to see on West Coast Wonders? Tip me at [email protected]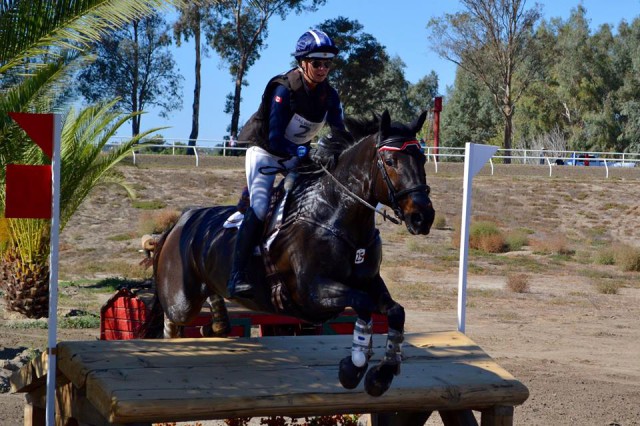 Eventing has become a lifestyle for the Breakey family. It hasn't always been this way; sisters Leah and Megann started doing Pony Club, which eventually led to a complete lifestyle overhaul for mom and dad, who are former schoolteachers turned horse enthusiasts in their hometown in Alberta. Now, it's 24-year-old Leah who has taken the reins on some talented horses to put herself on the map as a Canadian name who frequents the West Coast throughout the season.
Both Leah and her older sister Megann evented extensively when they were younger, and eventually Megann chose to go to school to be a vet tech rather than continue her competition career. The sisters now share responsibilities running the family horse business that consists of breeding, breaking, training and competing horses, with Megann focusing more on the breeding and starting stages and Leah concentrating on training and competition.
Competing at the upper levels wasn't the initial goal for Leah, who initially began eventing because it seemed like a sport she would enjoy. "I wasn't really planning on doing anything upper level," Leah recalled. "In Alberta, the big thing then was to go Prelim. I think growing up there were two people going Prelim, so that was a big deal."
The Master Plan
From the goal of going Prelim came the idea to purchase a horse for Leah to gain experience on, and thus an Oldenburg gelding named Master Plan came into the picture.
"He was just the horse that you wish you had gotten earlier," Leah said. "He was such a packer, and he was the type who would just carry me around if I froze or made a mistake. I was always told he wouldn't move up the levels, and he was a bit older when he started, but we just decided to try Intermediate, and then a two-star and then Advanced, and he just never said no."
Master Plan, or "Mickey", became the horse who really launched Leah's eventing career, giving her miles through her first FEI events and eventually reaching the CIC3* level — he finished in the top 15 at Rebecca Farm and the top three at Copper Meadows in 2014 at the age of 17. "We always wonder, if we had gotten him earlier, if he'd been able to go four-star," Leah mused.
Mickey went on to compete at the Preliminary level with Cynthia Wright and Jordan Good before retiring to Northern California.
Many the miles
Basing in Alberta is not easy for an aspiring upper level eventer. Without many options above the Preliminary level, Leah knew she needed to follow her dreams south to pursue other opportunities. She started out working for Canadian Olympian Sandra Donnelly and followed that up with some time with James Atkinson and Taren Hoffos.
"I think that's the biggest thing you can do if you're able," Leah said. "To be able to be immersed in it and learn the ins and outs of managing the horses and competing has really given me a lot to work with."
Leah also traveled to the East coast in 2015, working for Clayton Fredericks for the 2016 season with her younger horse, Master King II, who was purchased from Daisy Trayford in 2014.
"The intent was to have a horse coming up behind Mickey," Leah said. "We bought Master King from Daisy Trayford sight unseen; my sister had worked for Daisy when she was in England and so we knew her and trusted her. I took him to his first event out here at Training level and have just been steadily moving up with him since then."
During Leah's time with Clayton, she moved Master King up to the Advanced level, coining her second horse at the level and gaining experience along the way.
Master King II
Now 11, the Irish Sport Horse gelding has completed two Advanced events, most recently coming second at Fresno County Horse Park last month. Leah and "Beau" also picked up a top-15 finish in the CCI2* at Galway Downs last fall to cap off a successful season primarily at the Intermediate and two-star level.
This year, Leah has her eye on the CIC3* at Rebecca Farm, which is only an eight hour drive from her home base in Alberta. "It's always a goal to go and watch or go and compete at Rebecca because it's one of the closer events to us," Leah said.
Leah has spent the beginning of the 2017 season based in Ramona, Ca. at Copper Meadows, working with Taren Hoffos, Hawley Bennett-Awad and Robin Garrett. She'll head back north to Alberta once her early California season completes at Twin Rivers in April.
What about long term plans for her latest Advanced horse? "I do have my eye a little bit on the World Equestrian Games next year," Leah said. "But it's not the end all, be all thing for me. If I have the horse at the time, then I'll give it a shot. But I've pushed too hard for certain things before and I've had to go back and fix confidence in myself and my horses and fix problems because I pushed too fast. So if I never make a team, that's okay but if I have the horse then I'd like to go for it."
Master Key Eventing
Building a competition career based around the three "Master" horses: Master Plan, Master King II and an up and coming talent Master Class, a big 8-year-old Canadian Warmblood gelding competing at the Preliminary level this year, Leah has created the moniker Master Key Eventing with which to brand herself and her family's business.
It's a well thought out plan, with Megann handling the breeding, mom and dad managing the acreage and day to day routine and Leah riding and competing the horses as they come out of the farm.
"I think we'd all like to see the business grow to the point where we're breeding horses and bringing them up through the levels with the intent to sell them," Leah said. "Sort of a self-sustaining model. We're lucky enough to have a place to do everything, and having Spruce Meadows and Anderson Ranch close is great for working on those parts of the sport."
Leaving the comfort zone
Leah is no stranger to working hard and making her way using the tools she's been given, and the work has paid off in spades with talented horses and a blossoming career at a young age. But she's quick to acknowledge the support of her family and all of the coaches she has worked with through the years.
"It's great to see Alberta and British Columbia producing some really good young riders now," she said. "You really have to be willing to push outside of where you're comfortable to reach your goals. The events in Alberta are great, but you have to travel to go to the upper levels, so you just have to have a good plan for how you're going to reach those goals."
"For me, I stay about six months at a time in California before heading back home where I need to continue to work and earn money," she continued. "But I'm very fortunate to have a place to go when I'm home, and I'm able to structure my season so that I can make the most of both seasons."
Looking back on her career, Leah still credits Master Plan for really giving her the push she needed to pursue her dreams. "He really ended up being my horse o a lifetime," she said. "He just loved it and never stopped, and he gave me a place where I wanted to go further than I ever thought."
Comments