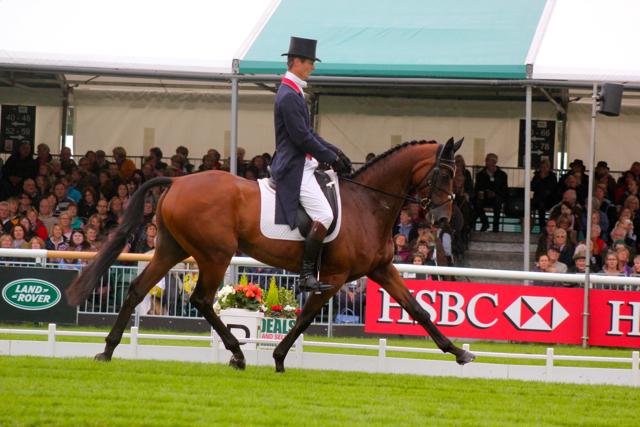 William on Seacookie at Burghley – a week before diverting to Blenheim where he scored his incredible 50th International Three Day Victory
Despite winning the Rolex Kentucky CCI****, the Tattersalls CCI***, the Bramham CCI*** and CIC***, the Blenheim CCI*** and coming 2nd in the young horse CIC*** there, as well as third at Burghley CCI**** the previous weekend in 2012 and of course an Olympic Team Gold medal, William Fox-Pitt will look back on this year as somewhat of a relaxed one,  "With the team of horses I've had this year, and the cancellations, it's been a quieter year in a funny way. Apart from the excitement of the Olympics, I've never had so many weekends off."  Perhaps that's what has prompted him to examine his future path, or perhaps it was the inimitable experience of competing at a home Olympic Games? We sat down at Burghley to talk about both those things, the Rolex Grand Slam, HSBC Classics Series and more.
Although he's represented his country at four Olympics William was adamant that London was extraordinary, and may or may not be his last Games – whether he rides in Rio or not is as yet undecided,
"I just can't believe it's all over; it was quite surreal watching the Opening Ceremony for the Paralympics, thinking how it wasn't long ago at all since we were there but it seems like an age already now.  We're very lucky in Eventing that the sport moves on, we have other horses to ride and other things to focus on; it must be so tough on certain athletes, either career-wise or season-wise, to come away from that – it's a big anti-climax. I feel very fortunate that you put that behind you;  it was great excitement, but then you have the Burghley excitement, and then there's Blenheim, Le Lion, Pau…so we're far from over yet. We have the opportunities maybe to have a longer career, if we've got the horses and we're still riding okay but I don't think anything will match up to London."
"You win a medal in Athens or Beijing, you get your medal and you're gone, you're back home and there's a bit of a celebration in your own village and that's great, but this time we had 48 hours of media after our silver medal before we even had a moment to go and do our own thing. We didn't get fed until 11:30pm after we won silver, and then it was a McDonalds! We were up at 7am to go on the Breakfast Show and it was a whole rollercoaster of things; there was none of that in any other Games because obviously it wasn't a home Olympics.  Everyone was just swept along in the whole Olympic excitement. Later we had time to celebrate and there have been loads of requests to come and do things, as well as some fantastic invitations – I'm trying to accept them all because it's never going to happen again, you've really got to make the most of everything that's going to happen, and I think that's how we all feel. We're going from Mama Mia to behind the scenes at Harry Potter, going to Wembley – that part is really exciting and that didn't happen for us after the last Olympics.  At Hong Kong, Team GB for us was just the equestrian because we never made it up to Beijing. The whole Team GB thing in London has been a very different experience."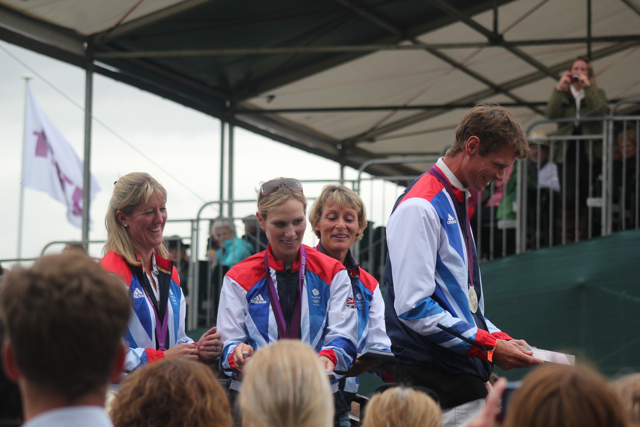 "We had a Team GB party where David Cameron spoke, and he told us, 'If there's one thing you can give back, when you're asked – each individual, every single one of you has the opportunity to create your own legacy. If someone says come and talk to a bunch of kids or someone asks you to present some prizes, that's what I would like you all to do.'  It was a very good point; you get lots of requests and it's very easy when you're busy riding  to say no, and he said just think again, this is your opportunity to give back and 'inspire a generation,' that awful catchphrase, but  the way he put it was so succinct and it really did make everyone think. I've been to a local riding school and presented their 'Olympic medals' for their mini one day event and it was fun to do that, and there'll be plenty more of that. In the build up to the Olympics we had quite a lot of it but we were very much instructed not to do it. If you look at Jessica Ennis and Tom Daley they went with it and became the face of the Olympics and they coped with it very well, but they're in a different league –  you could so easily spend too long doing stuff that actually after the Olympics is going to make no difference anyway, whereas for them their whole pre-Olympic hype adds to what they've won and will turn them into future, long-lasting heroes. I don't think in Eventing we quite have that, our sport is less understood and hopefully increasingly tangible but you can't just go and buy some running shoes, whiz around a track and turn into Mo Farah."
Part of what made the London Games so special, the crowds and the complete involvement of a nation was also what had worried the team for quite some time, and William explained that they'd been aware that all the spectators might have caused a problem, but in the end it was not to be,  "The horses reacted so well, we'd been talking about it for quite a long time; Yogi had been really focusing on it  and we had a really good training session at Addington where he got some crowds in with flags, clapping and lots of noise, and the horses were much more nervous there than they were in Greenwich. It's funny, out of context they get much more scared, but they got to Greenwich and somehow everything is SO different and they really did behave quite well;  out of all the eventers very few really blew up.  They coped remarkably well particularly because it was a very claustrophobic site, we thought they might really over-react but they just didn't. On the cross country we were very blinded by all the spectators, we couldn't see where we were going; all of us have never walked a course so much, so that we knew exactly when we had to  turn, and at what speed to be where, so we were ready." He added that it was absolutely refreshing to see England, a country usually renowned for its respect for the horse, and its 'golf clap' at dressage, stamping it's collective feet and going wild in the stands, ""In a way you just embrace it because it was all just so different, and it was so great to feel the enthusiasm."
"If I go to Rio then I'll be very fortunate and it will be very exciting but at this stage I would say my focus would not be on Rio; it's four years out and it's not going to be London.  I don't think anything in Rio, even team gold and individual gold could match up to the London experience. It's great on the day but I've competed in four Olympic Games and the whole Olympic experience is what it's all about really, being on the Olympic team and your sport gets much more recognition than it does at any other Championships, but beyond that….you come back from an Olympic Games and everything's exactly the same – you've still got to ride 15 horses, you've still got to ride all through the winter and you've still got to make money and do everything else. I think our sport is very different in that sense – if you look at Mo Farrah, Usain Bolt, without their Olympic medals their lives would be very different; Mo Farah is certainly now set for life whereas I don't think anything comes on a plate along with a gold medal in the equestrian disciplines.  There are other things to do, we're very lucky to have other targets- the Rolex Grand Slam, the HSBC Classics Series…In eventing the way to make some money is to do well at your sport. What's keeping me in it? I love riding nice horses and I've got lovely horses to ride; I'm going to go on riding them until they're in the field."
William has won two legs of the $350,000 Rolex Grand Slam on Parklane Hawk – can he clinch the title at Badminton next year? Not only would he be just the second rider in history to do so, (Pippa Funnell is the only winner so far) but obviously it has never been done on one horse before either because of Rolex and Badminton running on consecutive weeks. For the record, had William won Burghley 2012 and Kentucky 2013, a Rolex representative confirmed that "technically it is formulaically possible for a rider to win two Grand Slams at once".
So what exactly will be on William's agenda next year?  "Badminton is naturally going to become quite a big target, and this year it wasn't; this year it was a stepping stone to what never was so I think after Burghley, then followed by Pau I will assess my situation, see how the horses have gone, how they've come out of their three days and certainly campaign two or three with Badminton as their Plan A; who knows, but hopefully, I'll have two or three horses that are fit and well and that can do that." (For the record,  he won't answer who exactly he thinks those horses might be.)
"I've got Bay My Hero coming on which is quite a nice horse, he's going to Pau as his first CCI****, and I've got Chilli Morning who is also coming along well so I feel that I'm very fortunate that I've got a bit of back-up but they've got to stay sound, and these guys (Seacookie, Parklane Hawk) have got to stay sound after running around here, Burghley is very demanding and a big test."
William makes no secret of having a soft spot for Kentucky, which is no surprise considering he's won it twice in the last three years, and explains that his attendance in 2013 hinges on a couple of things,  "I'm hoping that I'll be able to go. It depends on two things – it depends on whether there's funding available because it's not a trip that's affordable without funding, and it depends on whether I've got a suitable horse that could go there that would not be one of the two for Badminton but would still go there with a chance – it's not an event that you would want to fly the whole way out to without thinking you had a good chance of a result. I hope that I would have a horse for Kentucky next year,   Kentucky is a fantastic event, it's one that I love competing at, it's great for horses and owners and I think that it's just a really good event."
And if he's not focusing on Rio, what about that elusive individual gold medal at the Europeans next year in Malmo, or at the WEG the following year in Normandy?  " It's got to be on my mind, but you can't really prioritise in eventing, you rather have to take each achievement as it comes. It would be very nice but it hasn't happened, and again, if it doesn't happen – oh well, I've had a great time doing other things. The sport has given me more than my fair share of success."
Along with the success comes a widespread admiration from and incredible popularity among his peers, and huge fan base that spans the globe, and still, even after 50 wins, the sheer delight evident in his pregnant wife Alice's tweet on winning Blenheim,
Alice is an accomplished horse woman and television presenter herself, and although the birth of their third child will delay their plans somewhat, William hopes they can start diversifying soon,  "We'd like to go into (racehorse) training one day; this time next year we might start training a few horses, it's not going to be a great, big operation, it's not going to be the Nicky Henderson or Paul Nicholls show but it's going to be our variation of it, and to see whether we're any good at it, but it's a little way off."
My thanks to William for his time during a busy Burghley, and congratulations on a half century of Three Day wins – we hope to welcome you back to Kentucky again next Spring. Keep on winning, William, and Go Eventing!