Steering clear of the spooky-fun graveyard in the middle of this afternoon's Woodside International stadium jumping course, CCI4*, 3* and 2*-S contenders vied for pole position ahead of cross-country in front of a VIP dinner crowd on Friday night. The mood was festive, but the competition fierce while navigating course designer Marc Donovan's creative multiple-choice test of skill and scope.
Helen Bouscaren and Ebay Take Over the Top Spot in 4*-S
Helen Bouscaren and Ebay sit atop the 4*-S standings, even after a heartbreaker rail at the very last fence and a slight over time offense added to their dressage score for a 36.10. Helen, who is a partner in Alliston Eventing with her fiancée, James Alliston, blamed herself for the rail: "I turned around to look – which you're not supposed to do–and it was still up. But later they said it had fallen. He jumped fantastic, though, so I'm not too upset."
Planning for Ian Stark's cross-country track tomorrow, Helen's priority is making the time. Ebay, who she's owned for three years, has two four-star shorts under his belt, but has yet to make the time in this phase. Of the course, Helen says, "It's big and hard and there's lots of new elements. It looks like a good four-star course, so hopefully we are up to it."
Helen and Ebay slid into the lead over Amber Levine and Cinzano, who sit second. Amber and her more experienced partner, Carry On, were in the lead on their 30.80 dressage score until two rails and time faults dropped them into third on a 40.
Amber was thrilled with both horses' performance. Cinzano just moved up to this level in the spring and Carry On is returning to the level after time off. The Chocolate Horse Farm trainer praised the course as having nice flow and four-star challenges.
"It was super fun to have the options at fences 8 and 9, plus the liverpool, the triple bar and all the fill in the jumps," Amber said. "The Grand Prix Arena has an energy and presence to it, with the flags and the barns along the berm. And it was even more so with the big white VIP tent today."
Asia Vedder and Isa Hold Lead in 3*-S
"It was fun!" said amateur rider Asia Vedder, summarizing her lovely dressage test with Isi that earned a 24.40, for a wide margin over the runner-up going into stadium jumping. Judges Gretchen Butts and Richard Baldwin rewarded what Asia described as a combination of "strength and relaxation" and "things we've been chipping away at for a while."
"Today was far and away the best we've done," she said. The mental game has been Asia's personal focus: "I've been working on not getting into my own head too much."
Asia kept her cool and her lead for a clean jumping round with just 0.40 time penalties, which will send her out on cross-country with a 24.80. Time will be on her mind, too as that has been a bugaboo for the 9-year-old Isi who just did his first three-star at Twin Rivers earlier this year. Gearing up for their first CCI3*-L at Galway Downs later this month, Asia will be seeking a "nice rhythm and a good round, with an eye on the time."
Young professional Kaylawna Smith-Cook and Passepartout logged one of three double clear rounds, to move from 4th to 2nd in the standings. Helen Bouscaren and Paper Jam were third after a single rail brought their score up to a 34.80. After the big gap behind Asia and Isi, only four penalty points separate the 2nd through 5th place positions.
Bec Braitling and Dassett Sit Lead Large 2*-S Division
Bec Braitling's dressage ride with talented 8-year-old Dassett Ricochet had a little bit of everything: beautiful movements and moments of absolute distraction. After the test, it was determined that a rambunctious horse turned out in a nearby paddock during the test created an unfair setting. An adjusted score to reflect that left the pair second to David Koss and Stunner, by just a hair: 25.60 to 25.50, going into show jumping.
"It was funny because there were times I wondered if I should stop, then there were times it was clear he was trying to listen to me," Bec explained. "I figured I'd keep going and deal with it afterward."
The dressage incident didn't get under horse or rider's skin: they moved on to lay down a double clear round to move into the lead of the 29-horse field. Koss and Stunner had two rails, slipping to 10th, while 15-year-old Meg Pellegrini and RF Eloquence went double clear to move into the number two spot. Lauren Billys and Can Be Sweet continue on their dressage score of 27.90, in third. Less than five penalty points separate the top six in this division.
Cross Country Live Stream
Cross country action at Woodside began at 8:30am PST/ 11:30am EST with Preliminary divisions. The CCI2*-S begins at 10:20am PST/ 1:20pm EST followed by Intermediate, CCI3*-S, CCI4*-S, and then Training divisions. Thanks to RideOnVideo, you can watch all of today's cross country action right here!
Woodside International Event Live Stream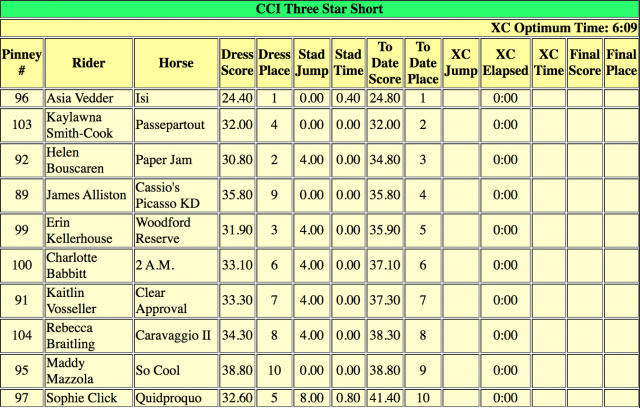 Woodside CCI & H.T. [Website] [Entry Status] [Ride Times] [Live Scores]