"You become responsible, forever, for what you have tamed."
This is my favorite quote from one of my favorite books, The Little Prince, Antoine de Saint-Exupéry's 1943 French novella. The lost prince has befriended a shy fox and they're talking, in so many words, about relationships: the arc of their creation, the tenuousness that makes them precious, and the secret of those that endure.
"One only understands the things that one tames," the fox explains. Later the prince recalls their interaction: "He was only a fox like a hundred thousand other foxes. But I have made him my friend, and now he is unique in all the world."
Some of the most important relationships in my life have been with horses. They've taken unique and often surprising shapes — I had a mare who felt like a sister, a big-hearted thoroughbred who was for several years my best friend, and an Olympic schoolmaster whom I can only describe as a mentor.
One of the most intimate human-equine connections I've experienced was with my first horse, Mishka, who came into my life in 1994. He was an aloof, 3-year-old, rose-grey Arabian, still more chestnut than white and only recently started under saddle; I was 12 and convinced I knew much more about riding and training than I actually did.
Our path toward some definition of "tame" was long and paved with both blue ribbons and trips to the emergency room. He is one of the most intelligent horses I've ever encountered, which alternately manifested in either brilliance or a deep suspicion of everyone and everything around him.
We gradually made our way up the levels by trial and error, along the way earning national dressage honors, eventing through Training Level, and developing a reputation on the local hunter circuit for bridleless/bareback jumping demonstrations. Mishka was also a keen and surefooted fox hunter who seemed genuinely intrigued by the game, which was his modus operandi for most things in life. He might not know the rules but he by-God wanted to play.
The Little Prince's fox explains that to "tame" means "to establish ties." Over the course of hundreds if not thousands of hours, Mishka and I wove our partnership. Gaining Mishka's respect was a never-ending pursuit as he typically had his own own ideas about how to run things, but we were able to reach an agreement more often than not.
As much as I tamed Mishka, he tamed me. My natural proclivities for adventure and abandon were better played out at the barn, where risk-taking meant daring someone to jump a fallen tree out on the trail, as opposed to along the cliff-edge of "real world" teenage experience.
I pulled straight As in AP classes to keep up my end of a "you can have a horse if…" bargain with my parents and spent my spare time mucking stalls at the barn. Of the adjectives I would use to describe myself today — hard-working, intuitive, brave and, yes, willful-on-the-cusp-of-stubborn — most were developed in direct response to my relationship with Mishka. We were well-matched opponents who challenged one another in ways it took me years to understand.
I was an ambitious young rider and by the end of high school I'd outgrown Mishka's athletic ability. Moving on felt unfair yet necessary, but the pieces fell immediately into place for Mishka's next step forward, and he began a new life with two young, horse-crazy sisters. Mishka went on to show them the ropes of competition and for 16 years he was loved and spoiled rotten at the family's beautiful farm, which was conveniently nearby.
That wouldn't be the end of our story. A few months ago one of the daughters reached out to me. Her parents were selling the farm and she wondered if I knew of anyone who might be interested in re-homing Mishka, now 24 years old, snow-white with a long tussled mane, and retired save the occasional bareback hack.
My answer was immediate: Of course I would take him. "You become responsible, forever, for what you have tamed." Responsibility is sometimes equated with obligation or duty, but it can also be an honor. Mishka came to live at the barn where I board my other horse, Esprit, in February.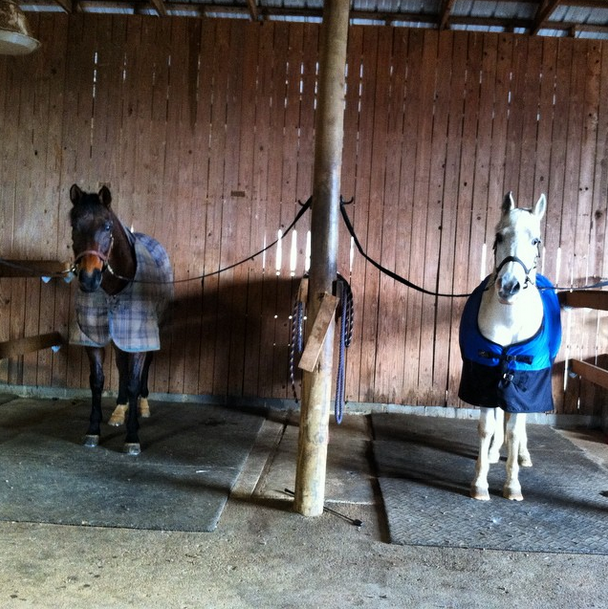 I don't know much about the science of equine memory, but I can see in his dark, still-smoldering eyes that he recognizes me. When I say "recognize" I don't mean in the sense of distinct memories, the kind humans carry, but of some more deeply embedded remembrance of the things that carry meaning in our lives. I, on the other hand, have vivid memories of our exploits but was surprised to experience a sort of bodily déjà vu  as well.
When I hopped on Mishka over the weekend just for fun, his springy trot and the way he leered at shadows in the corner of the ring felt as familiar as if I'd just ridden him the day before. There are moments when time folds in on itself — past, present and future stack atop one another and then melt into one omnipresent mass. Looking out at the world between his pricked pony ears, I felt a connection to the many layers of self I've shed and regenerated over the years. It was a reminder that life is less linear than it seems.
When you part ways with a horse or a human whom you have "tamed," they'll never be lost to you. It may feel that way sometimes, but the ties are still there, circulating, shape-shifting, consciously or subconsciously permeating your thoughts, actions and emotions. Taking responsibility means acknowledging those ties, whether by picking up the phone to call an old friend or simply taking a moment to appreciate the impact that others have had on your life.
Sometimes that connection comes full circle in a tangible way, as it did for me with Mishka. Other times, it's more translucent. As the fox says, when he is saying goodbye to the prince, "Here is my secret, a very simple secret: It is only with the heart that one can see rightly; what is essential is invisible to the eye."