Time always plays a critical role on cross country day at Great Meadow International, and the clock ultimately turned the leaderboard upside down, boosting Jennie Brannigan and Tim and Nina Gardner's Cambalda to victory for a second time in The Plains, Virginia.
Jennie and "Ping," a 15-year-old Irish Sport Horse gelding, won the inaugural CIC3* in 2015, and a clear round with 1.6 time penalties on Mike Etherington-Smith's course moved them up from fourth place to take the win on a final score of 49.8. (Remember EN predicted them to win!)
"The first time I came (to Great Meadow) it was so exciting because it earned me a spot as the traveling alternate for the Pan Ams, which was quite special to me. I grew up working for Phillip (Dutton) and under Boyd (Martin), and I've always wanted to ride on a team with them," Jennie said.
"It almost happened (at the Pan Ams), and then to come back and get to be on a team with them was really special for me, and then obviously with one of my best friends (Lynn Symansky). It's an honor to get to ride for your country. Ping has been an incredible horse and wonderful to me."
Team USA clinched the Nations Cup for the second consecutive year and also swept the top three individual positions. Lynn Symansky and Donner, a 14-year-old Thoroughbred gelding owned by the Donner Syndicate, added 1.2 time penalties and moved from sixth to finish second on 50.1.
Called up to the U.S. Nations Cup team after Doug Payne broke his collarbone three days before the competition started, Lynn and Donner have now been on the podium twice for Team USA, having also been on the team that finished third at Aachen CICO3* in 2015.
"I was always planning on coming here and giving it a good go," Lynn said. "I'm very comfortable with these people. I've been on teams with Phillip and Boyd before. They are fantastic support, and Jennie is one of my best friends. It's just a great cohesive group, and everybody works together and supports each other. We're out here at another event and want to win and do the best that we can."
Phillip Dutton and I'm Sew Ready, a 13-year-old KWPN gelding owned by John and Kristine Norton, sat in second after show jumping and finished third on 51.6, adding 5.6 time penalties on cross country.
"He's not the fittest yet and he's not the fastest," Phillip said. "I could have done a bit better job at the galloping fences. Overall it was a good run for him and I'm pleased that he went so well."
Nicky Roncoroni added 4.4 time penalties with Watts Burn, a 12-year-old Irish Sport Horse gelding owned by Lorna McWilliam and Janey Barclay Roncoroni, to finish fourth on 53.0 as the highest-placed British pair.
"He's strong and doesn't like twisting and turning too much, so I was a little bit down to start with. Once I could get him into his rhythm, he sort of really operated. I took a stride out coming down the hill (at fence 15, the Jet Linx Launch), but it felt very safe to me," Nicky said.
"He's jumped around a four-star before, and I've had him since he was a 3-year-old, so I know him very well. Now I just sort of trust him to take the line and set him on it and he's great."
Just three of the 28 starters (11%) made the optimum time of 6 minutes, 33 seconds. Selena O'Hanlon and Foxwood High, a 15-year-old Canadian Sport Horse gelding owned by John and Judy Rumble, stormed around inside the time to move from ninth up to finish fifth on 54.9 as the highest-placed Canadian pair.
"Cross country is definitely our forte. I was a little bit disappointed after the show jumping. It's hard when you're on a team because you don't want to let your team down. I told everyone I was not going to have any time faults," Selena said.
"Unfortunately, my owners couldn't make it. They never miss an event, and I know they really love this event and want to support it. They were live streaming it with their friends at home in Canada and I'm sure John will be pleased with our cross country today."
Jessica Phoenix, the overnight show jumping leader with Pavarotti, contested her 12.4 time penalties after jumping clear following a lengthy hold on course, but her time was not adjusted; they finished sixth on 56.4.
Canada finished three of their team members in the top 10 and finished second in the Nations Cup standings. Waylon Roberts and Kelecyn Cognac gave Canada a second clear round inside the time to move up from 12th to finish eighth on 57.3.
"We all almost got personal bests this weekend, which is a great weekend for us," Jessica said. "Just to be in the barn with these people — it's fun every day to show up to work and get to do this."
Jan Byyny receives EN's Rockstar Award after piloting Inmidair to a seventh-place finish in their first run at the Advanced level since Kentucky in 2014, adding 10 time penalties to their dressage score to finish on 56.6.
Team GB finished two of their riders in the top 10, with Emily Llewellyn and Emirati Night Sky jumping clear with 8.8 time penalties to finish ninth on 58.1. Nicky and Emily's clear rounds were the bright spots of the day for Team GB, as things didn't go to plan for their other two riders.
Justine Dutton and Jak My Style, the first pair out of the startbox, had a rotational fall at fence 18A, the log jump into the Adequan Beaver Pond. She was transported to Inova Fairfax Hospital with a collapsed lung and a broken shoulder, collarbone and ribs. "Jak" was uninjured, and we are sending our very best healing wishes to Justine.
Matt Heath and One Of A Kind were eliminated on refusals in the main arena at 9B, an imposing brush corner that caused all sorts of problems today. Woods Baughman and Montesquieu were also eliminated on refusals at 9B. Jessica Phoenix retired both A Little Romance and Abbey GS after two refusals at 9B. Holly Payne Caravella and Never OutFoxed also picked up 20 jumping penalties at 9B.
Mara DePuy parted ways with Congo Brazzaville C at 18A, the log into the Adequan Beaver Pond, and was uninjured. All other pairs jumped clear rounds, giving us a 75% clear cross country jumping rate. Click here to relive a play-by-play of all the action in EN's open thread.
Thank you to all who followed along with EN's coverage this weekend, and thank you to the organizers, officials, volunteers and everyone who played a part at Great Meadow. Allyn Mann, director of the event's presenting sponsor Adequan, said it best: "Eventing is a world of courage, substance and stamina." We're honored to be a part of it. Go Eventing.
#GMI2017: Website, Final Scores, EN's Coverage, EN's Twitter, EN's Instagram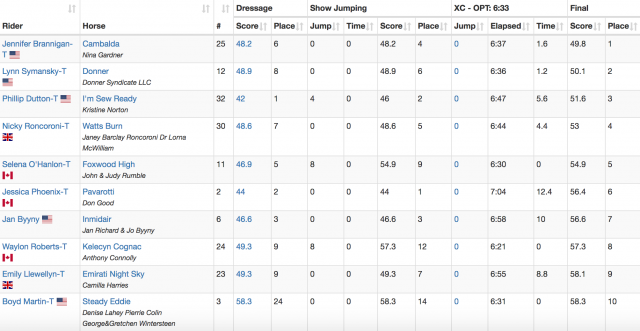 Comments