It's been a beautiful morning of dressage here at the Event at Rebecca Farm, and we were treated to some great riding and beautifully presented horses in the CCI2*. All remaining FEI divisions are riding dressage today — with the CCI3* still to come this afternoon — and the CCI2* riders were the first to go this morning.
Heather Morris and Team Express Group LLC's Charlie Tango will be your leaders heading into tomorrow' cross country after scoring a 42.7 today. Heather was the second in the ring after the first judges' break, and she remained unchallenged throughout the remainder of the division.
Charlie Tango is a 7-year-old Irish Sport Horse who is making his second CCI2* start — he also won his first CCI2* earlier this year, no big deal. Since he moved up to the CIC2* and CCI2* level, Charlie Tango has finished out of the top three just once in four starts.
In second and continuing her great weekend so far is Tamie Smith and the Team Milton Syndicate's Fleur de Lis. They had tons of presence from the moment they entered the ring, and a smooth test earned them a 46.5 for second place. Fleur de Lis will be seeking his first CCI2* completion after ending his weekend in show jumping at Jersey Fresh earlier this year.
I must give a big Area IV shout-out to Elena Hengel and Zipp, who are holding their own in their CCI2* debut together in third place on a score of 48.9. Zipp, an 11-year-old KWPN gelding, previously campaigned through the two-star level with Will Coleman before moving to Elena. They then competed in the CH-J* at NAJYRC in 2014, where they finished eighth individually. Elena will be over the moon with Zipp's performance today, and they're in excellent position to make a statement over the next two days.
Tamie Smith is enjoying a total of four horses in the top five of their respective divisions, as she also added Dempsey to the list, currently in fourth on a score of 49.4. A 7-year-old Dutch Warmblood gelding owned by the West Coast Dempsey Syndicate, Dempsey is making his CCI2* debut here at Rebecca. He finished sixth in the CIC2* at Copper Meadows as his final prep for this event.
Completing the top five in the CCI2* are Barb Crabo and Over Easy, a 9-year-old Swedish Warmblood mare. Over Easy is another of Barb's experienced partners competing at Rebecca, as she also has Eveready in the CIC3*. Barb and Over Easy finished 11th in the CIC3* here in 2013.
We're about an hour away from the start of the CIC3* dressage, which has 10 entries, so stay tuned for a recap of that division coming up next!
#RF: Website, Schedule, Ride Times, Live Scores, EN's Coverage, Instagram, Twitter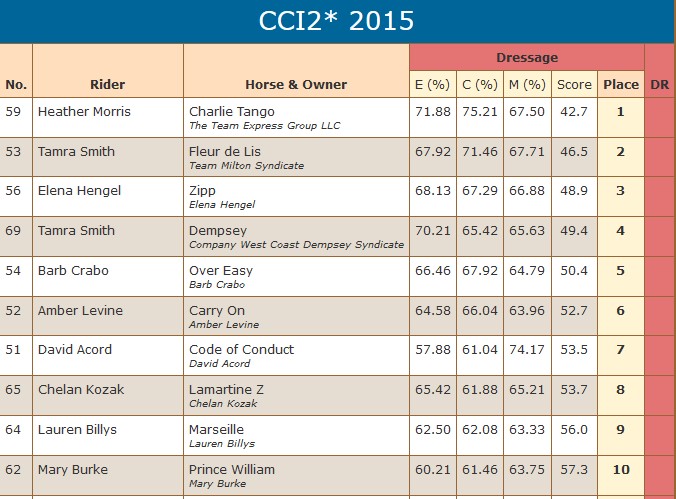 Comments