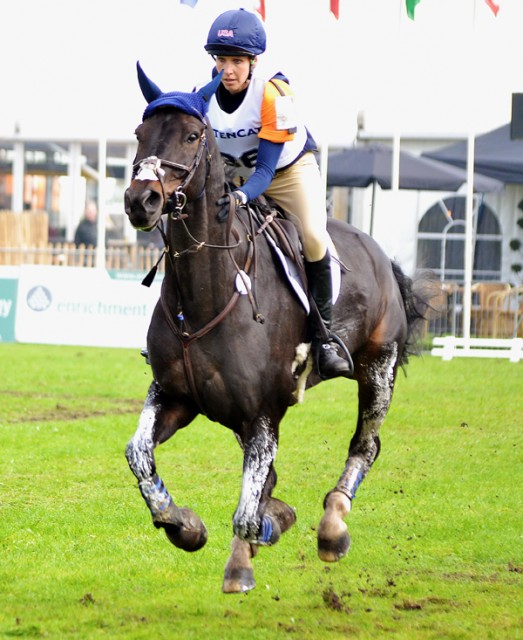 It came down to the wire for the CIC3* competitors at Ballindenisk this morning, and in the end it was Joseph Murphy and Sportsfield Othello who took the top honors. Show jumping proved to be quite tricky and influential, with just three pairs managing to leave all rails in their cups.
Leading overnight, Izzy Taylor and Thistledown Poposki picked up 20 faults on course today, but their final score of 67.8 was still enough to keep them in the top five, finishing in fourth place overall. Liz Halliday-Sharp and Fernhill By Night put the cherry on top of a smooth Boekelo prep by turning in one of the three double clear rounds to move from fourth to second.
In second after cross country, Oliver Townend and Dunbeau had 12 faults today to move down into third overall. I also must send my profuse apologies to Tiana Coudray, who I did not mention in my recap yesterday! Tiana rode Kinnordy Rivaldo to a 12th place finish after lowering one rail today in the show jumping.
Tiana took over the ride on "Ken" from Chris Burton last year, but the horse was diagnosed with a bone disease that kept him sidelined for quite awhile. Earlier this summer, PRO reported that the horse was back in work but that Tiana and her team were approaching the situation cautiously. The pair's finish today gives them their highest placing this year and their first CIC3* completion together.
Kathryn Robinson and Let It Bee put in a solid show jump round, knocking one rail to finish ninth overall for Canada.
Clare Abbott and Euro Prince held onto their overnight lead in the CCI3* today, show jumping clear to win comfortably on a 43.8 over second place finisher Oliver Townend and Skyhills Cavalier (8 faults for a 55.6). Tim Boland and GV Billy Elliot round out the top three, finishing on a score of 60.6 with a double clear round today.
Just four out of the 15 riders completed double clear rounds today, including the U.S.' Jacob Fletcher and Atlantic Domino, who finished on a final score of 100.2 for 11th place, the pair's first CCI3* completion.
Ballindenisk International Horse Trials: [Website] [Live Scores]
Comments