Liz Halliday-Sharp's Deniro Z and Elarona finished first and second, respectively, in the first CIC2* attempt for both horses last month at Pine Top Farm, and they're in a good position to repeat their impressive performance this weekend.
On the final day of dressage for the Matt Faudree & Attwood Equestrian Surfaces CIC2* at Carolina International, 9-year-old Deniro posted a score of 41.7, vaulting into the lead ahead of overnight leader Cornelia Dorr and Louis M with a 44.4. Liz and 7-year-old Elarona scored 45.0, squeaking into third ahead of Hannah Sue Burnett and RF Demeter on 45.2.
"I was thrilled with both of them. They both tried really hard," Liz said. "Elarona can be a little tricky in the mouth and challenging in warm-up but she was very good in the test. Both horses are figuring out they go down the centerline and do their job. They enjoy it and it's pleasure to ride them."
Show jumping is still to come for the CIC2* tomorrow, and both of the Dutch Warmbloods were double-clear at Pine Top on the grass, which may prove to be a good prep for Marc Donovan's course on natural ground here at Carolina.
Liz was just having a first look at Ian Stark's cross country course when we spoke to her this afternoon, but she said she will probably go for it with Deniro to prepare for his next outing at the Ocala CCI2*. Elarona is still green at the level, she said. "She's very brave, but it's the rideability we're working on for her. We'll go for a good, solid, positive run and keep getting her confidence up."
The 12-year-old Rheinlander gelding Louis M is a horse EquiRatings calls a "first phase freak" for his proficiency in the sandbox. Eventing 25 Developing Rider Cornelia Dorr, 19, is having the experience of a lifetime learning from this talented horse, previously ridden to the CIC3* level by Pia Münker of Germany.
"Before I got him, dressage was one of my weakest phases and he's helping to make it one of my strongest ones and helping me to know what is correct, what's not and how to ask for things and teach things correctly," Cornelia said. "It's amazing riding him and it's a really cool feeling. He definitely doesn't give it to you; you have to ask correctly and well, but he's such a teacher."
Cornelia and Louis finished 13th in their first FEI event at Plantation Field last September and won the CCI* at Hagyard Midsouth the following month. Carolina is the pair's first two-star together and they're kicking it off right to sit second after dressage in a huge division of 62 starters. They had a small bobble when Louis cantered in the first half-pass, but Cornelia was quick to excuse him.
"I wish I had gotten him a bit more in front of my leg going in and that's why I had the one mistake," she said. "I think I just had my leg way too far back and he's so sensitive. That was a bit too bad, but he's so good and I love riding him."
In fourth place after dressage is Hannah Sue Burnett and the crowd favorite RF Demeter, a 15-year-old Oldenburg mare owned by Jacqueline Mars. they scored a 45.2, which is 0.3 points better than at Red Hills two weeks ago, but Hannah Sue felt it was a significantly improvement.
"I feel like every time I ride her she and I click more and more. I felt really good about today," Hannah Sue said. "The canter work is more tough for me–I feel like she gets away from me a little–but in the trot I feel like I can really start to push. I thought it was quite a bit better than Red Hills but I'm really happy with her. I think we're progressing."
With seven years of experience competing at the CIC3* level and above, RF Demeter is an experienced horse and Hannah Sue is forcing herself to adapt to the mare's style. "I'm not training this horse, I'm training myself to ride this horse. It's really challenging and exciting to see if I can do it," Hannah Sue said.
"I hope I don't disappoint everyone but at the same time she has nothing to prove at all. I'm just studying all the tape I can find of Marilyn and 'Demi' and I talk to Marilyn a lot. She's been really helpful. I don't intend on busting around this weekend. I want to get to know her and make her happy. She's a sweet horse and I want to do right by her."
In the Landmark's Young Event Team CIC*, Boyd Martin holds the top two positions. The Long Island T Syndicate's Long Island T held his overnight lead on a 35.5 and his barn mate Contessa is not far behind on 35.8.
Long Island T is an 11-year-old Oldenburg gelding campaigned at the two-star level for several seasons by Canadian Olympian Peter Barry. Boyd and "Ludwig" ran around several horse trials this winter but this will be their first FEI appearance together.
"Long Island T is a new horse for me and is taking a bit of time to get the hang of, but I feel like we're getting a bit of a partnership now," Boyd said. "In the jumping dept he's completely the opposite of my style. He likes a lot more support to the fences, so I'm working hard to adjust my riding to suit him."
Boyd said Ludwig is "absolutely sensational" on the flat and in today's eventing world, horse and rider combinations need to be higher on the leaderboard after the first phase to stand a chance at a major championship so Boyd is "trying to pick the horses that not only jump and gallop but also have extravagant movement and presence in the dressage."
Boyd plans to use tomorrow's cross country as a schooling round and won't likely run for time. With Contessa, however, he will "probably have a bit more of a crack at it."
Boyd described the 8-year-old Holsteiner mare owned by Densey Juvonen, Gloria Callen, Fernanda Kellogg and Kelly Morgan, as a feisty mare who seems to prefer the FEI events that take place over more days than a regular horse trials. "I think she could be a big time horse. She's green, hot, a little nervous. She doesn't like to be rushed. She likes to settle in and get a feel for the rings."
Tied for third place in the one-star on a 37.5 is is Matthew Brown with BCF Belicoso and Lynn Symansky with Neptune. BCF Belicoso is an 11-year-old Irish Sport Horse owned by the Blossom Creek Foundation and is competing in his first FEI event back since Jersey Fresh in 2015. Neptune, an 8-year-old Anglo-Trakehner owned by Lea Hansen, is making his first FEI appearance.
The CIC2* and CIC3* will show jump tomorrow morning, and the CIC* will run cross country in the afternoon. Dressage starts for the horse trials divisions. It's going to be a busy day!
Click here to read Jenni Autry's report on the CIC3* dressage. Follow EN on Instagram for tons of extra photos, and stay tuned for much more from Carolina International.
Carolina Links: Website, Entry Status, Ride Times, Live Stream, Schedule, Orders of Go, Live Scores, EN's Coverage, EN's Twitter, EN's Instagram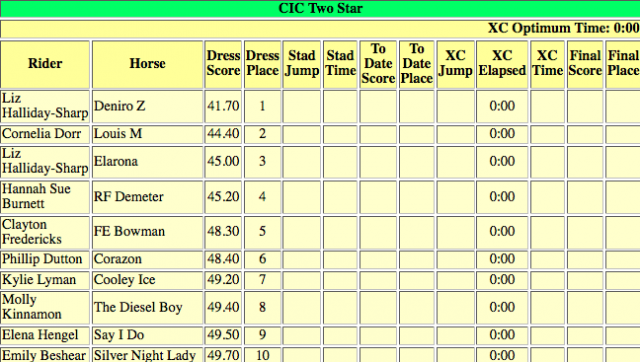 Comments