Chelan Kozak was kind enough to interview Jonathan Elliot, who, along with his wife Suzy, owns and operates Aspen Farms in Washington. Aspen Farms hosts several USEA events each year and next year they will be hosting what I believe is the first ever advanced horse trials in Washington–a big deal for Area VII. Jonathan and Suzy are both former 4* riders and they are all around two of the coolest people in eventing. Thanks for the interview Jonathan and Chelan and thank you for reading.
—-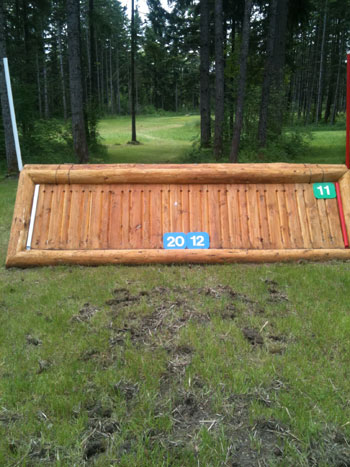 Marking the big date
1) HOW LONG HAVE YOU OWNED THE PROPERTY?
We bought the property in 2005. 240 acres with timber, no power, or improvements.
2) WHAT YEAR WAS YOUR FIRST YEAR OF COMPETITION?
We ran our first competition in October 2007. The 3rd week in October, it rained for 6 straight days, I never thought we would see the end of the rain, but Sunday for xc the sun finally came out! By Tuesday after the show, I was fishing for trout in shorts and a tee shirt with Matt Langliers one of our course builders.
3) WHAT DREW YOU BACK TO THE PACIFIC NORTHWEST?
Both Suzy and I decided we did not want to live in Florida for ever. Both of our Families are here in the northwest. Suzy's in BC Kelowna and Vancouver and mine in Gig Harbor and Seattle. It made sense to come back. Washington is a beautiful area, great for eventing horses and after 1.5 years of looking we found a property that we fell in love with. Aside from our good friends in Florida, the Carters and Hollings, we have not looked back.

Refreshments anyone?
4) WHO'S IDEA WAS THE JUMP WITH THE ICE COLD BEVERAGES?
Greg Schlappi Designed all of the courses the first year. BN-P. He had the idea for the cooler fence. Always a popular one with the competitors.

Aspen Farms' namesake
5) WHAT LEVEL DID YOU RIDE ASPEN, THE FARM'S NAMESAKE? HOW OLD IS ASPEN NOW?
Aspen is 25 years young. I first rode Aspen in 1994 for the fall events on the west coast, he finished up the year with a Win at the Fritz Cup CCI*. In the spring of 1995 We bought Aspen for $1. Subsequently sold my own Latour for a $1 who went on to do Advanced with Maren Foster. In total I rode Aspen fpr 6 years, with 1 CCI*, 3 CCI**, and 3 CCI***. Highlights include 4th Rolex Kentucky CCI***, 1st Essex CCI** 2nd NAJYRC CCI**, and 1st Fritz Cup CCI*. Suzy rode aspen in 2001 at the Foxhall CCI***, following that he had a little break and in 2004 Scottie Reeves rode Aspen (age 18) for the year doing her first CCI* and OI HT. after the move to Washington, we thought the old man would like to compete on his own farm, so in 2008 (age 22) with Anne Rowland (Aspen Farms working student) Aspen competed junior Novice, at the Aspen Farms HT. Then did his final competition at Caber Farm with Charlamagne Paasche placing 3rd in the Novice. All told he competed for 14 years and 9 FEI competitions.
6) HAS TREMAINE COOPER BEEN THE DESIGNER FROM THE START? WHAT IS IT ABOUT HIS DESIGN STYLE THAT LED YOU TO CHOOSE HIM?
Greg Schlappi designed the original courses. Tremaine Cooper came in 2008 when we wanted to add the Intermediate course. I thought back to my favorite Advance tracks back east and Morven Park always came to the top of the list. It rode as a bold course, with good use of the terrain and I always felt when the horses were prepared properly they came off the course always for the better. Something I wanted here at Aspen.
7) WHEN IS THE ADVANCED PLANNED FOR AND WHY ARE YOU BUILDING IT?
The Advanced Course is planned for the fall of 2012. Sometimes I wonder why I plan to build it! But I think it will be a great addition to eventing in the NW. As with all of our shows I try to pick out the best from all the events we have competed at over the years, making it as competitor friendly as possible. Looking to raise the bar and help our upper level competitors prepare their horses for the Galway CCI*** and heading back east to gain more experience at the upper levels.
8) ANY PLANS FOR FEI COMPETITIONS?
Not at the moment, with Woodside running the CIC events 1 month after us, there is not a need, and with Rebecca and Galway on either side of us it does not make sense for a CCI at the moment.
9) WHAT OTHER PLANS DO YOU HAVE FOR THE PROPERTY/EVENT IN THE NEXT FEW YEARS?
This fall we plan on a 2nd full water jump, located near the big rock and the mushroom fence. Combined with the Advanced track for 2012 that should keep us busy!
10) ANYTHING ELSE THAT YOU MIGHT LIKE TO SHARE WITH THE EN READERS?
They should come check us out! I think things like the "Kerrits Leader Jersey" identifying the first place horse on XC, our Team competition: one rider from every level and having to compete at the Saturday night party for team games, our competitor party and dancing, the atmosphere of people camping and socializing at the end of the day, our Zeit Challenge offering prize money for the lower levels BN-T, and this fall Natural Migrations offering $3,000 in the Open Intermediate class this September 2-4th. Also Travers Schick, head builder, Joe Stylos, and Josh Sylce put in hard work to create and prep the fabulous course that everyone is able to run over. Our tremendous sponsors: Gallops Saddlery, Toklat, Kerrits, Olson's Tack Shop, APF, Ice Horse, and Cavalor to name a few allow us to give away over $15,000 each show in product as prizes. And our numerous volunteers deserve a big Thank You for all of their hard work.
Comments