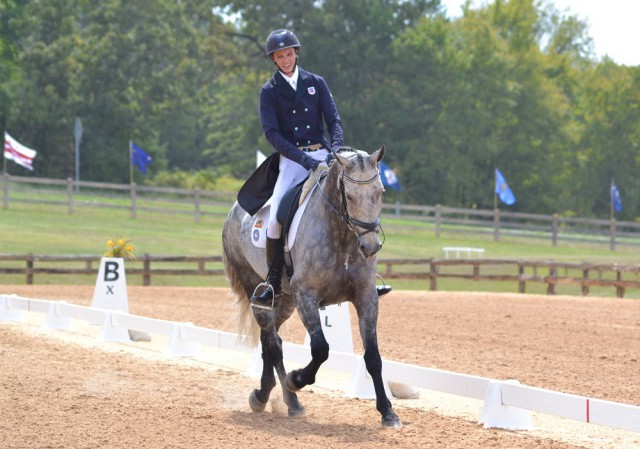 Just when we thought it was going to be The Buck Show, Jacob Fletcher swooped in and knocked the 2014 Adequan USEA Gold Cup Final champion off his perch at top of the leaderboard.
Jacob was the final rider of the division and Buck's scores — 32.0 for The Apprentice and 32.6 for Wundermaske — were the ones to beat. But a last-minute 27.6 sent Jacob and Atlantic Domino out front in the end.
"If this young guy hadn't been here," Buck lamented at the press conference with a gesture toward Jacob, "we'd be doing OK."
Jacob has two horses in the division, both greys: Fly Away Ferro and Atlantic Domino. The latter is coming off a 6th place finish in the Richland Park CIC3* and an Intermediate win at Otter Creek Summer H.T. Jacob thought the AECs would be a good prep for his fall CCI3* at Galway Downs.
"He just keeps getting better and better," Jacob says of the 10-year-old Irish Sport Horse. "He's not the flashiest thing, but he's so rideable."
Rideability will be at a premium on cross-country tomorrow, as the twisty, Captain Mark Phillips designed course will reward horses who set up readily and hit the ground running on the other side. Buck describes the track as "more of a show jumping course… The accuracy isn't so much there but you have to be able to turn quickly and get on with the next fence."
That's Atlantic Domino's wheelhouse, Jacob says.
"He strokes along very efficiently and I can shave off all the turns and he's very straight, so a turn-y course as much as it could fit any horse fits him," he explains.
The fences also tend to have a vertical face, which Jacob says works in the horses' favor: "I think the shape of the fences encourages horses to wrap around the fences coming off the turns."
Buck has been riding Wundermaske while owner Sharon White recovers from some herniated discs in her back, and he predicts that tomorrow's course will play more to that horse's strengths than to The Apprentice's. Whereas Wundermaske is fast off his feet and adjustable, The Apprentice is a big-strided, galloping type who tends to spend more time in the air.
The Gold Cup division cross-country begins tomorrow at 3:40 p.m. CT; we'll have a course preview posted first thing in the a.m. so you can check it out!
Adequan USEA Gold Cup Final photo gallery:
Adequan USEA Gold Cup Final standings after dressage:
Much more to come. Go Eventing!
AECs: Website, Ride Times, Live Scores, Instagram (@goeventing), Twitter (@eventingnation)
Comments