If you haven't heard already, the current Powerball jackpot has just crested $900 million in anticipation of tonight's drawing. $900 million. That doesn't even really sound like a real number. If you were to win the jackpot and elect to take the lump sum payout, that would be $558 million just sitting in your pocket.
It's always fun to dream about what you could do with a windfall like that. We came up with this list of five horse related things you could easily do with $900 million — all while sipping Cristal and typing on a 24k gold plated laptop. I mean, you've got to live with your means, right?
1. Splurge on one (or five) of these luxury horse properties.
Ogling over the "DREAM EQUESTRIAN HOME!" or "LIVE IN EQUINE PARADISE!" listings is always enough to make us just a little depressed. Frown no more, though, because your equestrian dream home is now within reach thanks to those little white Powerballs.
This 114+ acre property offered by Ocala Horse Properties is listed at a cool $7.5 million. Heck, you might need more than one property, why stop in Florida?
2. Fill your new horse property with drool-worthy horseflesh.
I've had many unrealistic conversations with my friends about what types of horses we'd buy with unlimited funds. Sure, I'd love to have some big fancy warmblood in my barn, but I also want to support U.S. breeding. I also want to keep giving OTTBs homes, and I wouldn't mind having a couple of fancy horses from other disciplines.
Alternatively, do you just walk up to Michael Jung or William Fox-Pitt and offer them cold, hard cash for one of their horses? I mean, everything is for sale for the right price, right? Welcome to 'Merica, fisherRocana. We're going to slay that Beginner Novice division.
3. Visit every top rider and learn their secrets to success.
Michael Jung notoriously doesn't take on students, and he's a little coy when it comes to asking about his training regimen. We all know he's got some sort of successful recipe, though, and he can expect a little pop-up visit from yours truly (by way of my private jet) just to be a fly on the wall.
The same applies to William and Ingrid — I'm coming for you, too! Don't worry, it's not as if I will ever be a world-beater like these guys, but it'd be nice to at least know where they're coming from.
4. Buy a ridiculous rig to transport all of your drool-worthy horseflesh.
I might have to rethink my multi-million dollar horse farm when I take a look at these incredible horse trailers. I mean, you could almost sleep the whole von Trapp family and a horse for each in some of these. Unreal.
5. Buy a Rolex for each wrist (and one for your kids too).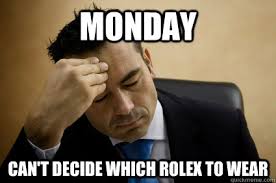 What now, William? Ok, ok, you won yours fair and square, I bought mine. We'll just keep that between us.
The list could go on and on of ridiculous ways to spend your millions (or billions, if no one wins tonight). What would you add to our list, EN? Comment below and we'll keep our fingers and toes crossed that Chinch picked some lucky numbers.
Comments