Welcome to the most frightening depths of the mind of Pierre Michelet, a man who we always imagine tenting his fingers in his nuclear powerplant and cackling away in a French accent. There's a rumour that suggests that if you stand in front of an arena mirror and say "zut alors, zat is a short four!" three times he'll appear, red-eyed and spectral, and make you jump a curving line of skinny fences as penance for disturbing his slumber. "Non," he will say, "zat is a long three. 20 penalties."
Others say that you can summon him by putting pointed studs, a triple espresso, and a man in a horse suit in a circle and singing the French national anthem, which is Seven Nation Army by the White Stripes, we think.
Michelet the Menace, as he's been affectionately dubbed, is the man responsible for one of the most consistently interesting courses in top-level eventing. Lacking the sheer space of venues like Badminton, Burghley, and Kentucky, Pau is best known for its serious twists and turns as it snakes its way between the gas stations and garden allotments of the city's fringes. It's not a galloping track, despite the fact that it takes place at a racetrack — instead, it's rather more akin to go-karting-meets-crazy-golf.
The Essentials
Length: 6340m
Optimum time: 11:08
Fences: 31
Jumping efforts: 45, if you work on wholly straight routes
Potential clears inside the time: We're betting on two.
Is It Tough Enough?
There's a surprisingly common misconception that Pau is somehow less tough than the 'Big Three' five-star events — that's Badminton, Burghley, and Kentucky. While its fences might not be as dimensionally colossal, and it doesn't have the stamina challenge that an event like Burghley does, Pau — and course designer Pierre Michelet — can't be underestimated.
The name of the game here is conviction and positivity. The course is wedged into a small park and racecourse in the city, and it features plenty of twists and turns with very little time spent just travelling forward. This means that it's a calculus final of a course: as a rider, you're never really given the opportunity to find a gear and coast within it. Instead, you're always on sat-nav duties, and making micro- or macro-adjustments to be able to carry out your plan of action.
Because the parkland of the Domain de Sers is naturally very flat, the course makes clever use of man-made mounds to add an extra level of challenge to approaches, and many of the trickiest combinations on course are made that way because of their use of lettered elements on a downhill trajectory.
Pierre's also a big fan of very skinny skinnies in combinations where he wants to see what riders are made of: if they can commit wholeheartedly to their line and keep their eyes on the prize, his course rewards that, far more than it rewards a dogged commitment to a stride pattern. If in doubt? Go for the forward stride option, rather than the conservative one.
The Fences
The course is split into three distinct sections: part one starts down by the lorry park and wends its way through the wooded park, part two covers the internal section of the racecourse and is, in theory, the 'quick' section, and part three takes you back along the same ground covered in part one before a blistering finale in the main arena.
The first few fences on course are simple single fences, giving horses and riders the chance to get in the air and build up a good head of steam. Though there's a combination at 4AB, which features a roll-top castle on top of a mound and then a run down to a choice of one of two moderately skinny shield fences, this is a straightforward question and is unlikely to cause any issues. The first real question comes at 6AB, which looks like a fairly innocuous double of angled hedges, but is the first example on course of Pierre's penchant for lengthening the stride pattern. In the past, we've seen this in action in a softer way earlier on, so riders can have the wiggle room to add and quickly learn that it's not the comfortable option, but this time around he's made sure you have to commit and kick on from the get-go.
For this reason, it's crucial that the riders use the first few fences as a way to test their ability to ride a line and a stride. Rather than coasting over the single fences to get their horses' confidence up and blood flowing, they'll need to be a bit clever about things, picking the trajectory of their approach and riding accurately and decisively from the off to sharpen up their fresh horses. The combination at 4AB, which would be so tempting to just pop through and forget about, is a great little tool for this — with its two options at the B element, it's giving riders every chance to use it as a way to get their horses on the ball and test that all the buttons are working as they should be.
A big table and then an airy upright follow 6AB, and then it's into the first water. The tough straight route is a drop into the water at 9A, followed by a skinny triple brush in the pond at 9B on a curving line that pops you out over a second triple brush at 10. There's an alternative route here, too, which involves a bit of circling in and out over the water — a few will consider this, but those who are serious about tackling the meat of Pierre's course will want to go straight here, because to do otherwise would be to risk reaching the toughest combinations a bit switched off.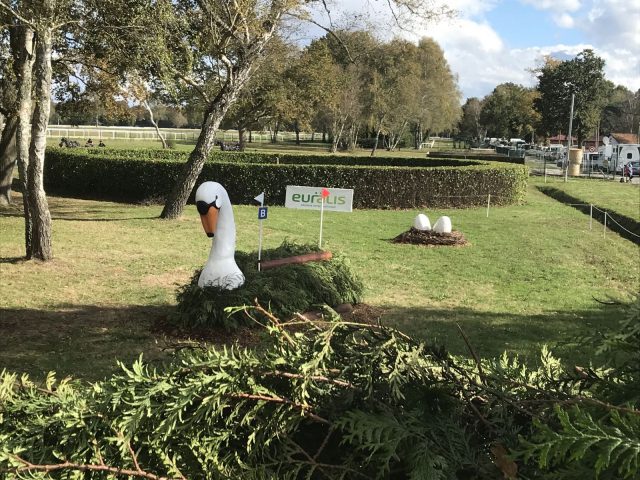 After popping another table and the cygnet hedges, which have an earlier spot this year, competitors will cross into the racecourse proper. The minute after the first water is generally the fastest minute on course, any anyone looking to try to catch the time will need to make a super-quick getaway, a forward-going effort over the cygnets at 12AB, and a speedy pop over the big fly hedge at 13 to try to maintain something close to 600mpm.
14AB will require a steadier approach, though. The A element is a low, wide timber oxer, while the B element — which isn't visible as you jump the A element — takes you on a 90-degree turn to the left and over an open timber corner. Again, this is a test of the line and of whether riders have got their horses feeling bold and attacking enough that they'll lock onto whatever appears in front of them. We'll see the odd glance off here, but anyone with a chance of tackling this course with aplomb has settled into their task now and should make easy work of it.
There are single fences at 15, 16, 17, and 18, though they're all big and beefy enough — the angled trakehner at 16 is a classic rider-frightener type of fence, while the hedge at 17 is the most dimensionally enormous obstacle on course. After 18, a brush-topped table, competitors will hairpin-turn back on themselves to tackle 19ABC. This combination features three skinny elements, which snake their way across a set of mounds on a right-handed turning line. It'll be a bit like a rollercoaster to ride — up a mound, over a fence, down a mound, lather, rinse, repeat — and they'll need to make sure they don't start freewheeling halfway through. Then it's over the ditch and hedge at 20 — not quite the Cottesmore Leap of Burghley fame, though not far off — and over to the second water.
The water at 21ABC requires competitors to circle around the back and jump it facing the direction they've just come from — a tricky enough ask when their mounts will have spotted the gap in the racecourse fence that will take them home again. The A element is a huge rolltop, which will see them land with their hooves on the cusp of the water itself. The B element is a hefty skinny in the water, and a right-handed trajectory will take them out over yet another huge rolltop before they kick on and try to regain some ground heading back into the park.
Section three of this course takes no prisoners, and its first question — an enormous hedge at 22A, followed by a steep downhill approach to the skinniest of skinnies at 22B — is a big test. Horses will likely get a big enough jump over the A element and it would be fairly easy to miss the B entirely — but the alternative route here, which features a right-handed turn over a low bench, will help those who need it out. Anyone looking to be competitive — or teach their horse the intricacies of five-star accuracy — will want to go direct.
The final water at 23AB features a big timber box on the way in, followed by a skinny fence in the water — does that sound familiar, or is it just us? — and then a hanging log and skinny at 24AB, which come up so quickly after 23 that they have to be ridden as though they're all part of the same question. Single fences at 25 and 26 give a little breather before 27ABC, which is always one of the most influential questions here.
Making use of yet another man-made mound, 27A is a sizeable house on the crest of the hill. From there, you can just barely see a tantalising inch or two of the direct route, a corner at 27BC on a curving line down and around the mound. The long route here is always a popular option, but it's slow, too — and this year's looks to be among the slowest yet. Those on mentally and physically tired horses who have begun to switch off may find themselves grateful for the option despite its length, though.
After another short uphill climb and a single fence at 29, it's into the main arena to the cheers of a rather small crowd this year. Competitors will jump a double of angled hedges at 30AB — never influential, though we always see one or two riders fail to respect them and get a seriously ugly jump through — before galloping around to the other side of the ring and sailing the last brush-topped rolltop.
The Time Factor
The course covers a distance of 6340m in an optimum time of 11:08 — and the time is always a major player in how the day pans out. There aren't really any true galloping stretches here, and so time wasted early on is almost impossible to claw back.
Last year, we saw just one combination make the time  — Alex Bragg and Zagreb — and they're in the top ten heading into cross-country today. This year, with an extraordinarily close field at the top of the leaderboard, it's set to make everything even more tummy-clenchingly exciting.
Want to to take a closer look at the layout of this tightly-packed course? Dive into the CrossCountryApp preview, put together by technical delegate Gillian Kyle. Cross-country begins at 13.30 local/12.30 UK/8.30 a.m. Eastern.
Comments