"A Horse of a Different Color" features horses and ponies that have been successful in the sport of eventing while representing a unique breed. Do you have a horse that you think would be a great feature subject? If so, email [email protected]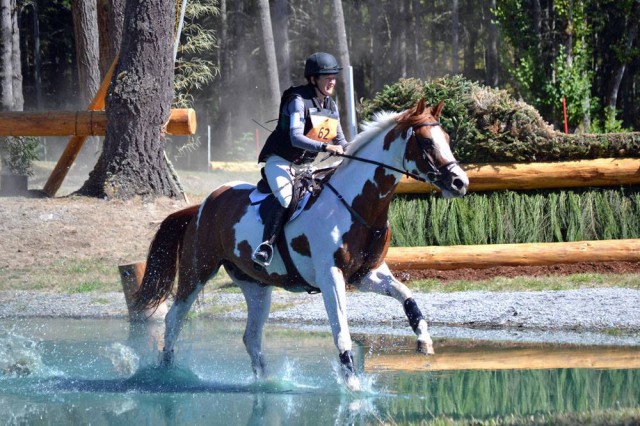 In 2003, Andrée Stow, was a breeder of the rare breed, the "Canadian Horse." She was looking to breed something a bit more "fancy," as she put it, from a Canadian Warmblood mare, Elixir II, she also owned.
"Another event rider, Robin Zimmer, had recommended me look at a stallion (Rubignon 961) and I thought he was really nice," Andree recalled. "I agreed to this breeding, and you could just tell from the get-go that the resultant foal (Rubicon, aka Rubix) was different. He just moved differently from my other foals, so we decided to keep him."
Rubicon was the product of a Swedish Warmblood/Canadian Warmblood cross, getting his distinctive tobiano pinto coloring from his dam. Foaled in 2004, "Rubix" was earmarked as Andrée's next lower level event horse.
"I had a traumatic riding accident three years ago, on another horse, and (Rubix) had been my main riding horse for dressage and low level eventing up until then," Andrée said. "I was laid up for a year, and I scrambled to get my horses into full training. I initially put him in a dressage barn, but he loves to jump!
"After a few months of extra dressage training, I approached Nikki (Ayers) about keeping him going until I was ready to ride again. Those were famous last words," Andrée chuckled.
"The original plan was for me to keep him going at Novice until Andrée was ready to get back to riding," Nikki said. "As it turned out, her recovery took a bit longer than expected, and Rubix was getting a bit bored at that level so after discussing it, Andrée gave me her blessing to move him up to Training."
Out of an unfortunate turn of events that brought Rubix into Nikki's program, there have been many bonuses. It's been a journey that all involved have been thrilled to be a part of, witnessing the ease with which Nikki and the now 11-year-old gelding have steadily moved up the levels together.
"We never really had a specific plan for what we were going to do," Nikki said. "It started with getting him solid at Novice, and Andree encouraged me to just keep seeing what he could do."
Nikki and Rubix began competing in FEI divisions in 2014, finishing second in their first CIC* in British Columbia. Now, three years into their partnership, this pair has successfully moved up to the two-star and Intermediate level, most recently placing second in the CIC2* at Aspen Farms.
"(Nikki) has done such a great job with him," Andrée said. "I'm riding again now but I haven't ridden him since my accident. I just told Nikki to see where the story would lead."
Rubix was a tough horse to get to know. "On one hand he is very laid back but he can also be very emotional," Nikki said. "If he doesn't want to do something, he just pokes his nose out and says, 'I'm not doing this.' But I knew that if I could just learn to ride him in harmony you never know what we could do! Fortunately, the work we have been putting into our dressage is starting to pay off for us."
"Rubix has been blessed with wonderful form over fences, he's a very pretty jumper. He loves footwork and he really excels at cross country.  Every time I leave the startbox, I feel the safest I have ever felt on a horse. He takes care of me and he has never let me down and he will always try for me.
"I don't think there was a defining moment for me to know that he would someday be an upper level horse — he just kept answering every question we asked and looked for more. We always knew the talent and skill was there, but I don't think anyone ever thought he'd go this far."
Though Nikki and Rubix's relationship is ever growing and improving, they've gotten to the point where they know each other quite well. "We make a great team,' Nikki said. "For the most part, he knows his job and at this point,  I just need to ride more sensitively to his needs. You have to make it his idea to do something."
While Nikki and Rubix were named to the Canadian National training team, unfortunately they were not selected to represent Canada at the Pan American Games this month. However, they still plan to continue their dream trip.
"As long as it's fun for both of them, they'll continue doing what they're doing," Andrée said. "Nikki and I watch videos of their rides together and we see a horse with his ears pricked forward, having a great time. Nikki is a horse person first and a competitor second, and I have full faith that she will know when Rubix has reached his full potential. We're both very realistic, and we are looking to him to tell us when that will be."
Indeed, Nikki is grateful for every opportunity this unique and talented horse, along with his supportive owner, has afforded her. "It's just kind of been a Cinderella story for me," Nikki said. "I was just riding a fun horse and enjoying the ride and it's just grown. It's been quite a journey."