The Advanced riders were running cross country at the American Eventing Championships, held that year at Chattahoochee Hills in Fairburn, Georgia. It was 2011, and Aki Joy Maruyama, who was 12 at the time, had accompanied a friend to watch the festivities — her introduction to the sport of eventing.
Many of us can remember that moment; the moment when we felt some sort of awakening that this was our sport. This was Aki's "eventing bug" moment — she'd started riding at summer camp when she was six and had been riding hunters to that point. But once she saw the brave galloping horses and the massive fences, she was hooked. And it was that bug that lit a fire within her, one that she now finds herself on the other side of the world stoking.
Not every kid grows up in a horse household. But talent grows when nurtured, and Aki's parents recognized this and did everything they could to support their daughter's big dreams. Aki's mother, Monica, was a teacher and her father, Junichi, was semi-retired, which made stretching means to meet ends a bit more challenging.
So the Maruyama family got creative. After finding her way to Canadian Olympian Kyle Carter, Aki accepted a working student position to help offset some costs of coaching and care. It was a win-win for Aki and her talented Appendix gelding, J'espere, and thanks in large part to Kyle's coaching the pair eventually qualified for FEI National Junior and Young Rider Championships, set to be held in Parker, Colorado in 2016. Young Riders had been a goal of Aki's since she'd first heard about the competition; the appeal of riding for a team was not lost on the ambitious rider.
As fate would have it, Aki and her family were unable to come up with enough money to make the long trek from Florida to Colorado for Young Riders. It was a disappointing end to that dream, but Aki says she is still so proud of her little Appendix, "Jesse", with whom she would advance all the way to the then-CCI2* level. "He was only supposed to be a Training level horse!" Aki laughed.
It was Aki's grandfather, Tetsuo Hirose, who gifted her next horse, Balou Moon, a 2010 Hanoverian gelding by Balou du Rouet, to her. It was a special gift, one that still leaves Aki unsure of exactly how to voice her gratitude now. "It was then that I decided I wanted to ride for Japan," she said.
Aki, a second-generation Japanese rider with dual citizenship by birthright to both the U.S. and Japan, had the option of choosing which country to declare for as an international rider. Riding for Japan, with its strong pool of talented riders who have made waves in the headlines in recent years, became a huge, albeit somewhat intimidating, honor for Aki.
Yet as Aki kept nurturing her talent, things got tougher at home. Aki's father's health was in a decline. The family had purchased a farm in Florida, but still lived primarily in Georgia. Soon, it became too much for Aki's mother to commute back and forth to care for her daughter and her husband. A choice was looming, and something had to give. But how?
Sometimes opportunity appears in surprising places. Aki had had the chance to ride with Germany's Kai Steffen Meier in clinics throughout the years. Just as Aki was faced with the prospect of hanging up her boots, an interesting prospect presented itself: would she like to come and work for Kai in Belgium?
Aki saw not only the educational value of this position, but also a potential relief for her family. "My living expenses and board would be covered at this position," she explained. "In reality, it ended up that it saved us money to send me overseas to work for Kai."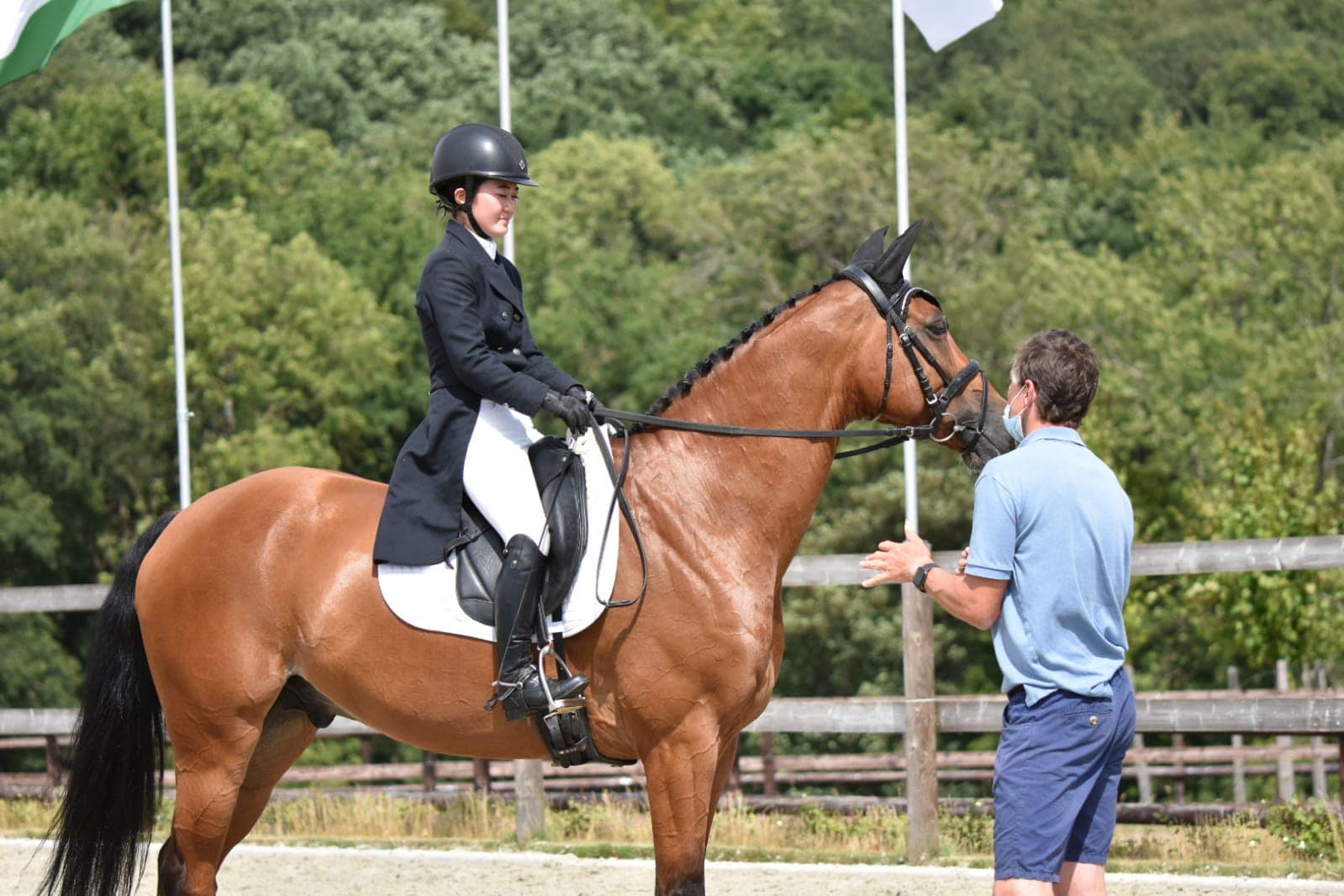 Before she knew it, Aki and Balou found themselves clear on the other side of the world, having left behind everything that was familiar for something completely new and unknown. "It can get a little lonely," she confesses to me now. "I don't speak the language, and so it's hard to connect and make friends." But, she says, it's far from all for naught. The support crew she's become a part of at Arville, Kai and Belgian rider Lara de Liedekerke's home base, has become Aki's second family. She spends a great deal of time telling me about how much she has learned and how this opportunity has given her so many tools.
"When I worked for Kyle, he told me a lot about how he rode in Europe when he was younger," she explained. "He always encouraged me to go and to stay for as long as I could. (Kai and Lara) have really taken me under their wing. I really appreciate how much they do for me knowing I'm far from home. There is a wonderful team atmosphere here at Arville and I'm so grateful."
Aki's efforts were recently rewarded when she was selected to be a part of the Japanese Equestrian Federation Progress Team, a program designed to talent spot riders with potential to one day make a national team. It was validation for Aki, who says she definitely feels pressure from herself to make it as far as she can in the sport. "It was really a surprise and such an honor," Aki says. "I had started to question my life choices as I considered how I didn't have the experiences of a normal teenager like going to prom, homecoming, dates, and any social interactions. However I realize that my own journey is quite unique. Being on this team, I can appreciate the work I've done to come this far."
Indeed, this new development gives Aki some validation and comfort that she's on the right path. Connecting with her compatriots has made her feel a part of something bigger than just herself.
"I still will go to many shows here and be the only Asian rider," she said. "But recently at Jardy another Japanese rider came up to me; we hadn't really met before that, but he took videos of my rides and supported me all weekend. He told me that I was a part of their team, as a Japanese rider, and that they would support me."
Perhaps it is Aki's humility that makes her feel this internal pressure. She understands the sacrifices her parents have made for her dreams ("I owe everything to them. They literally dropped their lives for me," she said) and she feels the weight of her desire to ride for Japan on the world stage. It's not always easy, she says. Balou is a sensitive ride ("We're still getting to know each other!"), and competition in Europe is stiff. But these are all things she's accepted. She thrives on the practice and the pressure — and she knows the only way to go is up from here. "It makes me feel even more inspired," she says of spending time with these top quality riders, day in and day out. "If they can do this, then I can do this."
Correction: This article has been updated with corrections to Kai and Lara's names and countries of nationality.
Comments