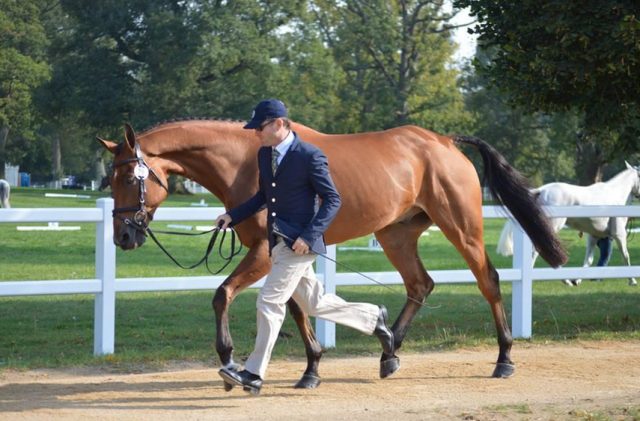 The first horse inspection for the CCI3* has completed at Blenheim Palace, and all four U.S. horses were passed. At the end of the day, all horses were accepted, which means 79 horses will proceed to the dressage competition on Thursday and Friday.
As we've mentioned before, the U.S. has four horses competing this weekend: Phillip Dutton with both Fernhill Fugitive and Fernhill Cubalawn, Jacob Fletcher with Atlantic Domino, and Katherine Coleman with Courage Under Fire.
Phillip received a Land Rover Competition grant to compete Fernhill Cubalawn, a recent acquisition from Alex Green, at Blenheim this weekend, and he will be using all of his veteran knowledge to give both Cuba and Jack solid runs around a competitive course on Saturday.
Previously based in the U.S. training with Mike Huber and Heather Morris, Jacob Fletcher is a promising young name to keep an eye on as he makes his CCI3* debut. Jacob relocated to the UK, basing with Kevin McNab, after graduating high school to continue his education, participating in the UK training sessions with David O'Connor earlier this spring. Atlantic Domino is a 9-year-old Irish Sport Horse coming off of a completion of the CIC3* at Blair Castle last month and looks to be a relatively new ride for Jacob.
Katherine Coleman has been based in the UK since 2012 and is also competing in her first CCI3* this weekend with Courage Under Fire, an 11-year-old Irish Sport Horse mare who has been with Katherine since last year. Katherine and Courage Under Fire are coming off of an 11th place finish in the CIC3* at Blair Castle last month and will be looking for an educational run in their move up.
Ride times for the dressage have just gone up for the CCI3*: Phillip and Fernhill Cubalawn will be the second horse out tomorrow at 9:07 a.m. local time, and Katherine and Jacob will also ride on Thursday at 2:00 p.m. and 2:07 p.m., respectively. Fernhill Fugitive will go at 11:07 a.m. on Friday with Phillip.
PRO's Samantha Clark is on the ground this weekend bringing some of her expert event coverage, and she's posted a full album of photos and a report from the jog on the PRO Facebook page. Many thanks to Samantha and PRO for lending their eyes and ears to us for one of the premier UK events. We'll be back with much more from Blenheim as the weekend progresses.
Blenheim Links: [Website] [Ride Times] [Scores] [Cross Country Course Photos] [PRO] [PRO on Facebook] [PRO on Twitter] [Samantha Clark] [Blenheim Twitter]