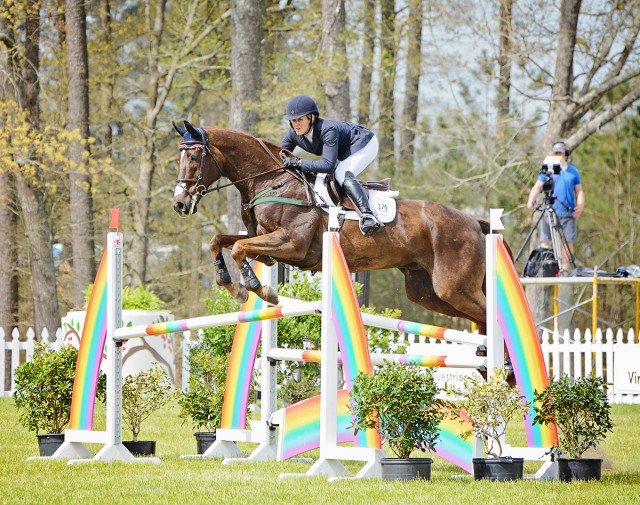 Every downed rail and precious second over the optimum time proved costly today on Marc Donovan's CIC3* show jumping course at Carolina International, where Emily Beshear and Shame on the Moon, Maya Black and Doesn't Play Fair, and Allison Springer and Arthur all entered the ring in a three-way tie for the lead following dressage.
Allison and Arthur jumped first and delivered a clear round inside the time, solidifying their place at the top of the leaderboard for another day. Maya and Dawn Dofelmier's Doesn't Play Fair jumped next, with a very keen "Cody" pulling two rails to drop them down the leaderboard. Emily and Shame on the Moon were the last of the three to go, and while "Delta" jumped a beautiful clear round, one time penalty ultimately has them settling for second place after show jumping.
That leaves Allison Springer and her stalwart partner Arthur, now a ripe 17 years old but still looking very much in his prime, as the leaders heading into cross country tomorrow, where Ian Stark has laid out quite a challenge for the 72 horses and riders in the CIC3* division. Buck Davidson and Carl and Cassie Segal's Ballynoe Castle RM — EN's prediction to take the win tomorrow — moved up to third place with a double clear round and now sit on a score of 47.0.
Phillip Dutton moved from 10th up to fourth with David Garrett's Indian Mill, an 11-year-old Thoroughbred gelding previously campaigned by Paul Tapner. Phillip has another ride inside the top 10 in Patricia and Dave Vos' Sportsfield Candy (9th on 48.8), but Buck is definitely dominating this three-star leaderboard, with Sherrie Martin's The Apprentice in fifth (47.9) after adding two penalties to their dressage score and Carlevo LLC's Carlevo (48.3) in seventh with one rail down.
Just 16 pairs in all jumped clear rounds inside the time in the CIC3*, which is less than 25 percent of the division. The optimum time also proved tight, with more than 30 percent of the division incurring time penalties.
In addition to the names already mentioned above, the following pairs also delivered clear rounds inside the time allowed of 76 seconds: Lynn Symansky and Donner (5th), Sinead Halpin and Manoir de Carneville (8th), Doug Payne and Vandiver (9th), Liz Halliday-Sharp and HHS Cooley (12th), Allie Knowles and Sound Prospect (13th), Boyd Martin and Master Frisky (15th), Matt Brown and Super Socks BCF (22nd), Holly Payne Caravella and Santino (23rd), Selena O'Hanlon and Foxwood High (27th), Katherine Coleman and Longwood (28th), Phillip Dutton and Z (31st), and Sara Moore and Polaris (61st).
While rails fell throughout the course for both the CIC3* and CIC2*, one particularly bending line proved especially tricky for both divisions. Set as fences 10, a square oxer, to fence 11 — a triple combination with a vertical, square oxer and vertical —  in the CIC3*, riders could go for six or seven strides here.
Those who made a decision soon after clearing the oxer and achieved a straight approach into the triple combination were rewarded with a clear trip through this challenging set of jumps. Check out this video on EN's Instagram of Justine Dutton and Jak My Style showing us a textbook ride through there.
Looking to the CIC2* division, and Liz Halliday-Sharp and Fernhill By Night defended their overnight lead following dressage, jumping a lovely clear round inside the time early this morning to remain in first place on 42.8.
Liz said yesterday that she stepped "Blackie," a 13-year-old Irish Sport Horse gelding owned by Deborah Halliday, back to the two-star level this weekend to give him a good confidence-boosting ride on cross country. They'll plan to step him back up to the Advanced level at The Fork in two weeks, which will be Blackie's final prep run before taking another crack at Rolex.
Will Faudree is continuing his comeback to competing in textbook form. He jumped a super clear round this morning aboard Jennifer Mosing's Hans Dampf, a 10-year-old Oldenburg gelding, to move up to second place in the CIC2* on their dressage score of 44.1. Will said after his dressage test on Wednesday that he's feeling great following his neck surgery last September and is looking forward to cross country tomorrow.
Peter Barry and his own Long Island T, a 10-year-old Oldenburg/Thoroughbred gelding better known as "Ludwig" in the barn, also jumped clear and inside the time to move up to third place in the two-star on 44.2. Just 5.8 penalties separate the top 10 heading into cross country tomorrow, so the scores are very tightly bunched on what is sure to be an exciting day on Ian's new course.
Hannah Sue Burnett is holding fourth and fifth places in the CIC2*  with Cooley Dream LLC's Cooley Dream (44.9) and Mary Ann Ghadban's Under Suspection (45.0), respectively, after jumping two double clear rounds, which moved both horses up by two spots on the leaderboard.
If you're just tuning into EN, click over to Kate's Advanced dressage report from this morning. Buck Davidson and Caroline and Sherrie Martin's Petite Flower lead the division on 25.4, followed by Kylie Lyman and Joan Nichols' Lup the Loop in second on 28.5, with Lillian Heard and her own LCC Barnaby in third on 29.6. That division will go cross country tomorrow after the CIC3* and show jump on Sunday morning.
Looking to the CIC*, Katie Lichten and RF Luminati, a 10-year-old Hanoverian gelding owned by Harold Lichten, jumped clear and inside the time to move up to first place on their dressage score of 39.4. Jenny Caras and her own Fernhill Full Throttle now sit in second place on 44.3, with Matt Flynn and Flynn Sport Horses' Wizzerd in third on 44.8.
We'll be holding a press conference later this afternoon, so stay tuned for comments from the division leaders. It's been a very busy weekend so far at #2016CI, so thank you for bearing with us as we do our best to bring you as much coverage as we possibly can. Click here to catch up on all of EN's reports so far. Go Eventing.
#2016CI Links: Website, Entries, Ride Times, Schedule, Live Scores, Live Stream, EN's Coverage, Twitter, Instagram